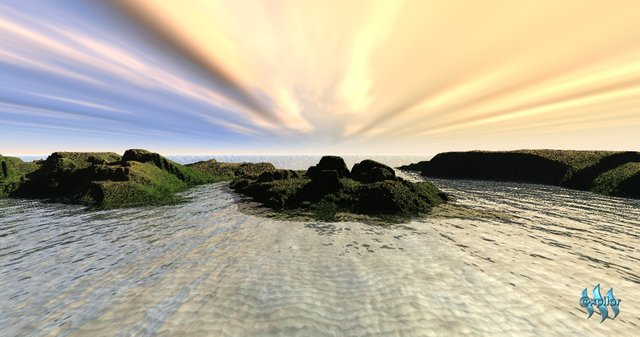 ROCAS MAR Y CIELO CONVERGEN EN EL HORIZONTE
Es placentero meditar al contemplar el inmenso universo estando rodeada de un mar apacible .Sí, desde allí, y sentada sobre una roca, desde donde pueda mirar la inmensidad de una hermosa creación natural. Es mi anhelo estar allí
Me conecto con esa energía que todo lo envuelve, que me transmuta desde esa fuente interna que está a la espera de un sublime y especial motivo.
Allí, estoy imaginariamente, y aunque paradójico, sintiendo realmente estar sobre esa roca, en ese ambiente, con los sentidos motivados: viendo, palpando, – la suave brisa, oyendo el murmullo poético del oleaje, y el trinar de un ave que en algún lugar se posa-
¡Sí!, allí está esa magnífica naturaleza, la que también inspiró al autor de tan hermoso diseño, y quien se conectó de manera profunda. Y plasmó de manera creativa según el don que le ha concedido el Creador del universo.
Allí están esos elementos: rocas, cielo y nubes,mar; como si convergieran en el horizonte, dando testimonio de un talento.Talento que ha sido puesto de manifiesto, con el genuino y refinado estilo de un diseño digital a la altura de quien ha sido inspirado" por esa belleza expuesta en el ambiente natural". La que no pasa desapercibida de la vista de persona alguna cuando por tales parajes transita.
________________________________________________
ROCKS SEA AND SKY CONVERGE IN THE HORIZON
It is recreation time, said a family when they got together, to carry out the project of a well-deserved vacation.
-Let's make the preparations. We need recreation. We must de-stress, we have been exposed to hard work typical of everyday life with respect to business. Our children also deserve it for their dedication and excellent results in high school.
The preparations begin and they are equipped with all the things required for such a long-awaited moment, until, finally, the long-awaited day arrives.
They get on the boat with everything properly packed. They made sure to bring video cameras, tape recorders, binoculars, etc. So that the trip is more pleasant, more recreational and also to get the best out of it by having a specific purpose. In other words, there was very good planning.
They set out on the journey to the islands, which had already been recommended to them for their spectacular beauty. On the way, they visualized gratifying natural settings, inspiring inspiration. So, they sang, laughed, declaimed and a host of expressions during a healthily enjoyable trip.
And suddenly !, they can see from a distance the beautiful islands in the middle of a fascinating environment, Yes, two beautiful islands! With almost symmetrical positions and shapes, under a spectacular sky with clouds of warm colors - pinkish and azure blue -. It is the picturesque scene for some crew members of a boat, made up of a family that was preparing to spend a well-deserved vacation.
Oh, and, you know what? The crew of three planes told them in unison and loudly - Welcome to the island of wonders! The aforementioned greeting filled them even more, with joy, so they all responded with the same way: Thank you!
The family and select friends enjoyed an unforgettable vacation on the wonderful islands, which left them unforgettable memories.