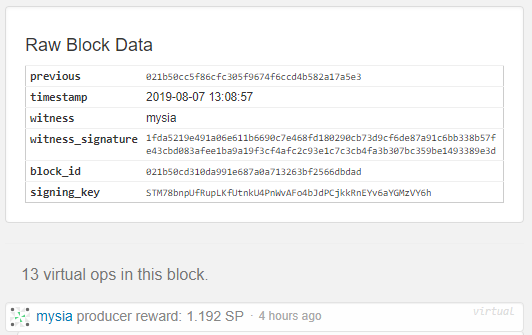 @mysia'a Genesis block number 35344589
@mysia is a witness!
The day 2019-08-07 at 13:08:57 was the moment when @mysia became true witness in the Steem network. At this time first successful block was produced. It was second attempt to generate one. First failed because of wrong configuration, so was missed - I believe it was wrong swap RAM settings for MIRA. From now I hope every new will follow a success.
Experimental light node
Idea of runing own witness riddled in my head for many months. High hardware requirements blocked the way to do so. Until MIRA came. Multi Index RocksDB Adapter allows to move blockchain real time calculations from RAM memory to disk drive - for a price of replaying time. After full replay, node runs in the speed of classic non-MIRA setting.
The goal of this experiment was to verify how low the hardware specifications can be to be able to run witness in the field. It is shocking that old PC can handle that!
Yes, it is my old personal computer I do not use now.
Hardware specification
| Hardware | Specs |
| --- | --- |
| OS | Ubuntu 18.04.2 LTS |
| CPU | Intel(R) Core(TM) i5-4460 CPU @ 3.20GHz |
| SSD | Crucial 500 GB CT500MX500SSD1 |
| RAM | 2x Kingston 8GB DDR3 |
| Internet | LTE GSM |
| Location | Personal computer somewhere in Poland (EU) |
As You see, the toaster sits under $500. Below test prove that it is far over enough to do job. Eg. I don't need as much RAM. To be honest only 4GB RAM should be sufficient. CPU could be a little slower too. Even Intel i3 or Core2Duo should work. Look at Internet connection - it is not wired! Enough for a backup node.
My MIRA took 3 days to replay whole blockchain and start streaming blocks. It supports v0.21.0 Steem version.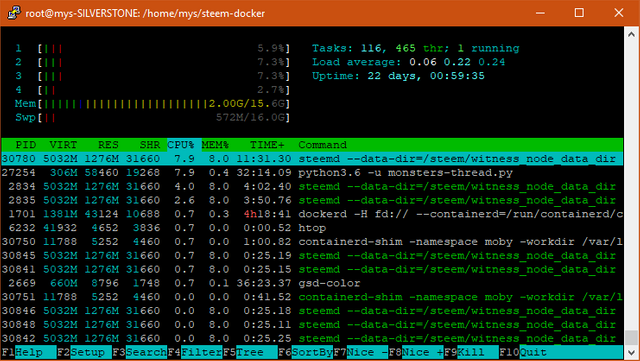 htop system monitor. RAM usage grows to 2.7 GB in the peak when producing block
Plans
I plan to run this node as long as I will stay in Steem network. @mysia is not only a backup node to produce blocks. It is very helpful to keep in very touch with up to date blocks and newest transactions coming. I have to confess that node helps very much to my scripts (eg. curation challenges, Steemmonsters trading, some pretty block sniping etc.) This is far more valuable than just generating STEEMs as a witness.
Let's see how this all behave after HF21 arrive and SMTs come.
Somewhere in my mind there are plans to support #polish community in some way. It needs some time to develop. More will be clear after next hardfork and communities open.
Useful links
Support
If You have any questions how to host Your own witness node like I did, feel free to ask under this post or via Steem.Chat https://steem.chat/direct/mys or via Discord @mys#4442
You can support my experimental node by voting for me (@mysia) at https://steemit.com/~witnesses page.
Alternative direct SteemConnect link is https://beta.steemconnect.com/sign/account-witness-proxy?proxy=mysia Thanks!