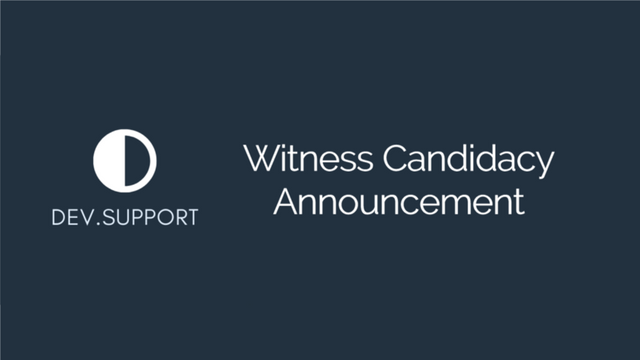 #1. Vision
---
The goal of Dev.supporters witness is simple and clear:
"To create sustainable development environment on the STEEM blockchain ecosystem"
There are no communities without users. Similarly, there are no users without developers who provide systems, or "playground" for users.
For the past 4 years, Steem blockchain has relied on
(1) volunteer developers and (2) development led by main witnesses.
We believe that the comparative advantage of a blockchain depends on
(1) whether developers may receive proper compensation for their contribution and
(2) whether there are sufficient funds to continue developments.
---
That being said, we would like to focus on the following:
(1) Support STEEM blockchain developers
Create "developer union": there are already many experienced developers in the STEEM ecosystem. We would like to act as a pivot point where these developers may work as DAC.

Create "Dev.Support" Fund: 20% of the witness compensation will be used to support the STEEM developers.

SPS for the community developers: since HF21, 10% of the STEEM inflation has been used for SPS – while in theory it was a great idea, in practice it was mainly used as an additional income for top witnesses. We would like to see more developers benefit from SPS.


(2) Open Communication
Frequent updates for communities: most of the previous main witnesses moved to "HIVE" (code-copy chain) and we expect remaining witnesses and new ones will lead the STEEM blockchain. We will try to share what is discussed among witnesses with the community, in a fast, open, and transparent way.

Global communication: to enhance communication efficiency, we have different point of contacts for the global(English) communication and the Korean communication.

Open Q&A: we will frequently discuss with community members so that we learn what users would like to know and provide answers asap.


---
#2. Team members
---
Since a STEEM main witness has to work on diverse issues, it could be difficult for a single person to perform all the needed work.
Dev.Supporters consists of 3 members who have been active on STEEM blockchain for the past 3 years. Each member will focus on specific areas in which he has specialty so that the team may work in various areas efficiently.
(1) @wonsama: witness node / Dev.supporters fund management / technical support
(2) @glory7: global(English) communication and networking
(3) @donekim: Korean communication / contents creation / outside developers contact
Note that Dev.Supporters will be run as a open group – in other words, we always welcome Steemians who share the vision and would like to contribute in different areas.


#3. We ask for your support!
---
If you believe that we may change STEEM in a better way, please vote @dev.supporters.

We are not going to make any decision without the STEEM community support.

We understand that there are community requests regarding the current governance system (for example. 1 STEEM Power 30 votes, free downvoting mana, etc.) and we will discuss with other witnesses for potential changes.

Our main goal is to support sustainable growth of the STEEM blockchain.

We always welcome feedback from the STEEM community members.



2020 March 30 (Monday)
Developer Support Witness (@wonsama / @glory7 / @donekim)