It has been three years since the launch of WhereIN.

Now we decided to start a new journey, NEW WhereIN, at 9:00 (UTC+8) on April 25, 2022. Just three days after its launch, the APR of [delegate $ATOM mint $WIN] is up to 1260% and of [delegate SP mint $WIN] is 300%

We believe, this is just the beginning of WhereIN DAO.
WhereIN for Continuous Exploration
WhereIN has been exploring for three years since its launch on January 6, 2019. A lot has happened in the past three years, and we have gone from zero to the 8th Social DApp in the world. We became the top 21 witnesses on the Steem blockchain and gained 1 million SP agents from Steemit. Inc. and 18 community curators joined us.
As the largest unofficial DApp in the Steem ecosystem, it largely undertakes Steem's Web3 vision. The world of Web3 is very big and has a long way to go, and we need to continue to innovate to realize the world Steem envisioned.
Since the beginning of 2017, Steem has wanted to recognize Smart Media Tokens (SMTs for short) by enabling each sub-community on Steem to issue its Tokens and combine content contributions with token rewards. Nutbox is taking that vision step by step and recently launched Walnut.【Bombshell | Walnut Network officially launched on the BSC mainnet】
WhereIN also has to make this important step and now we do.
"Steem + WhereIN" for SMTs
While there are many unknown risks and challenges to tokenizing community/content, there are also enormous and endless opportunities. Since the beginning of 2020, DeFi has built and perfected the financial infrastructure in the Web3 world. However, socialFi and DAO are in the pipeline, and they are the great charms of the Steem blockchain. It is time to start fresh, to finish where we left off.
Steem, as a blockchain-based public content platform, has its distinctive features. Steem utilizes the mechanism of Proof of Brain (PoB for short) and uses STEEM as a token to incentivize its community building and social interaction.
However, Steem is a proprietary blockchain with limited scalability. With that in mind, WhereIN intends to use the Cosmos SDK to build a chain and connect it with the Steem blockchain. Using Steem Blockchain as a protocol for rewarding content contributions, it helps various communities build PoB modules and use community tokens to reward community content creation and social interaction. That is to achieve the unfinished goal of SMTs.
On this basis, the Web3 community can:
Use Walnut to deploy its community token, and create ISO module that distributes community tokens by delegating SP/ATOM
Create community DeFi and staking-based governance module
Use WhereIN to create the community's PoB and grow its content community like Steem
Create Decentralized Trading Pairs on BSC for STEEM
Steem Blockchain, as a network that combines content with the token, has lacked a decentralized trading pair. WhereIN is also considering filling in this gap for Steem. Here is the plan:
Based on Peanut, build a cross-chain bridge between Steem and BSC, enabling 1:1 exchange between STEEM and bSTEEM
Set up the trading pair between bSTEEM and PNUT on Pancakeswap, and use WIN to incentivize the liquidity providers of the trading pair
Expand the cross-chain bridge, support the 1:1 exchange between STEEM POWER (SP) and bSP, and incentivize the trading pair of bSP
Launch of New WhereIN
New WhereIN is a bold idea and a must-do. New WhereIN has issued the governance token $WIN, which will be distributed in the following three ways:
PoS Token holders such as ATOM and SP can get $WIN by block by staking SP/ATOM to @wherein.dao
Staking Protocol

Community members can participate in Stake WIN-PNUT LP Mint WIN and Stake WIN Mint WIN
Top 20 community members participating in WIN-PNUT LP and WIN staking can become Appreciative Citizens
Appreciate Citizens have the right to decide the upvote rights of @wherein (20%) and @wherein.dao

Governance

With the minting of WIN, a certain percentage of $WIN automatically goes into WhereIN DAO Fund
Reward community contributors through the WhereIN Proposal System, especially for the development of SMTs and bSTEEM/bSP
WhereIN DAO will develop a series of protocols to grow into a SocialFi platform
Join the New WhereIN
New WhereIN DAO has been launched on Walnut at 11:00 UTC+8 on April 25, 2022. Just three days after its launch, the APR of [delegate $ATOM mint $WIN] is up to 1260% and of [delegate SP mint $WIN] is 300%. (APR exact number changes from time to time.)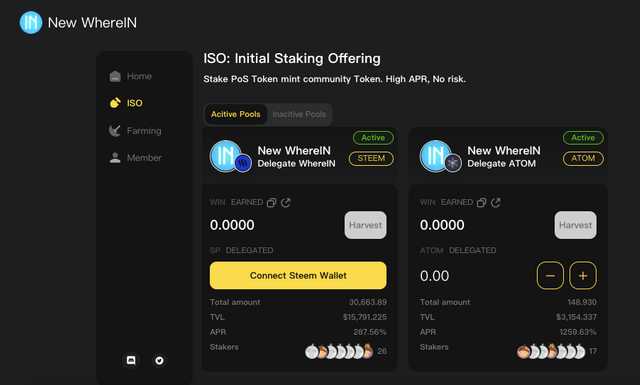 $WIN is also listed on Pancakeswap, creating two trading pairs WIN-PNUT and WIN-BNB.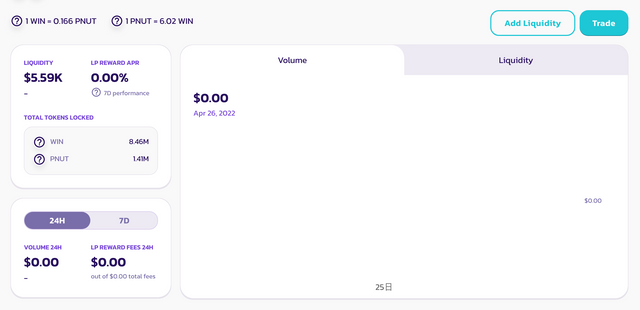 At the same time, WhereIN DAO created the pool of delegate WIN-PNUT LP to mint WIN. And the APR is up to 700%!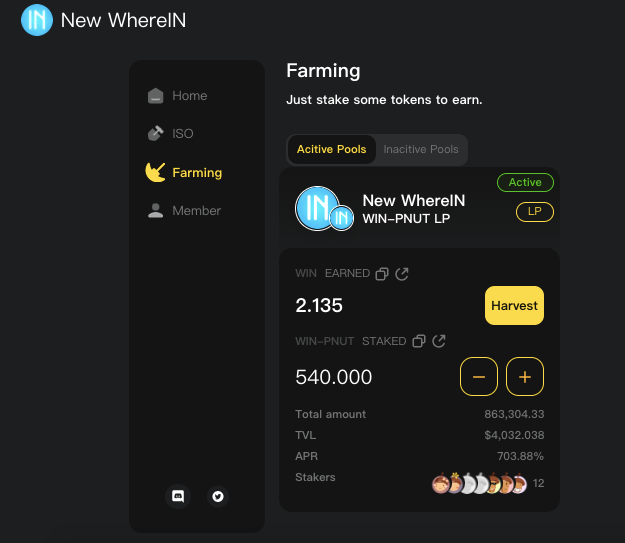 As what we have done in the past, we are starting from zero again and sailing in the age of great Web3 to find our inner "ONE PIECE"!
WhereIN DAO has been launched, looking forward to your joining.
PS: In this past bull market, markets have been unusually noisy. We chose to start all this after the market calmed down, to attract a group of fellow travelers who are truly committed to advancing social development in the Web3 world. Please wait and see, and welcome to join!