Yesterday I posted my contribution to #fruitsandveggiesmonday, a competition initiated by @lenasveganliving. I made a wonderfully refreshing tea from fresh gathered wild herbs and blooms. And I gathered some wild herbs I planned to use for dinner.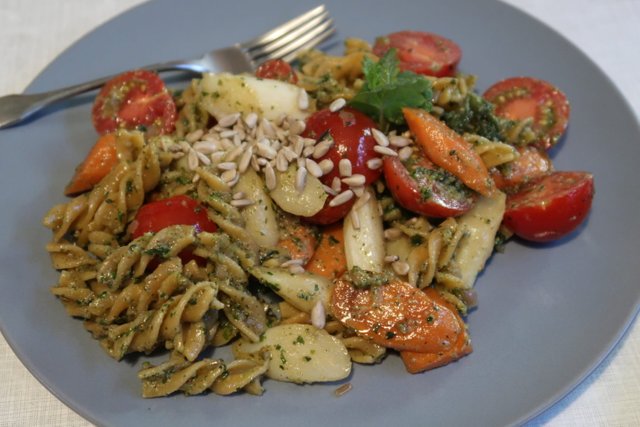 This is the post I am talking about: Let's go wild for FruitsAndVeggiesMonday 🌿🌱🍃🌿.
Here is the recipe for the pasta with wild herbs pesto:
Ingredients: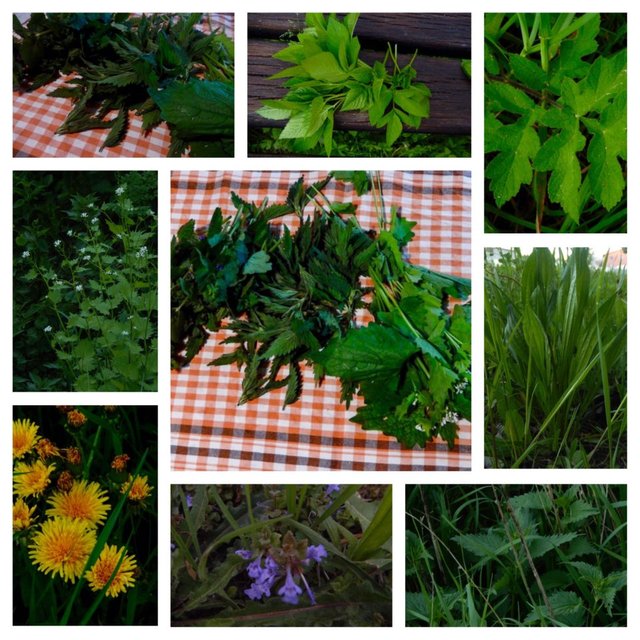 a mixture of wild herbs of your choice (or what's available). Mine was stinging nettle, dandelion leaves, ground ivy, ground elder and garlic mustard.
pasta (mine was gluten free chickpea fussily
500g asparagus 
five carrots 
some cherry tomatoes 
one or two shallots 
olive oil
two tablespoons of nutritional yeast
sunflower seeds 
peacan nuts or walnuts
salt, pepper and raw cane sugar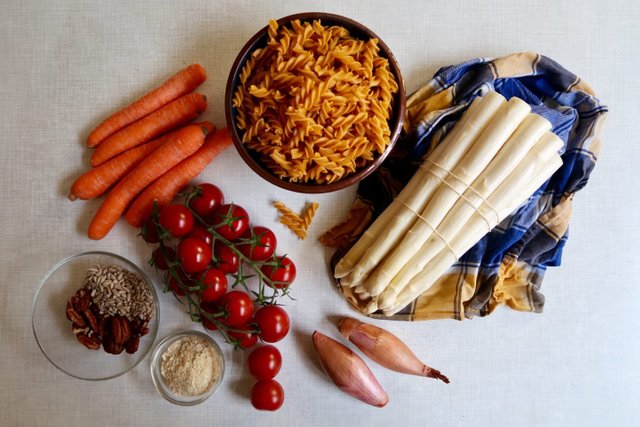 Preparation:
I peeled the asparagus, the carrots and the shallots. I kept the peels and put them in a pot with some salt and water and heated until the water was cooking and let it simmer while I was preparing my dinner. I planned to use this vegetable broth the next day for a soup.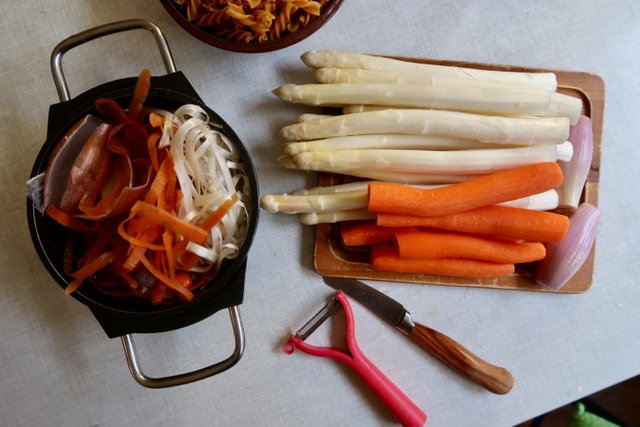 I washed the wild herbs and dried them with a kitchen towel. I plugged the leaves from the stems or chopped the leaves roughly. I put the leaves in a mixing cup together with the sunflower seeds, the nuts, the nutritional yeast, the olive oil and some salt and pepper. I blend everything with my hand mixer and added as much olive oil until the mixture had the texture I wanted.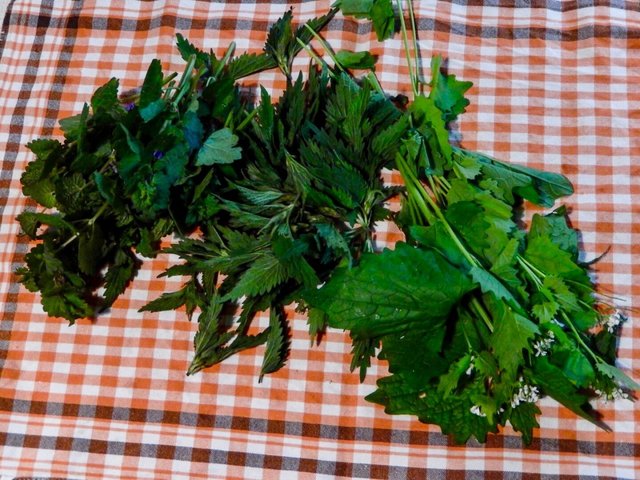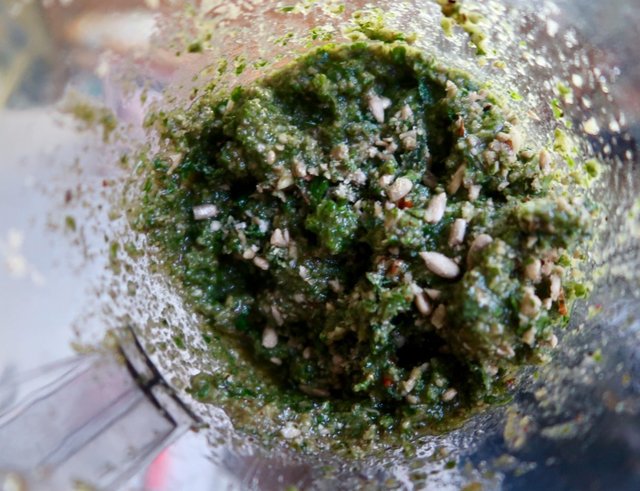 I chopped the shallots, asparagus and the carrots and fried them in a pan with hot oil. I added a Tablespoon of sugar and let it caramelize. I seasoned with salt and pepper to taste.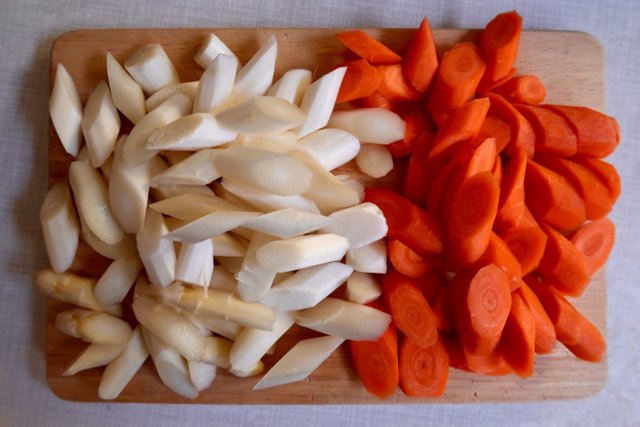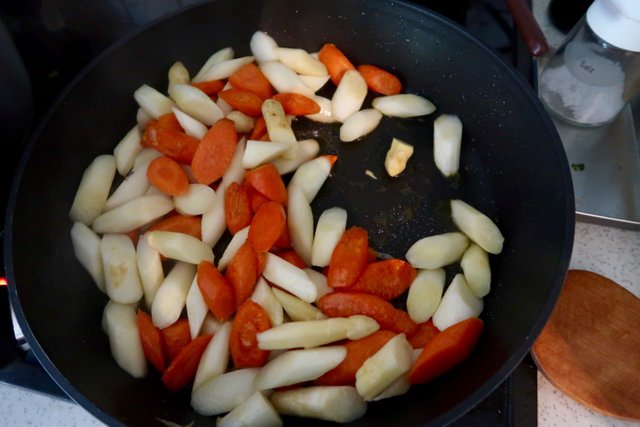 In between I cooked the pasta. Legumes pasta has a very short cooking time so make sure it doesn't get too tender.
I cut the tomatoes into halves and stirred them together with the pesto and the vegetables under the pasta. Done! That was quick and easy, wasn't it? I served it with more sunflower seeds.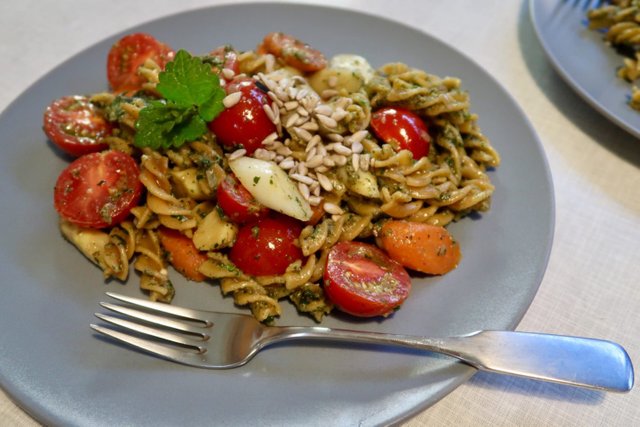 I hope you liked my recipe and I could encourage you to try to cook with wild herbs too one time. If not, herbs or leaves from the green market like parsley, fresh baby spinach, the fresh greens from carrots, beetroots or cabbage turnip work just as fine for the pesto. No limits being set to your imagination ...