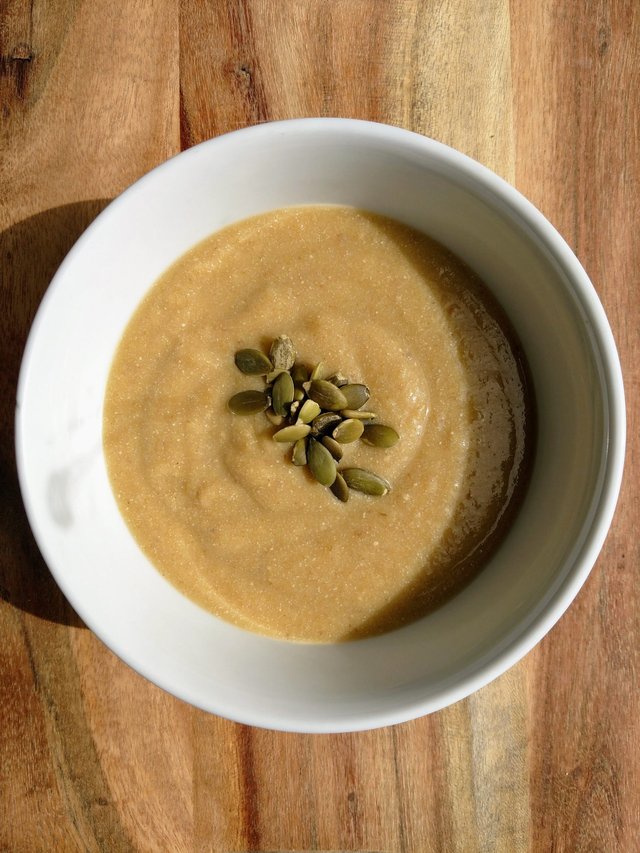 Anyone else blink and realize February is pretty much in the bag?? Even though I know it is the shortest month of the year, it seems to surprise me every time with just how fast it flies right on by! Between picking up some extra sessions at work and birthday season getting into full swing in my family, my days have seemed to maintain a steady pace lately, with little extra time to post any recipes. Luckily I got a jump start on my meal prep this fine Sunday morning, so I have time to share a delicious soup that I made last week!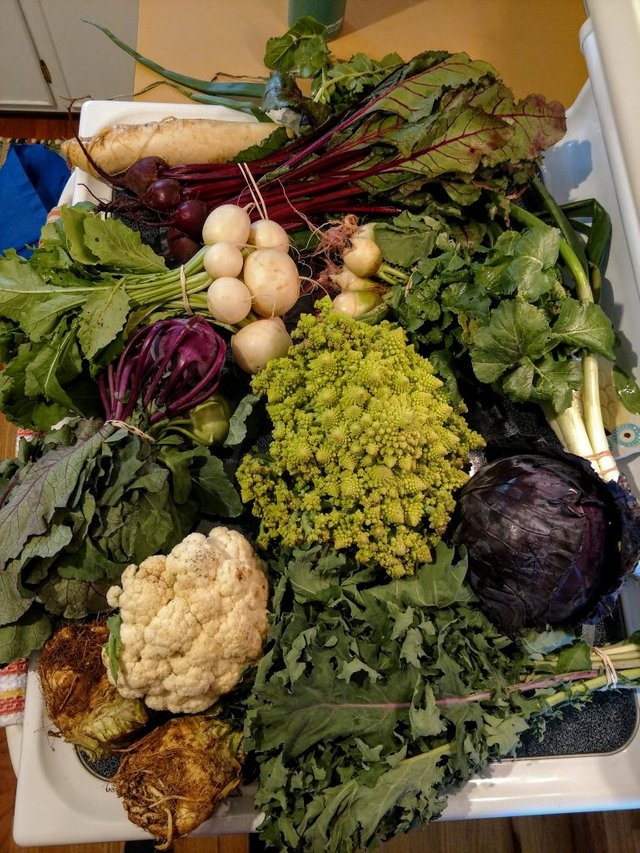 Despite the rapid pace of life, the Saturday market visit routine is still going strong. I may have to send my other half a few times coming up for me with events on the calendar, but nothing will totally keep me from getting my hands on the local goodies. This past week the new item I was able to add to my basket was a few bulbs of celery root (celeriac or Apium graveolens var. rapaceum). It may not look like much on the outside, but once you peel off the rough exterior you are rewarded with a delicious, crisp and flavorful vegetable inside!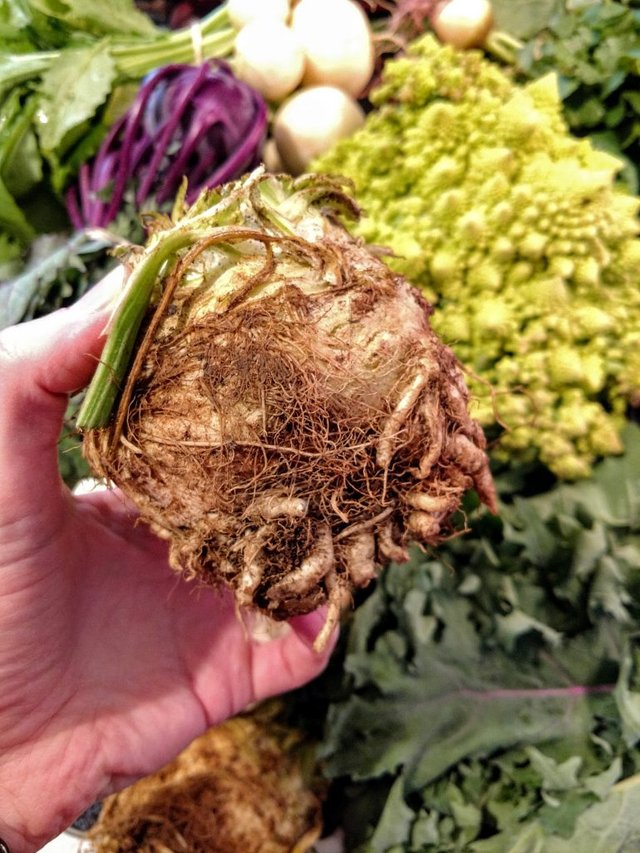 When eaten raw, it is crisp and has a taste mildly reminiscent of celery stalks, though they are not the same plant. Coincidentally I had both the usual celery stalk and this celery root on hand, so I used both in my soup! When cooked the sweetness comes out and they can turn into a creamy soup or puree. Besides the distinct flavor and versatile preparation, many people are starting to incorporate the vegetable when they find it for its many health-promoting nutrients. It is probably not surprising to find out it is chock full of fiber, but also lower in carbohydrates than some other root vegetables. The plant is also a good source of B vitamins, potassium, and vitamin K (source).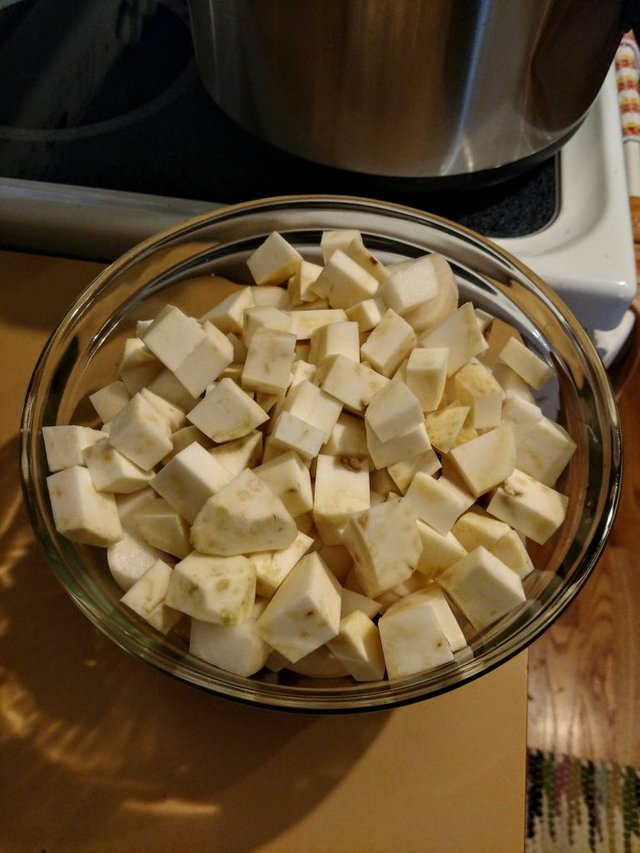 You can actually commonly find this vegetable in most grocery stores, at least in my area I have seen it regularly. As usual, though, you can't beat fresh from the ground! My farmer Lynn was worried about the frost getting to the bulbs, but I only found a few spots in the middle of one bulb that were a bit off. As I was opting to use the celery root in a soup, a few brown spots were nothing to be put off by and the flavor was still superb! Perhaps next time I get my hands on some I'll use it raw, but I do so love it roasted or pureed in a soup.
Though I have been loving using my Wonderbag lately, I am still trying to opt for the pressure cooker on occasion to get to know that appliance better, as well. I bought my Instant Pot quite a while back and wasn't a huge fan at first, but the more I experiment with it, the more I find uses for it that I really appreciate. It is fantastic to cook thicker vegetables like spaghetti and other hearty squashes quickly and easily, and it is also great for a soup when you want to make sure all of the hearty vegetables blend together smoothly as I did with this soup. Then I still also use my slow cookers, as I currently have both of them going with chili and oats as I type this post up! I might just be a bit spoiled for choice in my kitchen, but given the amount of cooking that I do I consider my "toys" a worthy investment.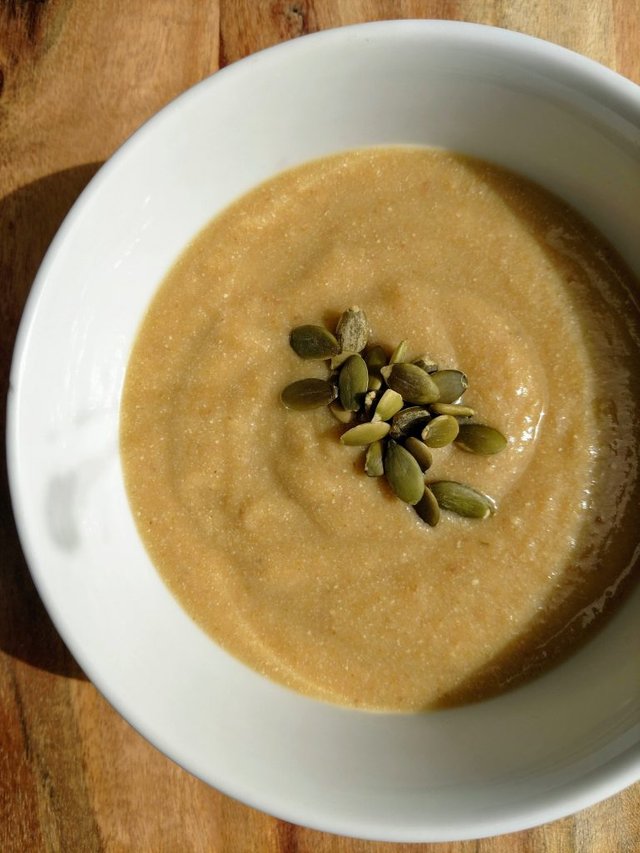 Pressure Cooker Root Vegetable Soup
Makes 8 servings
1 medium sweet onion, peeled & chopped
3/4 cup chopped celery stalk
2 small or 1 large bulb celery root, peeled & cubed
2 small sweet potatoes, cubed
1 bunch sweet turnips (about 1 1/2-2 cups), trimmed & cubed*
4 cups water
1 (16-ounce) package organic silken tofu
1 teaspoon fennel seeds
1 teaspoon ground coriander
1/2 teaspoon ground celery seeds
1 bay leaf
1/4 teaspoon ground black pepper
Set your pressure cooker to saute if you have the option. Add in the onion and celery stalk to the cooker and saute for 5-7 minutes or until soft. If you do not have that option, place in a separate pan on the stovetop to cook, then add to the cooker.
Next, add in the remaining ingredients to your pressure cooker and seal the lid. Set on Manual for 15 minutes, then let the pressure come down naturally after finishing cooking. Once the pressure gauge releases, carefully open the lid away from your body and let the soup cool slightly before removing the by leaf and blending together until creamy. I use a hand blender, but you can also carefully pour into a blender in batches until it is to the desired consistency.
Taste and adjust seasonings as desired. I simply sprinkled with some pumpkin seeds, but also thought about making a pesto or roasting some extra sweet potatoes to add in for texture!
*If you don't have access to amazing fresh turnips, you can easily sub another root vegetable or just stick with the sweet potatoes and celery root if you like. There's no wrong way to experiment with a basic soup recipe.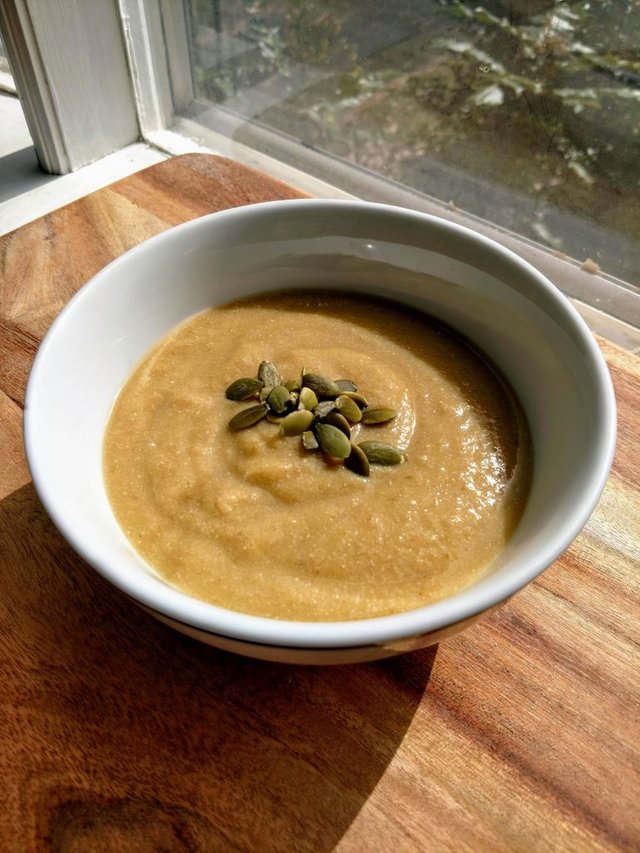 This was the first time I can recall using silken tofu in a recipe like this, but I will definitely use it again! A great way to add some plant-based protein and an extra layer of creaminess. If you prefer not to use tofu, I think a cup or two of cooked white beans would do the trick, as well. You may just want to add a bit of extra water in that case since the tofu holds more water than the cooked beans. Again, there are so many ways to take a basic recipe and make it your own!
I am hoping to have some time tomorrow to actually jump on and comment on all the delicious #fruitsandveggiesmonday entries for @lenasveganliving's contest on Steem! I felt a bit out of sorts not getting the time to stop by everyone's posts last week. It's just not a Monday without the rainbow of beautiful plant-based foods! Let's see if we can make this last week of a jam-packed February a good one. 💚🥕🍅🍠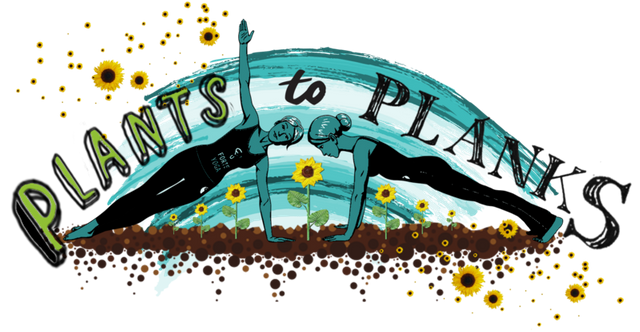 Banners by @woman-onthe-wing, @dksart and @bearone for @steemusa



---
Posted from my blog with SteemPress : https://plantstoplanks.com/pressure-cooker-root-vegetable-soup-market-gems/
---