Hi Neighbors! This post is a reply to this inspiring post from Utopian-io.
https://steemit.com/utopian-io/@utopian-io/utopian-anti-abuse-let-s-spread-knowledge-awareness-and-participation Be sure to read about their new anti-abuse efforts.
Abuse Category:
Comment Spam
Repository
https://github.com/steemit/steem
Summary
After reading this I hope that you too will be able to identify spam. It's important and easy for everyone to identify and avoid a few forms of comment spam.
Upvoting spam encourages spam. It also gives spammers the impression that they have a spammy-loving naive audience for them to spam all over. The spammers are looking to benefit through saturation.
Numbers! Don't let'em trick ye. Flag that spam if your SP is high enough. Stay safe and keep reading to see how me and many other spam fighters approach comment spam.
Also learn how I use my little eyes to quickly scan over the new Steem accounts I encounter.
Let's talk about the types of comment spam specifically. Three types of comment spam come to mind...
🐷 The aggrandizer 🐷
The aggrandizer says, "Nice blah, blah, blah, bro, dear… (sometimes your name in there)" types of comments.
They like to copy and paste their comment over and over and over again on different users' posts. Sometimes, this spammer thinks a small modification to their comments justifies rewards upon their useless comments.
How to spot an aggrandizer
If you look at their comments tab, the minor changes appear every 5 comments or so. There are small variations of comments to trick you into thinking it's not spam... but it is.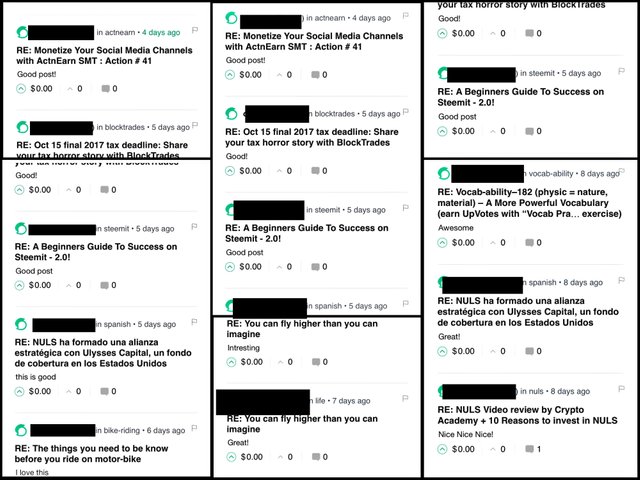 Possible reason for continuing this MO
The spammer isn't really adding anything. They are just looking for a lazy/lonely person to give them an upvote with saturation in mind. Or they are under the illusion that a random whale will just happen to see their spammy comment and take pity.

I know, I know, it's a money thing too… sometimes a fraction of one currency is worth a lot in another currency. Still, it's annoying and nobody is entitled to be here on Steem. Did I say that already? Let's just move along.
🐷 The self-commenter 🐷
This might possibly be the very worst reward-pool-raping-comment-spammer there is. The spammer that comments to himself over and over and over and over again with small rewards on all of the self-replies they've fabricated.
The rewards are usually coming from self-upvotes via delegated SP, or simply through an alt account's upvotes. This starts to sound like vote farming.
Even whales are prone to this abuse. They keep replying to a 4-month old post and upvote those comments.
How to spot a vote-farming self-commenter
The first type, we view the comments tab. For this type, simply view the "replies" tab in Steemit.
The spammer's comments are sometimes hidden within their own previous comments and therefore will not appear in the "comments" tab. You'll notice many consecutive replies by the same user that owns the account.
Yup, they are the most abundant commenter in their own replies tab. That's because they are replying to their own replies over and over and over and over and over again. I've seen weeks worth of copy/pasted comments... from a bot that gets upvoted by a second irresponsible bid bot service.
Sounds a little like vote farming and bid bot abuse again!!! See this gif below for an example of this comment spammer.

Possible reason for continuing this MO
This is the fastest way to earn curation rewards and it's not easily seen compared to shit posting. Delegated SP expires so self-voting comments and replies is the best ROI. Bid bots upvoting comments are available and you don't have to fight others with curation rewards. Yup, money thing again.
🐷 The greeter 🐷
The highly debated #introduceyourself tag comment spam kind of guy or gal. Only highly debated because someone around here needs to have a legitimate comment service or committee for greeting new users.
Anyway, the introduceyourself comment-tag-spam-sluts are a bunch of spammers that stalk the #introduceyourself tag leaving comments that supposedly greet new users. Take a look at this screen shot.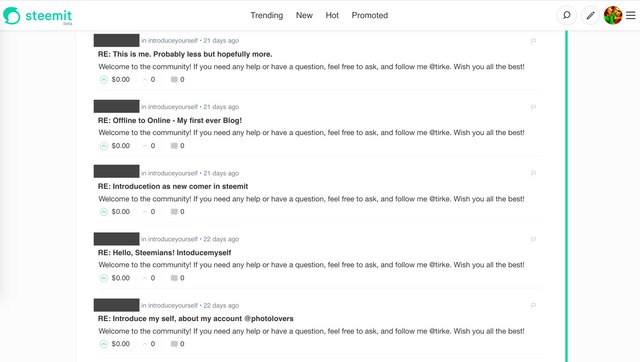 How to spot the greeter
I don't think I need to show you how to do this. But here it is.
Click that Steemit logo, under All tags you should see the famous #introduceyourself tag. Then take a pick of any of those posts and peruse the comments.
If your on a mobile device (iphone), press on your image icon, press on feed, press on "My Feed" and then scroll through the list that appears until you see the introduceyourself tag. Follow the red arrow in this GIF:

Do this if you are on a desktop computer. (PC)

Possible reason they continue this MO
Wait, do we care? Let's try, no wait... no, yes, let's try...
Some commenters just upvote their own comments after greeting a newbie. Guaranteed vote farming.
Others flood the newbies with links and Discords. Will that constitute recruiting? For what?
I can debate the long term damage. Think about how you felt when you discovered that the person you were extremely grateful to was only copy/pasting comments just like the one you thought made you special?
Buzz kill! Bad first impression! Bad for Steem!
I would rather see a million comments from @TransparencyBot before one more of those fake intro tag comments. Hey,what introduction/new user outreach is better in your opinion?

I actually mentioned several types of spam/abuse above, but how do the Pros define and differentiate between it all?


Utopian-io defines comment spam and the similar abuses I mentioned like this:
Comment spam - Comment has been repeated multiple times without regard to the post. One or two-word comments in multiple succession from a non-bot account.
Spam - Repetitively posting articles/pictures/videos with the same and/or similar content, or recyling content after a period of time or across multiple accounts. Spinning one's own, previously published content, is also considered spam.
Vote farming - Churning out content in quick successions which receives upvotes of an unreasonable number and/or size. This includes faucet delegation vote farms, collusive voting farms and other large groups that are voting on spam-type content.

Our lovable friends at @SteemFlagRewards (SFR) define comment spam this way:
Comment Self Vote Violation... When user leaves a comment favorable about post, does not upvote said post, and proceeds to self vote their own comment in a manner that causes it to be overvalued relative to similar comments of that type.
Comment Spam...When a comment has been repeated multiple times without regard of context.

I would say it like this:
Comment Spam is basically another word for a white noise, static, blabber, nonsense, bull sh!t, or aggrandizing type of comment that doesn't deserve much of a rewards and that doesn't deserve the right to get in the way and create an inauthentic environment.
Can you think of more synonyms? Please share in the comments section for an upvote if you think it's fun to create more synonyms at the expense of a spammer's spammy little feelings.

How To Start Tracking A Spammer:
You can start by looking at the comments you get from your post. If it's a new face, awesome! But wait.
Is the comment appropriate for your post? If you answered yes, don't stop. Move to step 2.
Who is this guy/gal? Check their profile.
Click on their Comments Tab. Are the comments repeated/recycled?
Click on their Replies Tab. Are they replying to their own comments? Are there other accounts replying to them?
If the new face cleared steps 3 and 4, you got yourself a new genuine visitor.
If not, you've probably got a SPAMMER!
Ok, you got a spammer. So what? Flag their comment? Hold on...

How To Stay Safe:
Send me all your money. Just kidding… a joke because it's easy to stay safe. Just don't flag anyone with larger SP than you and check to make sure they don't have a whale friend backing them up. Sometimes the retaliation will come from the money account.
For example look at this spam supporter bliss7! We caught either Bliss7 or the account wanabe doing some bad stuff. Instead of seeking reconciliation or simply disappearing, bliss7 has decided to flag me and several other spam fighters. It happens, there's help I'm grateful for, we move on and sink or swim.
Does the spammer you're about to flag show another large SP account supporting it?
Check where the spammer's largest upvotes are coming from. To do this, go to Steemd.com. Check this crap supporter for example https://steemd.com/@bliss7.



We can easily see all their curation history. Both upvotes and down votes. Lol, bliss is pissed.


For a broad look at voting activity, lets look at SteemWorld.org. Check this same spammer again for consistency https://steemworld.org/@bliss7.



Lots of down votes, but lets just focus on the information that is available. Stop laughing, @admiralbot is really really sad...not!


Check where a spammer's delegations are coming from too. SteemWorld.org is my favorite place to check delegation activity. Let's look a different spammy guy that has actually stopped his retaliation flag activities. https://steemworld.org/@mat1973




Either my GIF scared him, or my conversation with @Steevc did it... not sure, but my point is I used info from the "Delegation" button on SteemWorld.org to say to the spammer, "Hey, we know your friends, and we think they would also disagree with what you are doing." Something like that, maybe nicer. I'm usually nicer.
To Do It Too: Type steemworld.org/@(user's steem name) or Steemd.com/@(user's steem name) to see many details about your Steem neighbors. Isn't transparency a beautiful thing?
Poverty is a bitch, but this is Steem and nobody is entitled to be here tarnishing other people's investment values. There are many people willing to help others earn and learn how to be of service to this Steem communities. Investing time into relationships and effort is also important on Steem.

Resources
Anti Abuse: https://join.utopian.io/guidelines/
and: https://steemcleaners.org/abuse-guide/
Mucho Info: https://steemit.com/@roadscape
and https://steemit.com/@steemchiller
---
THANKS!
Thanks for the delegations to SFR! It really helps us further incentivise curation and education. Thanks for covering our backs sometimes too.
Big, Big, Big, Big, THANK YOU!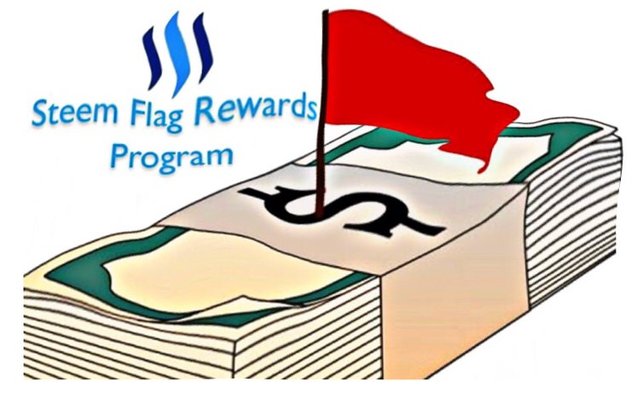 Thanks for reading.
I hope you learned something or I hope you remember to show this to someone that doesn't already know this information.
Preaching to the choir sounds nice, but I hope this article finds it's way onto a path of a future spam fighter.

...is also @steemseph and this was posted with Busy.org!