New option in HttpRetriver datasource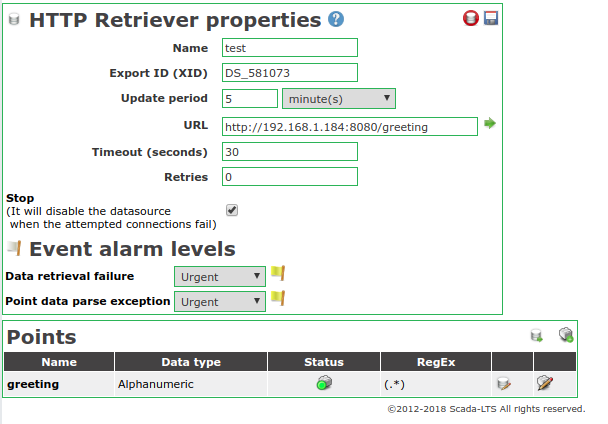 Issue: #715
The task involved:
Adding the option to disable the HttpRetriver when the remote server from which we retrieve data is not available.
We need this functionality because a datasource that can not connect to the server repeatedly (downloading data after http) creates a lot of events and unnecessary logs into the system.
How options stop in HttpRetriver works.
Examples:
The program attempts to connect and waits up to 30 seconds for the server to respond; when not connected, it turns off the data source, because the option stop is true.

   URL:  http://localhost:8080/greeting
   Timeout: 30 [s] 
   Retries: 0
   Stop: true


Remote server is available but not responding:

Remote server is not available:

The program attempts to connect and waits up to 30 seconds for the server to respond;
and retries 3 times, when not connected, it turns off the data source, because the option stop is true.

URL:  "http://localhost:8080/greeting"
Timeout: 30 (s)
Retries: 3
Stop: true


WARNING: When the program is trying to connect, so for approximately 90 sec. (3*30"), datasource cannot be switched off or updated.

Resolve: To prevent this situation, set the timeout as little possible.

Remote server is available but not responding:


Remote server is not available:

Changes have been introduced to the released version 0.0.9.7
https://github.com/SCADA-LTS/Scada-LTS/releases
Pull request: