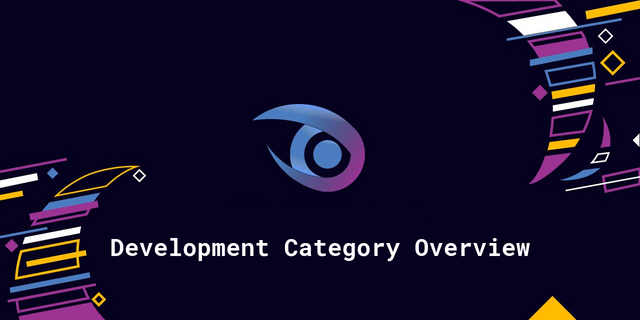 https://github.com/utopian-io/v2.utopian.io
2019-04-05 15:00:00 UTC to 2019-04-12 15:00:00 UTC
This is a weekly, semi-automated post where I will show some statistics and graphs of the development category. It will also serve as a showcase for the staff picks and task requests that were made in the current week. If you have any suggestions or things you'd like to see in this post, then please let me know!
Previous posts
Staff pick(s)
In this update Krnel has added a page where all curated and submitted posts made to communities can be viewed in one place, the ability to sort comments by date, reputation and payout amount, and finally, it now also remembers the last voting weight you used!
Parkour is an add-on to SkyBlock which allows the players to set up parkours on their island which other players can play. In this update Immanuel has added a leaderboard, so people can compete against each other and compare their times. Alongside this he has also added custom, permanent armour stands -- go check it out!
Category summary
There were 21 contributions of which 18 have a chance of being rewarded, or already were rewarded.
The average score was 69.1 with an average reward of 30.5 STU from Utopian.
The total reward from Utopian for development contributions this week (so far) is 519.3 STU.
There were a total of 16 unique contributors in the category. Of those 2 were new contributors in the development category (@amitar, @nnnarvaez).
Score distribution in the development category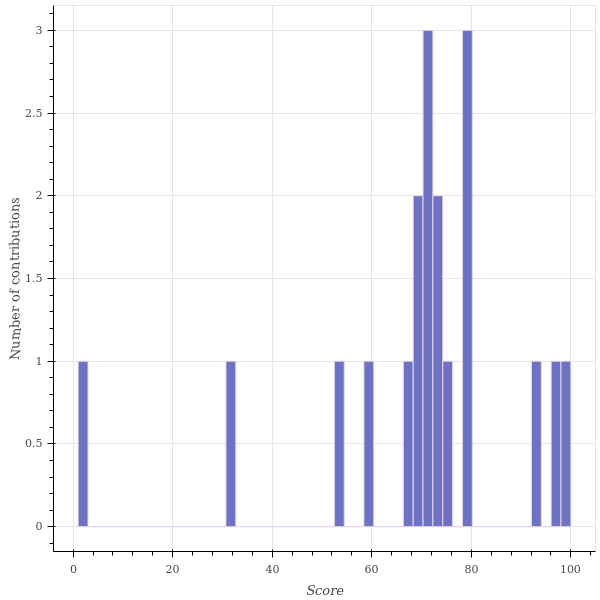 Number of contributions per weekday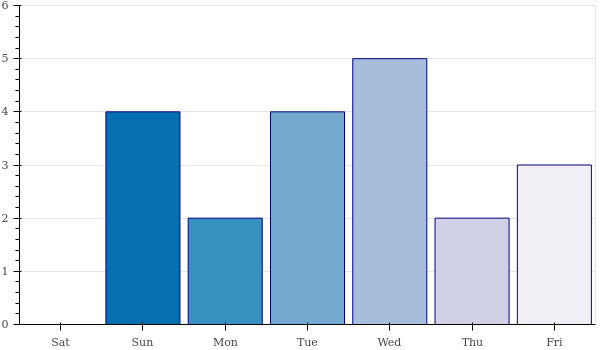 As you can see, Wednesday was the day with the most activity in the development category. Saturday had the least activity in the entire week, so if you are scared of competition then this is the day to contribute! Obviously it's not that surpising that this happened in the weekend as you were probably all out doing something else.
Average score, reward (STU) and time before review (hours) per week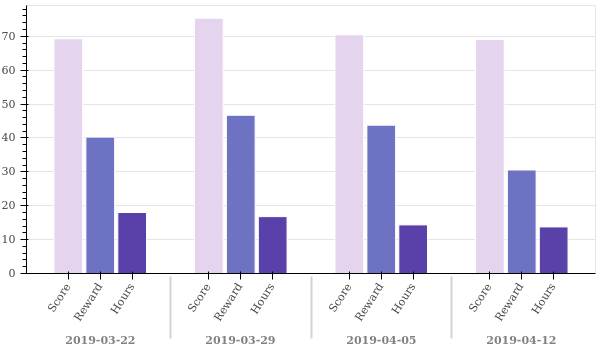 Time before review is the number of hours between the creation of the post and the time it is reviewed by a moderator.
Unfortunately the average score of contributions is down from 70.4 to 69.1 this week. The average reward has gone down from 43.8 STU to 30.5 STU. Of course with the average score and STEEM's price also going down, this was to be expected. Finally, the number of hours it takes for us to get to a contribution and review it (on average) has gone down slightly from 14.3 hours to 14.0 hours.
Number of contributions reviewed per week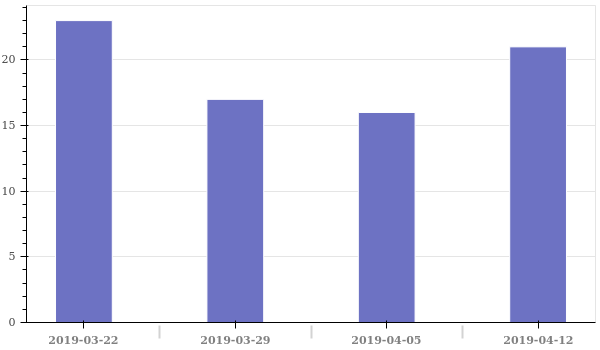 As you can see, the weekly number of reviews is up from 16 to 21! Unfortunately despite the number of reviews being up compared to last week, the number of reviews in the last two weeks (37) is down from the two weeks prior (40).
Contributors
Number of unique contributors per week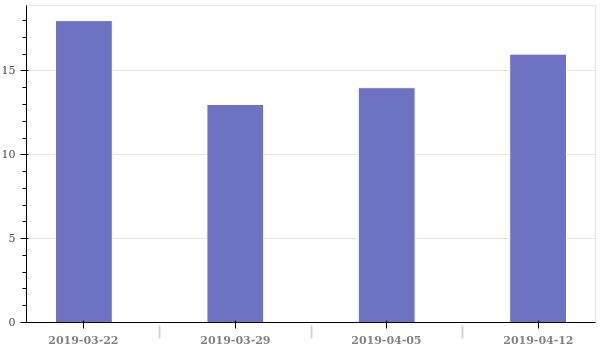 With the number of reviews going up this week it's obviously not that surprising that the number of unique contributors has also gone up slightly from 14 to 16 this week, but of course this is still very cool nonetheless!
Most active contributor(s)
One of our most active and consistent users. Holger is a great example for others!
Moderators
@codingdefined reviewed 1 contribution with an average score of 69.0.
@emrebeyler reviewed 15 contributions with an average score of 58.7.
@helo reviewed 4 contributions with an average score of 90.6.
Emre is back with vengeance and has reviewed the majority (by far) this week. I'm personally pretty busy with university and so don't really spend as much time checking out Utopian anymore, so I'm glad to see moderators taking turns being the most active.
Number of reviews per weekday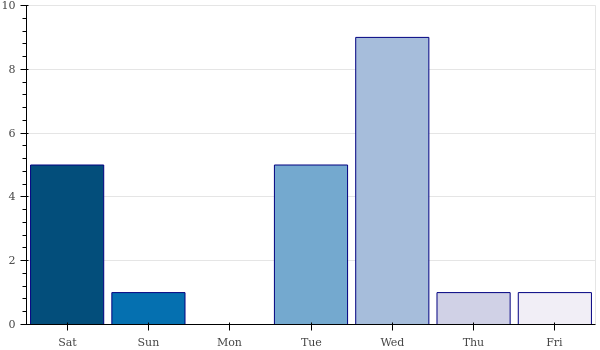 As you can see, Wednesday was the day where we reviewed the most contributions in the development category. Monday was the day where we reviewed the least. I'm sorry if you submitted your contribution on that day and had to wait a while for your review, but at least now you know when we are the most active.
Number of contributions reviewed per moderator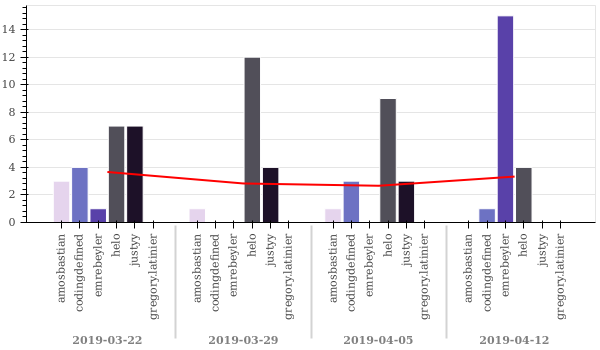 Average score given per moderator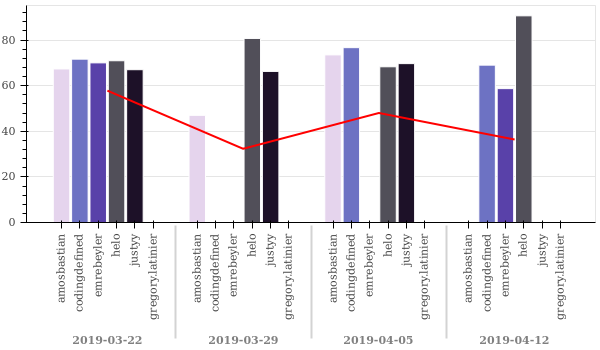 Task request(s)
I think this task has already been taken by @petertag, but there will probably be more task requests from @steemlogs in the future, so keep an eye out!
---
Also, if you think there is anything that can be worded more clearly, then please let me know!