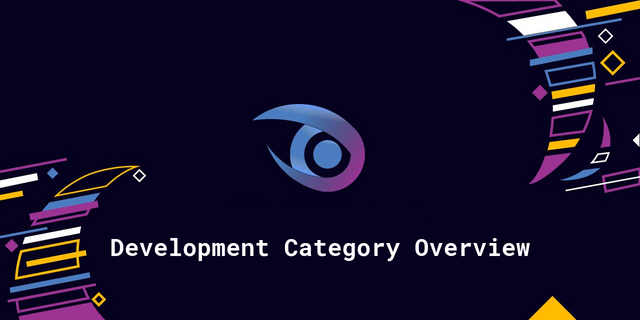 https://github.com/utopian-io/v2.utopian.io
2019-03-15 15:00:00 UTC to 2019-03-22 15:00:00 UTC
This is a weekly, semi-automated post where I will show some statistics and graphs of the development category. It will also serve as a showcase for the staff picks and task requests that were made in the current week. If you have any suggestions or things you'd like to see in this post, then please let me know!
Previous posts
Top contribution(s)
Upvoting now works on the post summary pages, like a user's Blog and Feed pages, as well as the Created, Hot, Promoted and Trending pages, and the Tag pages. Plus, there is a vote slider included for everyone, no matter what SP level you're at!

Other changes include renaming the Kurate page to Steem. Krnel thinks this will make it more obvious where the Steem content is from a first glance of the menu. He also made the typing for tags a bit quicker by putting the filtering section into its own component. All the links on the site now point to the site. No more user, tag, blog and feed pages going to steemit.com!
The following post briefly describes some of the work Tobias recently carried out for SteemGigs, within this piece of work Iheredesigned the landing page as well as simplified some of the home page code to allow more usability and less duplication.
This time around the challenges have received an update. Challenges now use metadata instead of the variable database, which decreased the database size over 40kb by default. Also, other changes where made, like a dynamic challenge repeat amount, which increases over time to give late game players more opportunities to gain more levels and stuff.
Category summary
There were 23 contributions of which 22 have a chance of being rewarded, or already were rewarded.
The average score was 69.3 with an average reward of 48.8 STU from Utopian.
The total reward from Utopian for development contributions this week (so far) is 683.1 STU.
There were a total of 18 unique contributors in the category. Of those 2 were new contributors in the development category (@ideas-abstractas, @gotgame).
Score distribution in the development category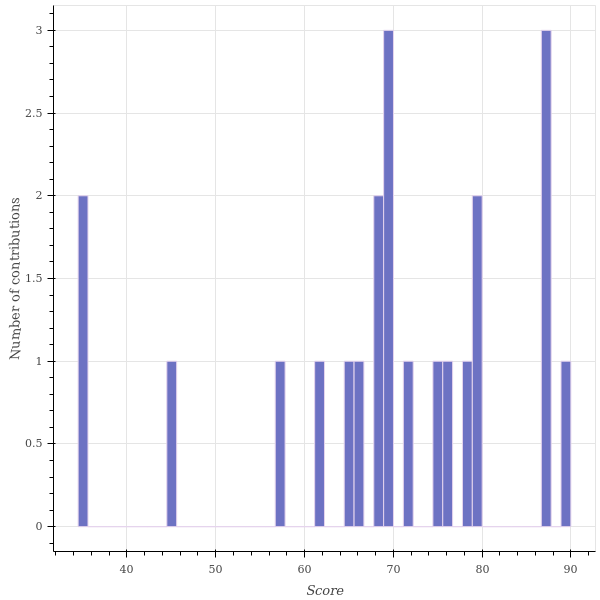 Number of contributions per weekday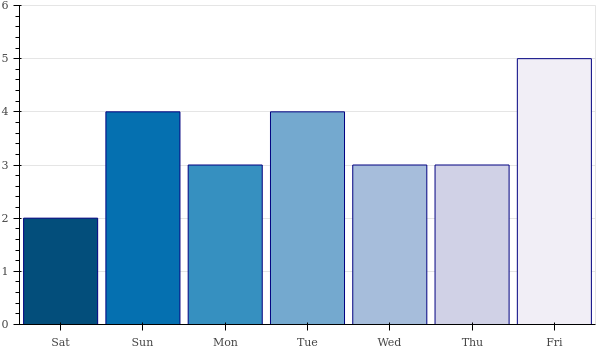 As you can see, Friday was the day with the most activity in the development category. Saturday had the least activity in the entire week, so if you are scared of competition then this is the day to contribute! Obviously it's not that surpising that this happened in the weekend as you were probably all out doing something else.
Average score, reward (STU) and time before review (hours) per week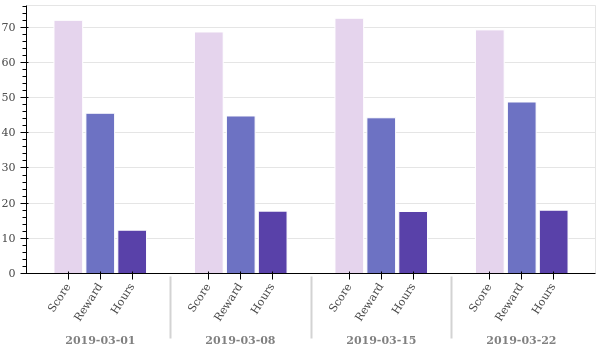 Time before review is the number of hours between the creation of the post and the time it is reviewed by a moderator.
Unfortunately the average score of contributions is down from 72.6 to 69.3 this week. Despite the average score having gone down this week, the average reward is up from 44.3 STU to 48.8. Lastly, the number of hours it takes for us to get to a contribution and review it (on average) has gone up slightly from 17.6 hours to 18.0 hours.
Number of contributions reviewed per week
As you can see, the weekly number of reviews is down from 27 to 23. However, the number of contributions over the last two weeks (50) is up from the number of contributions in the two weeks prior to that (49).
Contributors
Number of unique contributors per week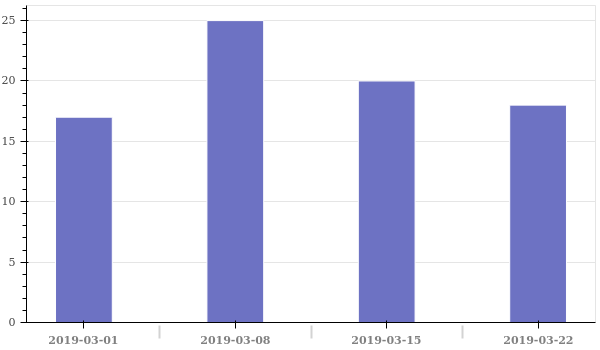 With the number of reviews going down this week it's unfortunately not that surprising to see the number of unique contributors go down slightly from 20 to 18 either.
Most active contributor(s)
Holger is always providing loads of value to the blockchain, and this week was no different. He has updated two of his projects, and has also started a completely new one: a desktop application!
Moderators
A tie for 1st place! Not really anyone who stands out in particular, which is the best way it can be imo.
Number of reviews per weekday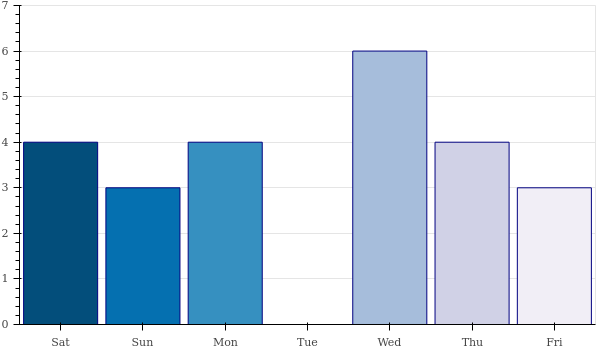 As you can see, Wednesday was the day where we reviewed the most contributions in the development category. Tuesday we didn't review anything apparently - not sure what happened there!
Number of contributions reviewed per moderator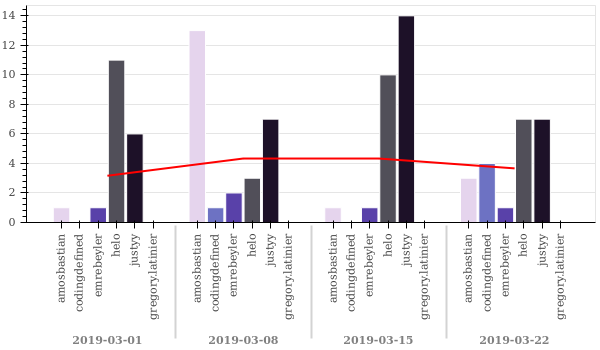 Average score given per moderator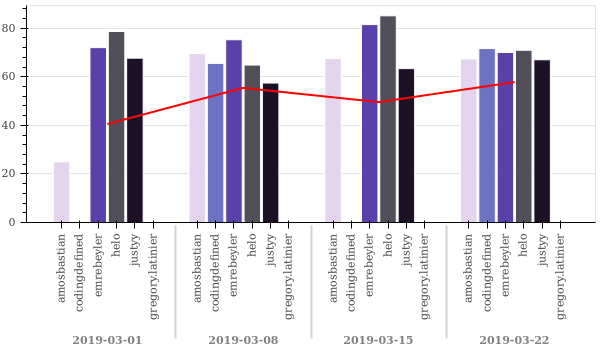 Task request(s)
Unfortunately there weren't any task requests this week. Maybe next week there will be some more!
---
Also, if you think there is anything that can be worded more clearly, then please let me know!