This book, I wrote on crypto-blogs, especially on Read.cash
https://www.kobo.com/us/en/ebook/rating-5-0-blablacar-stories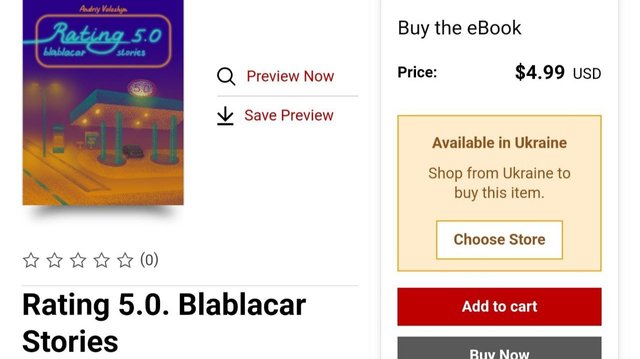 I don't expect now many sales (especially from crypto-audience, unfortunately, there is no way to pay in crypto - only card and paypal. But because of Read.cash and other crypto-blogs - I already was rewarded by publishing these stories one by one. Moreover - I already spent my "royalties". So that's the way how the new economy works)
Rating 5.0. - that's my current Blablacar rating. 34 people left the perfect rating, and probably more than a hundred Blablacar trips were made. Due to the russian full-scale invasion to Ukraine, I had to stop writing Blablacar stories. The logical end and the last 13th story is when I return to Kyiv on the evening of russian attack. Now in Ukraine, we have the fuel crisis but what's worse we have russians on our lands, who are doing murders and genocide.
Blablacar had an idea to share the costs of fuel by taking passengers. In a similar way, the funds from the sales of this book will be spent on fuel. The only difference is that driving is not for travel reasons now.
In addition to the books comes the list of videos from places mentioned from my travel youtube channel "Roads books and Music".