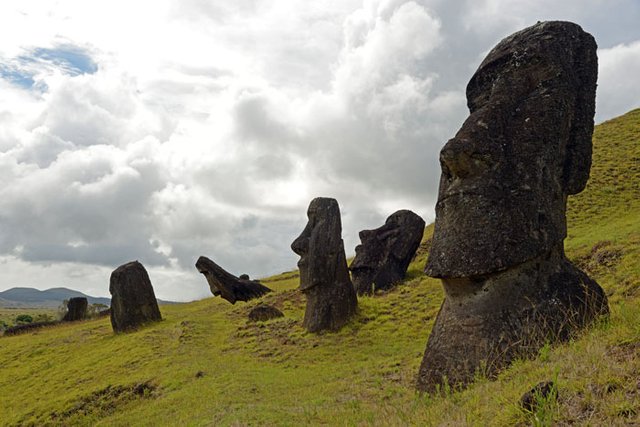 One of the most remote and isolated places in the world. This tiny island, 24 km. long and 12 km wide, belongs to Chile. That connection is hard to feel when the distance to Chile is 3700 km. Easter Island is world famous for its tight-lipped statues that are spread across the island. These statues might be what most people associate with the island. Ever since its discovery Easter Island or Rapa Nui (to its native Polynesian inhabitants) has most often been associated with the many imaginative theories about the origin of the people and the statues. But it has so much more to offer than being an open-air museum. Diving and snorkeling is great. Gorgeous beach and wonderful hiking possibilities. I stayed one week in a cottage just outside Hanga Roa, the one and only town on the island.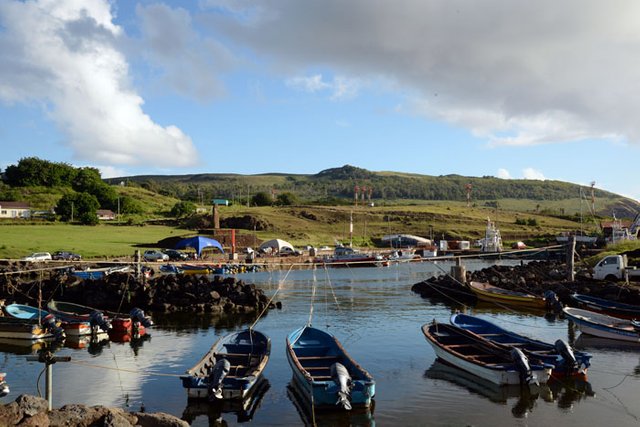 Hanga Roa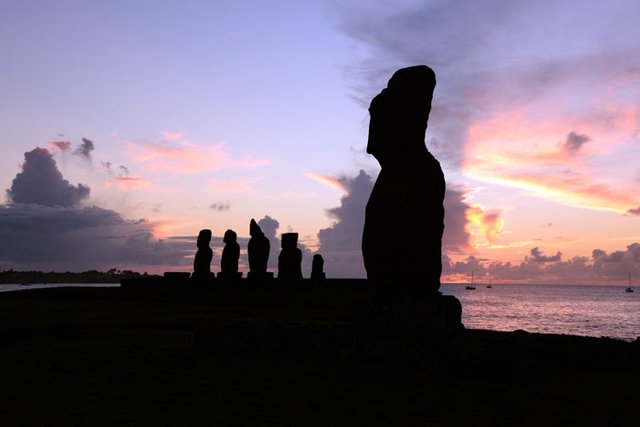 Ahu Tahai, Hanga Roa at sunset
The island was settled by Polynesians around 400 AD. It is believed that they came from other Polynesian islands. The name Easter Island was given by the Dutch navigator who discovered the island on Easter Sunday 1722. At that time the civilization of the island had already degenerated drastically, because of overpopulation, deforestation and exploitation. It was annexed by Chile in 1888, but in 2008 they were granted greater autonomy and is now «special territory» within Chile. Leaving Santiago you have to go through passport control. Rather confusing since it was a domestic flight! The national park makes up 40% of the island and belongs to Chile. This has caused political tensions. Indigenous Rapa Nui control almost no land outside Hanga Roa. They want more control over their land and tourism.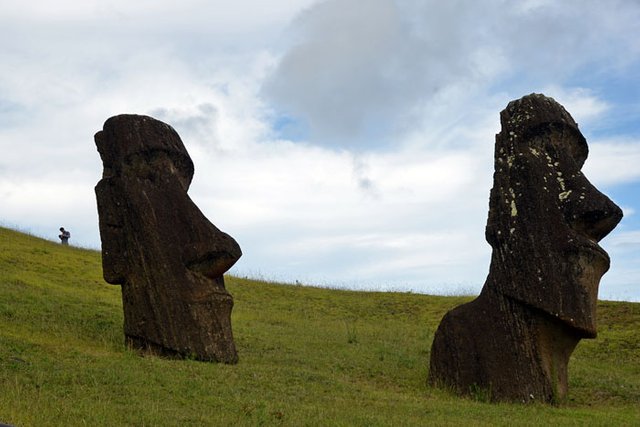 Rano Raraku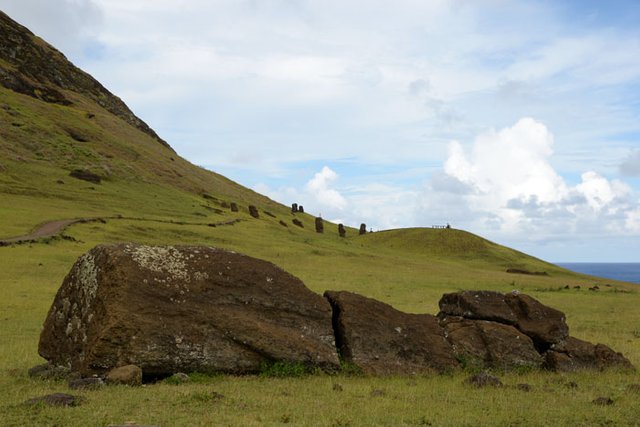 Rano Raraku
I spent my first two days visiting the most important archeological sites. My fist visit was Rano Raraku, which is where some of the most famous moai statues are found. The statues were erected by Rapa Nui people between the 10th and 16th century. Exactly why and how these statues were assembled is still not fully understood. The volcano of Rano Raraku is the quarry from which they were cut. Wandering around among dozens of statues was an amazing feeling. They are in all stages of progress, spread out on the slopes of the volcano. It was as stepping back into early Polynesian times.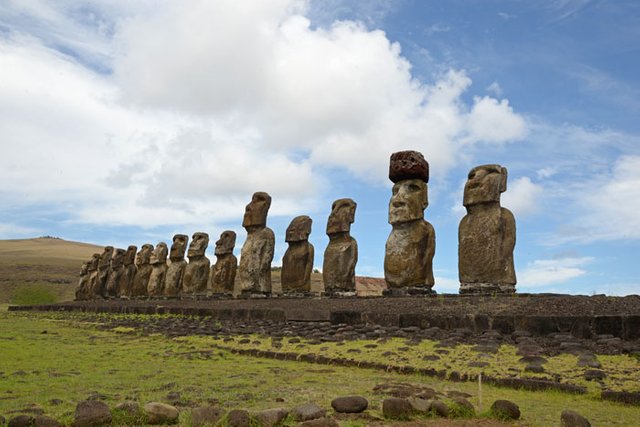 Ahu Tongariki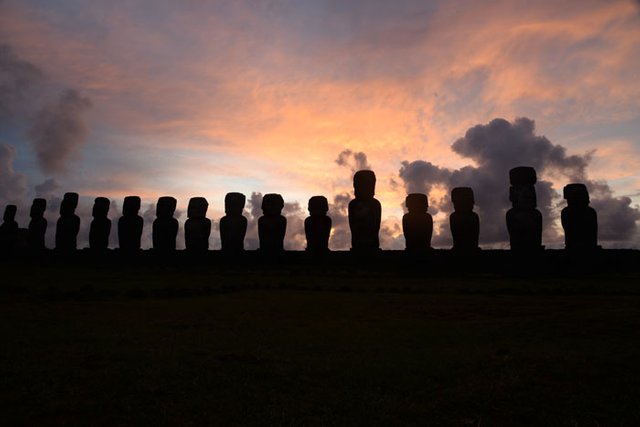 Ahu Tongariki at sunrise
Next visit was Ahu Tongariki. 15 of the island's most famous statues are standing in a lineup upon a flat rock platform. They are turning there back to the sea, looking at the village once here. In 1960 a tsunami had flattened the statues and scattered several pieces far inland, but restored by a Japanese team in 1992 -1996. The site is on the east side and since it opens at 06 in the morning, I went out again one morning, just to sit there watching the sunrise.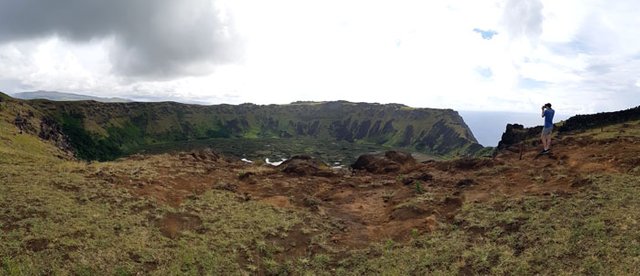 Rano Kau, the large crater in the south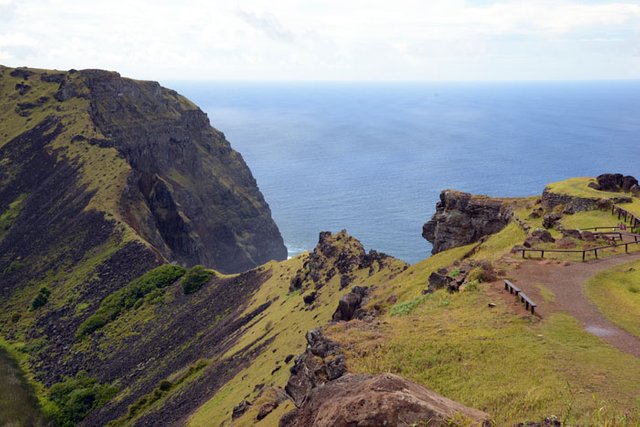 Orongo Ceremonial village house to the far right
My next visit was to the southern volcanic crater lake. Besides driving, it is possible to hike the 4 km. to the summit of this 400 m. volcano with a crater lake which is 1 km. in diameter. It offers an unbeatable view of the island and is one of the places where you can really feel the island's solitude in the South Pacific. By the crater rim, there is another archeological site. The Orongo Ceremonial Village, which is perched on the rim of the crater and a 1000 foot cliff plunging down into the Pacific Ocean, must have one of the South Pacific's most dramatic landscapes!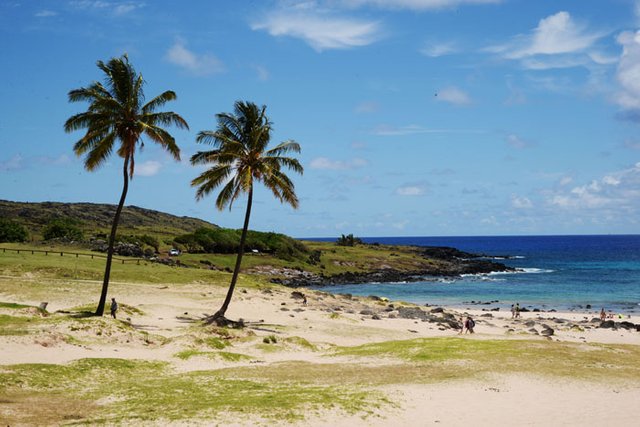 Anakena beach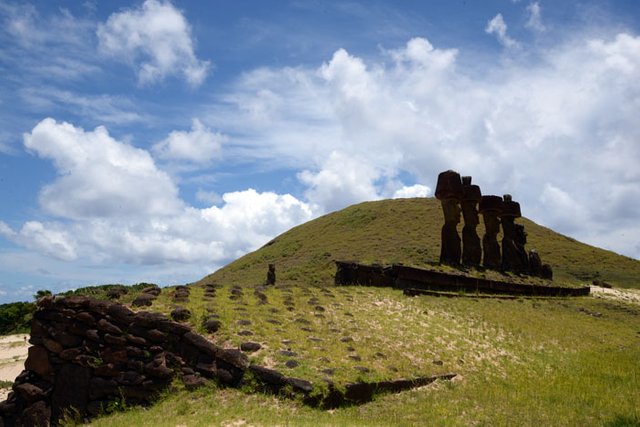 Statues by the beach
After three days wandering around among the ancient statues and archeological sites, I took a day «off» and spend it on this lovely beach up north – Anakena beach. A lovely white- sandy beach with coconut trees. It even has as a backdrop a platform with seven moai's – statues. Facilities includes toilets, restaurant and souvenir stalls, But, more expensive here than in town.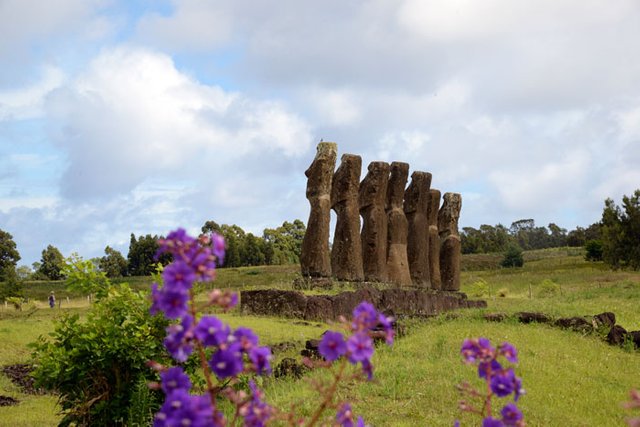 Before hiking to Terevaka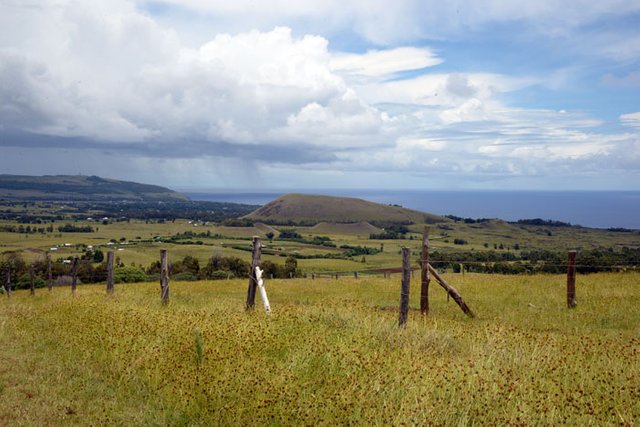 hiking to Terevaka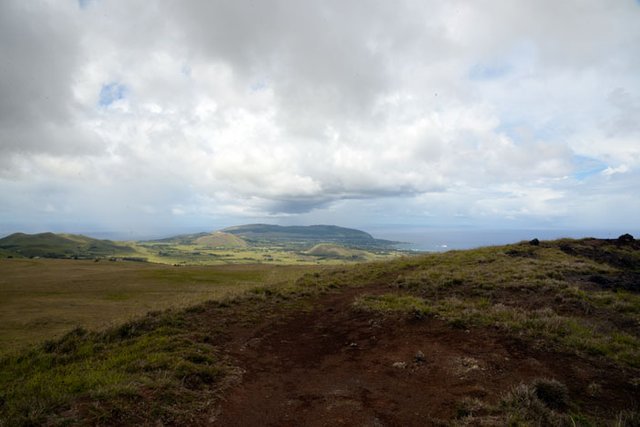 On the summit of Terevaka
To really get the feel of how small and how isolated Easter Island is, I did a hike to the highest point. Terevaka at 507 m It is a 9 km. hike but not steep. It took me about 4 hours. The view is amazing and keep getting better. From the summit the whole island is visible and nothing but sea all around.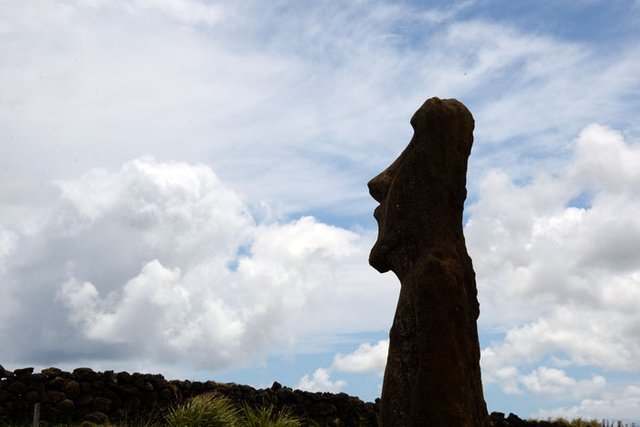 The work done by archaeologists, anthropologists, historians etc. has revealed many of its most hidden secrets. Even so, I find that there is still a mystical feeling about this isolated island left all alone in the Pacific Ocean.
Next stop: Atacama desert, northern Chile
Please do follow if you want to keep up with my next travel story. Any upvotes or resteems are hugely appreciated!
Latest travel stories, check out :
ARGENTINA #3 - Patagonias colossal field of ice and snow
ARGENTINA #2 - highligst of Patagonia: Mt. Fitz Roy
ARGENTINA #1 - walking through the «City of the Dead» in Buenos Aires
U.J
Kristiansand, Norway
All the photoes are mine, Ulla Jensen (flickr, Instagram and facebook)
[//]:# (!steemitworldmap -27.155134 lat -109.423274 long CHILE #4 – Into the mysteries of Easter Island d3scr)