HEY GUYS I HOPE YOU ALL ARE HAVING AN AMAING DAY.
So today i am going to analyse the price of BAT ( Basic Attention Token ) binance chart.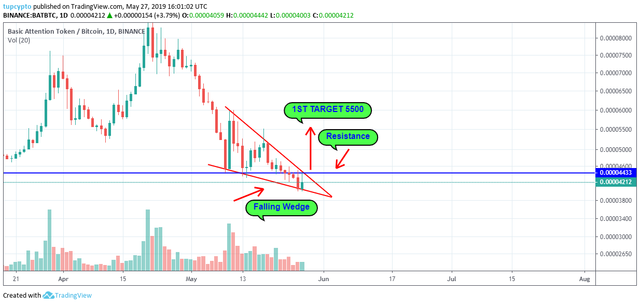 As shown in the above image , I have drawn a falling wedge and as you guys already know that falling wedges gives breakout on the upper side 90% of the times. However i do not suggest to take entry here but i have drawn a resistance that works as a key line for BREAK OUT!
So keep eye on that resistance and if price breaks it then you can long BAT with a "stop loss''
If u are wondering where you can long BAT token then here is the platform i am using since months and this platform follows binance chart!! you can take margin upto 4x (leverage) sign up here at -
https://coindcx.com/insta/buy/btc?r=64298733$$Moxkxq
DISCLAIMER-
"ANALYSIS ON TUP.CRYPTO IS ONLY FOR KNOWLEDGE AND LEARNING PURPOSE, WE DON'T TAKE ANY RESPONSIBILITY OF YOUR LOSSES OR PROFITS IN ANY CASE !
FOLLOW RESTEEM & UPVOTE FOR DAILY ANALYSIS OF BITCOIN AND SOME ALT COINS !!
HAPPY TRADING ! :)