I'm trying out a new experiment in trading - looking for coins priced really low, and then buying them and selling them for 1 satoshi more.
The coin I've chosen is the one highlighted in the following screenshot from livecoin.net: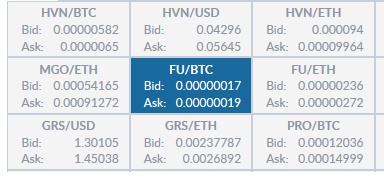 I've placed a buy order at the very minimum trade allowed, for a price of 17 satoshis.
When it executes I'll place a sell order for 18 satoshis, which should give me a 5% gain after fees. I'll then just trade it back and forwards.
The idea is to see whether you can just profit from being a marketmaker and setting up buy and sell orders on either side of the trade (the spread being 1 satoshi).