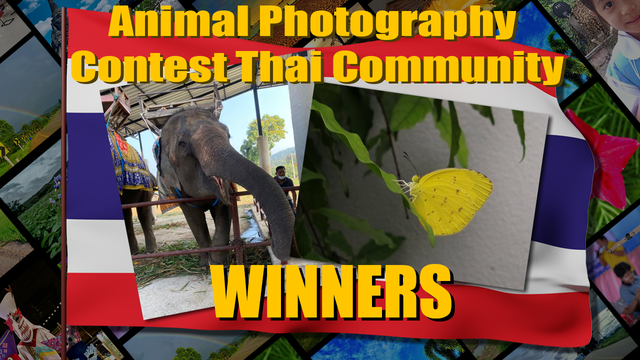 ---
We are really proud of all the great quality post we have seen since
the beginning of our contests. It was really hard to choose some days.
That is why in the second round we want you to choose.
We really want to thank you all for your great work.
You can see that the quality of Thai post is getting really good.
Thank You.
สวัสดีค่ะเพื่อนๆสมาชิก ชาวไทย และชาวลาว ที่รักทุกๆท่าน
ผลการประกวด ในครั้งนี้ ปรากฏว่า มีผู้ชนะ สองท่านด้วยกัน ทางเราจึงต้อง แบ่งรางวัล ออกเป็นสองส่วน 5 หาร 2 = 2.5 และด้วยประการฉะนี้จึงเป็นเหตุให้ผู้ที่ชนะอันดับที่สองได้รางวัลมากกว่ารางวัลที่หนึ่ง...ฉะนั้น ทางจึง ตัดสินใจว่า จะเพิ่มเงินรางวัล ให้กับ รางวัลที่หนึ่ง เป็นคนละ 0.5 ขอแสดง ความยินดี ด้วยนะคะ
❄️❄️❄️❄️❄️❄️❄️❄️❄️❄️❄️❄️❄️❄️
So The Winners Of Animal Photography Contest Are ❕

Photo By คุณ @newhope1988

Photo By คุณ @kriang3teejoe

Photo By คุณ @baibuaza

รางวัลที่ 3. คุณ @prapanth
ตั๊กแตนแมลงฝันข้าว

2.000 Hive has been sent to your wallet.
☆☆☆☆☆☆☆☆☆☆🧡☆☆☆☆☆☆☆☆☆☆

Photo By คุณ @prapanth

Thank You For The Good Work
For Animal Photography Contest!

Thank you for visiting my post!