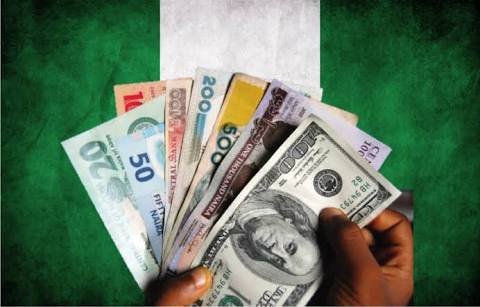 Nigerian Economy
Overview of the National Economy of Nigeria
Before independence, Nigeria could be called a powerful economic nation. Here is a country made up of land covering 98.321 million hectares of which about 74.036 million hectares are arable. Nigeria was also one of the leading countries in agriculture, thanks to the good quality of its soil, good heat and adequate moisture. But what still remains of immense importance to the Nigerian economy is her huge population. And the Nigerian population has the record to increase astronomically. Only between 1952 and 1991, the Nigerian population increased from 31.1 million to 88.5 million. Currently, population estimates put Nigeria's figure at 140 million (2006). In 1990 the World Bank ranked Nigeria the seventh most populous country in the world, after China, India, USA, Indonesia, Brazil and Japan.
Before independence, agriculture accounted for over fifty percent of the Gross Domestic Product (G.D.P) of Nigeria. Again about three quarters of the Nigerian population were engaged fully either in agriculture or agriculture-related activities. Cedar, Iroko and walnut are very much found in the mangrove and rain forest. Within the Savannah, cocoa, rubber, palm produce, kola nut and arable crops such as yam, cassava, maize and citrus are generated. It is also easier in the Nigeria's grassland to raise cattle and other dairy products. This is also true with the cultivation of grains like guinea corn, millet, rice, cotton, groundnuts, beans and other leguminous crops.
Besides agriculture, there are some very important mineral deposits as well. These mineral deposits are scattered almost all over the country. In the West for instance, we have the alluvial gold deposits, while there is tin in the North. The east is the centre of coal. Edo/Delta, Rivers, Imo/Abia and Cross River/Akwa-Ibom States share the lion's part of petroleum products. Iron, brass and bronze are found in Lokoja. Although scattered, limestone, kaolin, diatomite and clay are found in abundance in Nigeria.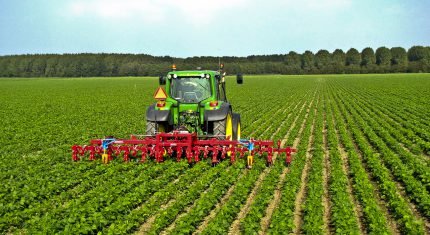 Agriculture in Nigeria
The Structure of Economic Activities in Nigeria
Although most Nigerians are engaged in agriculture or agriculture-related activities, economists say there are at least eighteen activity sectors of the Nigerian economy. These include agriculture, livestock, forestry, fishing, crude petroleum, mining and quarrying, manufacturing, utilities, building and construction, transport, communication, wholesale and retail trade, hotels and restaurants, finance and insurance, real estate and business service, housing, producers of government services, and community, social and personal services. As already mentioned, agricultural activities are spread all over the federation. In the year 1960 or thereabouts, agriculture absorbed over 75 percent of the work force while industry and other sectors together employed the rest. Therefore in contributing to the Nigerian GDP, agriculture was the leading sector. With respect to that, Nigeria enjoyed the modest tag of a middle-income country. However, from the period 1980 till date, GNP per capita dropped. This situation, coupled with the deteriorating social services, continuous high rates of inflation, declining productivity and high rates of unemployment, have made the average Nigerian poor by all standards.
Is Nigeria Economically Self-Reliant?
A nation is said to be self-reliant when her citizens depend largely on her human and material resources for most of their basic needs. In other words, self-reliance as a national development strategy usually refers to a nation's determination to rely on the utilization of domestic resources to produce most of her required goods and services.
As far as Nigeria is concerned, it is very difficult, if not impossible, to claim that she is economically self-reliant. Here is a country where the economic underdevelopment is so obvious. Almost all the economic indicators are on the negative side: low capacity utilization in industries, primitive and abandoned agriculture, debt problems, inflation, balance of payments crisis, unemployment and underemployment, malnutrition and misdirection of resources. Also, the over-dependence on oil and other imported inputs are serious problems in the Nigerian economy. This simply shows that Nigeria for now is not economically self-reliant. On the contrary, a nation is said to be economically self reliant when there are:
• Heavy reliance on domestic resources for the production of required goods and services;
• A reduced dependence on outsiders for the supply of required goods and services;
• An active use of international trade policy instrument for controlling imports; and
• Domestic prices that are relatively higher than they would otherwise have been in the absence of development strategies of self-
reliance.
However, you should always remember that achieving self-reliance is a perpetual task. Self-reliance is a process that needs to be sustained. That is why even when a country is called self-reliant, it is always very necessary to identify and examine likely factors which enhance a country's economic self-reliance capabilities on a consistent basis. In the case of Nigeria, for instance, agriculture, capital, technology, energy and industrialization are the key aspects of the economy.

Major Problems of the Nigerian Economy
These days Nigeria is a country of paradox: Nigeria is regarded as a poor country despite the abundance of human and natural resources. This is obvious when we look at the standard of living index as mentioned earlier. The economic situation of Nigeria today is negatively different from that of the past. In the year 1970 for instance, Nigeria was self sufficient in food production and the economy was somehow balanced. But the relegation of agriculture to the second rank to the benefit of the so-called oil boom has put Nigerian economy in a very complex situation. The consequence is that almost all the non-oil sectors of the economy have become stagnant. Worst still, revenues accruing from crude oil sales are mismanaged. This situation has led to some serious problems facing the Nigerian economy of today. These problems are:
• Slow growth of the industrial sector with capacity utilization
averaging about 3%
• High and growing rate of unemployment
• Slow growth of the agricultural sector
• High internal and external debt burden etc

Some Solutions to the Nigerian Economy
There is no doubt that over the years many attempts have been made to address the problems of the Nigerian economy. On agriculture, many policies have been put in place. The most important of these policies are: Operation feed the Nation (OFN) under the military regime of General Olusegun Obasanjo (rtd) and the Green Revolution under the civilian administration of Alhaji Shehu Shagari.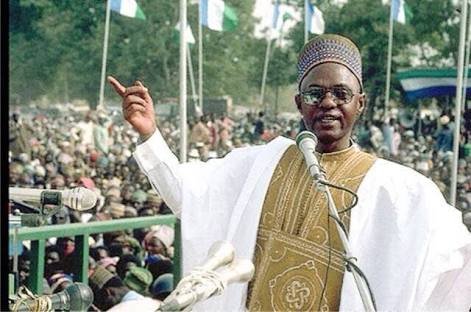 Alhaji Shehu Shagari
Also, many successive administrations have put in place fiscal and monetary policies to address Nigeria's economic problems. In respect of fiscal policy, various administrations have set the following objectives:
• Reduction of the level of price inflation;
• Provision of the necessary protection for local industries;
• Provision of a suitable price incentive framework in favour of increased agricultural and industrial production;
• Expansion of agriculture and industry;
• Encouragement of local production of import- substituting goods by encouraging local industries with heavy local content;
• Encouragement of dispersal of industrial location;
• Discouragement of importation of consumer goods which are available locally in order to curtail the out flow of foreign exchange;
• Enhancement of government revenue
• Moderation of the rate of price inflation,
• Stimulation of industrial agricultural production
• High level of employment
• Improvement of balance of payment positions,
• Reduction of foreign indebtedness , and
• Generation of more revenue, especially from the non-oil sector of the economy.
You should also remember that to achieve fiscal and monetary objectives mentioned above, governments also put some measures in place such as:
• Reduction of government expenditure with the intention of reducing offensive demand, and subsequently checking inflationary pressures;
• Continuous reorganization and reformation of customs and excise tariff;
• Encouragement of investment in agriculture through the abolition of duties on machinery for exclusive use in agriculture and subsidising inputs employed in the sector;
• Setting credit ceiling for banks and encouraging sectoral distribution of credit;
• Regulation of the liquidity ratio and cash ratio of commercial banks;
• Introduction of compulsory advance deposits scheme to restrict imports.
In 1986, the Babangida administration decided to modify and extend the previous fiscal and monetary objectives and measures. Consequently, the structural Adjustment Programme (SAP) was introduced. It was mainly aimed at:
• Restructuring and diversifying the productive base of the
economy with a view to reducing dependence on the oil sector and imports;
• Achieving fiscal balance and ensuring balance of payments
viability;
• Laying the basis for sustainable and non- inflationary growth;
• Intensifying private sector growth potential.

Sani Abacha 2010 Vision
On 27th of November 1996, General Sani Abacha inaugurated what he called 2010 vision. The intention of the 2010 vision was to embrace and institutionalize a culture of long-term planning. It is arguable now that the Achilles heel of the Nigerian economy is not the lack of policy designs but rather their implementation. Also, new administrations should learn to carry out viable policies set by their predecessors. Discontinuity in policy making constitutes a serious blow to any economy.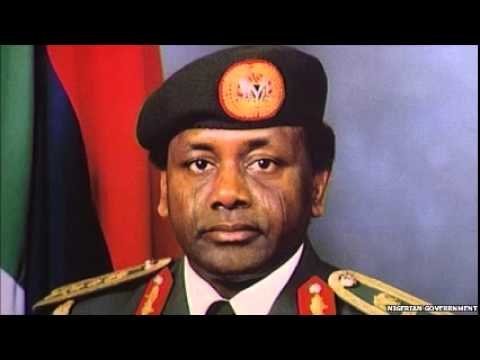 General Sani Abacha
REFERENCES/FURTHER READINGS
---
All Statistics and figures,were sourced from the following book and materials:
Aboyade, O. (1969). "The Economy of Nigeria." In P. Robson and D.A Lury, eds. The Economies of Africa London: George Allen and Unwin.
Anyanwu, J.C. "Self Reliance and Political Stability: Implications for Action". Paper presented at the seminar on Education for Political Socialization held at the College of Education, Nsugbe, Anambra State, April 22, 1978.
Ekpo, H. Akpan. "Economic Reforms and the National Question". In the National Question and Economic Development in Nigeria: Proceedings of the NES Annual Conference, Ibadan, 1993.
---
All photos were sourced from Naija.com and Nairaland

---
Posted from my blog with SteemPress : https://getnaira.000webhostapp.com/2018/06/a-historical-analysis-of-economy-and-national-development-in-nigeria
---