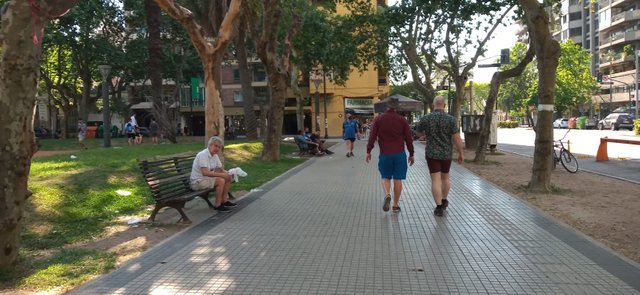 Very few of you already know it, other followers may suspect that something is wrong because of my lack of activity those days: I'm in a very dark place right now. I'm in a place where I haven't been before, and it means something, considering that I was treated for depression twice in my life and experienced plenty of unpleasant situations. I am dealing with loss, which gives me sleep deprivation, disturbs the appetite process and obviously has a negative impact on my intellectual skills. As Steemit is based on intellectual work, I'm unable to remain active on the platform.
I'm a zombie - alive and dead at the same time. I'm waiting for the better moments, knowing that time heals most of the wounds, but also knowing that every serious wound leaves scars that will remain with me for the rest of my life. I'm mechanically following the procedures to not lie down in the bed for a few months as it happened before in my life. I can't allow it - every time the depression comes back, stronger medicine is needed to defeat it. I'm not in the bed, but not sure if there is any difference in how I felt then and now, I'm not sure how being able to stand up can be better if I don't feel anything anymore.
Sorry, my cuties, but I'm leaving. I hope my presence here had some positive impact. I hope you learned something from my permaculture lessons or other publications that I have always been trying to make as educative as possible, I hope that, by getting the chance to know the gay and polyamorous guy, like me, you have opened bit your minds (I know in many countries saying loudly "I'm gay" is basically prohibited by law, so you didn't get the chance to hear it from your friends even though, believe me, some of them are queer as well), finally I hope all my lists of active communities or tips how to use steemit helped you a bit in better understanding the platform.
I'll start powering down soon and will keep the money in USDT taking out only as much as it will be needed for me to self-care in those difficult times/treat the disease if medicines will be needed. When I'll get better, I'll probably transfer back the rest of the resources to Steemit and will try to write here again. It won't be a matter of weeks though, but rather months.
I don't want my leaving to have any negative impact on the platform so I made sure everything that I have created or participated in, will continue:
Steem Travelers DOES NOT power down. The money I have earned in the community account is my gift to Steemit, my contribution to the further development of the platform. The community remains untouched and will be managed by @willeusz.
I am powering down ac-cheetah (I invested some money in that account and want to take it back), but the downvote trail remains active. After powering down, the keys to ac-cheetah will be given to the @endingplagiarism team so they can use it as they want. While the power down is proceeding, I'll continue downvoting abusers as I'm doing for months (just in February, we forced three orca abusers to leave the platform).
the Steemcurator06 team will be guided by @haidermehdi now. I am not upvoting any other posts, but the team is made by such great and talented people that it would be a pity to punish them for my leaving. I hope the change of the leader will be accepted by @steemcurator01
Thank you to all the wonderful people that I have met here. To @udyliciouz @willeusz and @ponpase for helping with Steem Travelers, to @graceleon @benson6 @ngoenyi @the-gorilla @daytona475 for chats, help, friendship, to @o1eh, @haidermehdi @progressivechef @esteban85 @ponpase and @willeusz for working together in the SC06 team, to @adeljose @marycybetancourt @xpilar and others for helping with Steemit Weekly months ago, for @alejos7ven and @symbionts for launching the downvote trail for me, for @rme and steemcurator team for believing in me, supporting my posts and helping with my projects and for many more that I did not mention. I love you all!
Steemit, as the platform, may have its ups and downs, may seem sometimes unfair, but all those things do not matter as much as being part of a community made of such wonderful people. Thank you once again, that I was able to be a part of it and that I could call Steemit my home for nearly the whole year.