When did you last take a look at the list of the top 100 Steem witnesses? Or if you want to see an even bigger list, when did you last check out the list of the top 300 Steem witnesses created by @justyy? Or the top 100 list from @symbionts?
I wasn't really aware of this myself before I became a witness, but there are just lots and lots of people who voted for some witnesses several years ago, who haven't done a thing or thought about voting for witnesses since then. That is why I wanting to bring this issue to their awareness as it is important and it would greatly help the platform. What do I mean?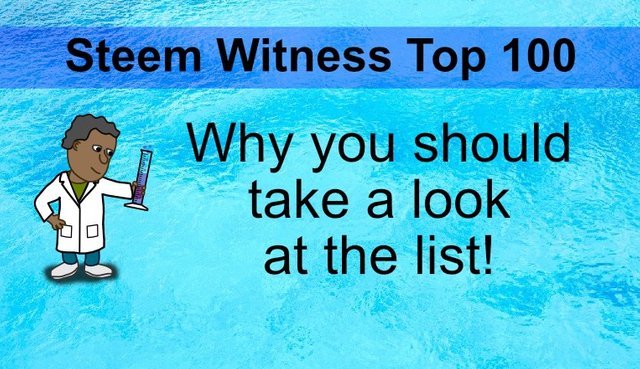 Take a look at the list of the top 100 Steem witnesses!
If you take a look at the list, you will probably not think that anything is wrong at all... at first. What do I mean? The first 41 ranked witnesses are all active and they are running a witness with the correct version of Steem.
But, then suddenly things are getting messed up.
Of all the witnesses ranked between 42 and 100, you will only find 4 witnesses who are actively working for the growth of the platform.
There are some witnesses who still run their node, but it is out of date, and therefore, not considered to be an active witness.
To say it differently, 54 out of the 100 witnesses in the top 100 list are inactive and no longer running their witness on Steem. Isn't that quite sad? Many of those people in the top 100 list have more than 10,000,000 SP in total voting for them. That is also quite a lot.
What is the task of a Steem witness?
The official definition of a Steem witness is:
"A Steem Witness is a person who operates a witness server (which produces blocks), and publishes a price feed of STEEM/USD to the network. Witnesses' computers in the Steem network have a job that is to make 'blocks' and add them to the blockchain and also to store the complete blockchain data. These blocks contain information about posts, comments, votes, and currency transfers."
Yes, that is so - but, I do believe that the task of a Steem witness is to be present at the platform, to be involved in the life of the platform, to know what is going on, and to work hard to see it grow. Some of the witnesses are awesome programmers who develop tools for the platform, others create scripts and help for people who want to run a witness, and then you have people who work just in the midst of the crowd on Steemit... just like @xpilar who runs one of the best communities on Steemit (World of XPILAR). There are also lots of witnesses active in the different Asian communities on Steemit, and you also have a fast-growing Italian community that also is responsible for several great witnesses.
Why am I a witness?
Of course, I operate a witness server that produces blocks and so. But personally, I want to be a witness that is active in the different communities, and especially, in the English-speaking communities. A large portion of the big accounts on Steemit are all exchange accounts or what seems to accounts connected to South Korea (I am not that good with languages, but I believe it to be South Korean). I am going to write an article in not so long about the 100 largest Steemit accounts as well, but I do believe we need witnesses who are active and working hard to see the growth of the English language communities on Steemit as well.
So, I guess that is kind of me... trying to be happy and to write interesting article from a personal perspective on the platform!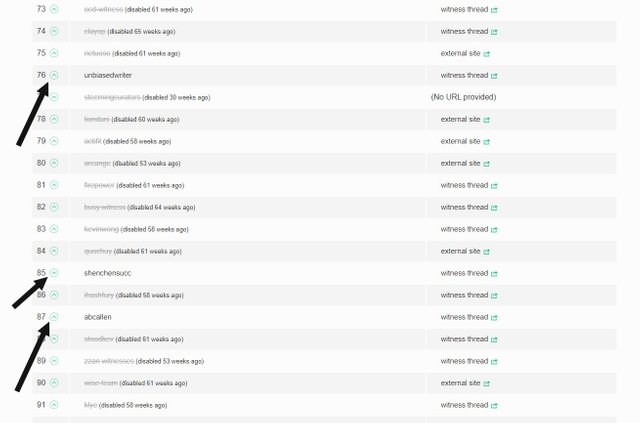 Click the arrow next to the witness to vote for them... and make sure to vote for active witnesses only.
What to do now?
You don't have to vote for me... but, I do suggest that you go to one of the links below and make sure to vote for active witnesses on the platform and let us see that the top 100 list of witnesses becomes a list of actual and real witnesses really actively working for the growth and the best of the platform!
I am ranked quite far down on the list, so you will have to scroll quite a lot to find me. I would also suggest voting for other active witnesses far down on the list to help them get past all those inactive witnesses!