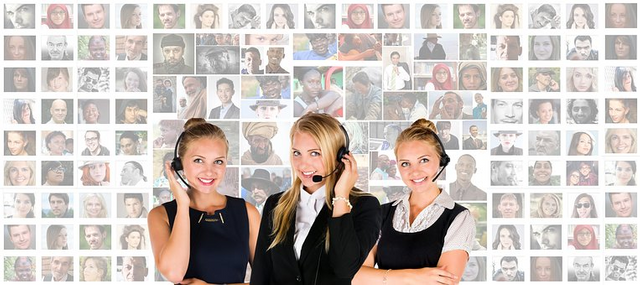 Today I was listening to some YouTube vids on business growth and sales as I sometimes do; this video started playing regarding Call Prospecting by Grant Cardone:
In his video he mentioned something along the lines that he doesn't have a favourite social media channel, he uses all of them; he said he posts daily on Medium and many others. but he did not list Steem, why would he, Steem isn't that well known and we don't exactly have a call centre with outbound sales people introducing Steem to the world like forex brokers do. Have you ever had those international number calls from forex companies? You know the ones, they can be annoying, but because of them I know that companies like HotForex exist, I even lost some money trading on it. :)
I came to Steem because an international friend of mine invited me; if he hadn't told me I would never have known Steem existed.
Anyway, back to the Cold Prospecting video... so when Grant Cardone said he "Likes them all the best!" referring to social media channels and listed the ones he uses, I thought why not ask him to try use Steem, I decided to write the below for fun:

At the time I didn't have a strategy, I was just being Cheeky, but when I stood back and took a holistic view of his blog and my comment, I saw this: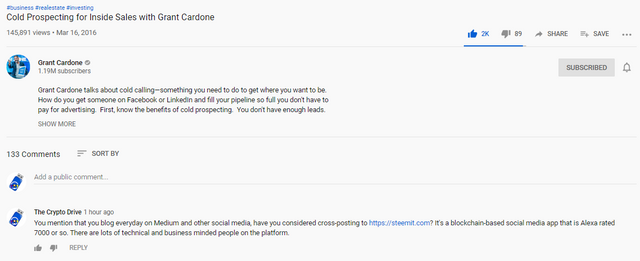 Grant Cardone has nearly 1.2 million subscribers, holy smoke! This particular video has also had 145K views and appears quite high up on the ranking on searches for cold calling tips. Just then I noticed my comment was now at the top and the last comment was a day ago, the video is quite old and likely won't get many new comments to overshadow mine, but still may get a lot of new views, my comment with the link to https://steemit.com is going to get some free visibility for Steem for minimal effort.
I know @theycallmedan uses this strategy on Twitter, he's always tweeting Steem at people and exchanges so it appears in their feed.
If all of our 4000 active users make one comment about Steem on a YouTube video per day, in such a way that it ties in with the content of the video; that would greatly enhance the exposure of Steem outside of our community. Some may even go crazy and do 10, 20, 50 or 100 a day like the cold callers do 100 calls per day as mentioned in the video!
Just some food for thought, let me know what you think...
---
If you like what I do, vote for @thecryptodrive witness with this vote link: https://steemit.com/~witnesses
Or use the quick SteemConnect link: https://app.steemconnect.com/sign/account-witness-vote?witness=thecryptodrive&approve=1

~
---
Beneficiary & Burn Disclaimer: This is a 20% beneficiary BURN post to @null, I will not boost this post myself in the first 48 hours and will only boost if it doesn't get sufficient visibility.