Dear Steemians,
Over the past few months, we have seen the continuous progress of Steem. For Steemit, we are getting increasingly more people enjoying and engaging in their favorite Steemit community, and especially the 1000 Days of Steem. We also launched a free signup system that is bringing more Steemians to access Steemit more easily. We maintain product stability and continue improve overall user experience.
STEEM & JUST PARTERSHIP
Today, Steem would like to announce amazing news for our community: Steem and JUST have reached a strategic partnership in building a better and even more awesome blockchain platform. Steem/Steemit has been exploring DeFi Ecosystem for a long time and with the help of the JUST Project, we are really making progress in the DeFi sphere today. We will work together, explore and witness the endless potential of Steem.
We will start a resteem and retweet challenge soon, keep following @steemitblog and Steemit Twitter for the latest update. Follow @just-defi on steemit for the latest news about JUST Ecosystem.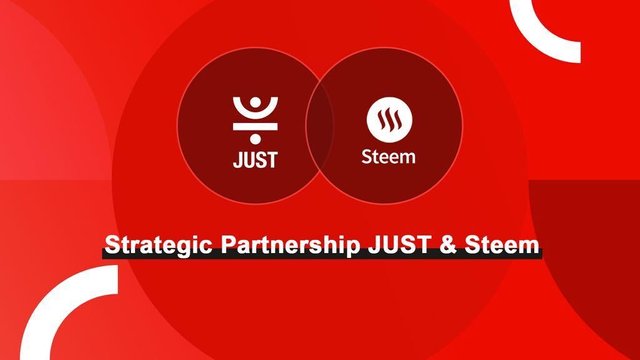 About JUST
JUST aims to build a fair and decentralized financial ecosystem that provides stable coin lending and governance mechanisms for users around the world. All transactions, collateralization, and governance are transparent and executed on-chain. JUST is built on the TRON Network, the largest decentralized application ecosystem, and aims to provide a set of easy-to-use and transparent financial services for users worldwide.
Any user can mint USDJ automatically via JUST's ecosystem of smart contracts by locking their TRX in collateralized debt positions (CDP) in the form of pooled TRX (PTRX). To mitigate against price fluctuation risks, over-collateralization of PTRX is required. The over-collateralization ratio is currently set at 150% and can be changed by a vote of the community. If the value of the collateral falls below the predetermined liquidation ratio, the collateral is sold to pay off the debt, and an additional liquidation penalty (currently 13%) is charged.
JST is the governance token for the JUST network. By participating and voting in community proposals, JST holders have decision-making power over the JUST lending platform and can control the operations of the JUST network. In addition, JST can be used to pay interest on a CDP, in which case the paid JST will be burnt automatically by the smart contract.