As part of our commitment to the Steem ecosystem we continue to improve our tools in order to be able to provide all of our fellow Steemians the best experience possible.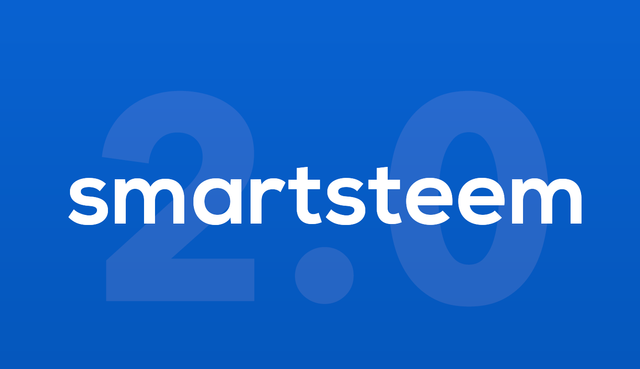 You may have noticed, our website has gone through a complete makeover and we trust you will fall in love with some of the changes we've implemented.
The main idea has always been to take user experience to new heights through seamless simplification. We believe that this relaunch symbolizes a giant step in the right direction for the Smartsteem community.
---
A brand new look - Website Redesign
Keeping the interface as clean as possible to optimize it's usage. When visiting Smartsteem.com you will be greeted by a home page with simplified options.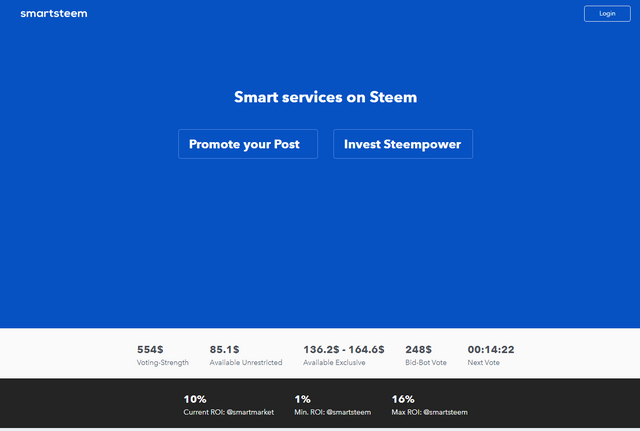 The prompt availability of the necessary information you seek is displayed on the bottom of the browser. This includes ROI, Current Voting Strength, etc.
You can also go straight from the home screen to purchase votes sold by other users, or to quote investment options with delegations. For more information on the all specifics, make sure to visit our site.
---
Investing Steempower Slider
We want it to be easy to calculate returns for investors. Especially for outside investors who are not yet familiar with Steem. So one of the changes we've implemented makes calculating ROI for investing Steem as simple as using a slider.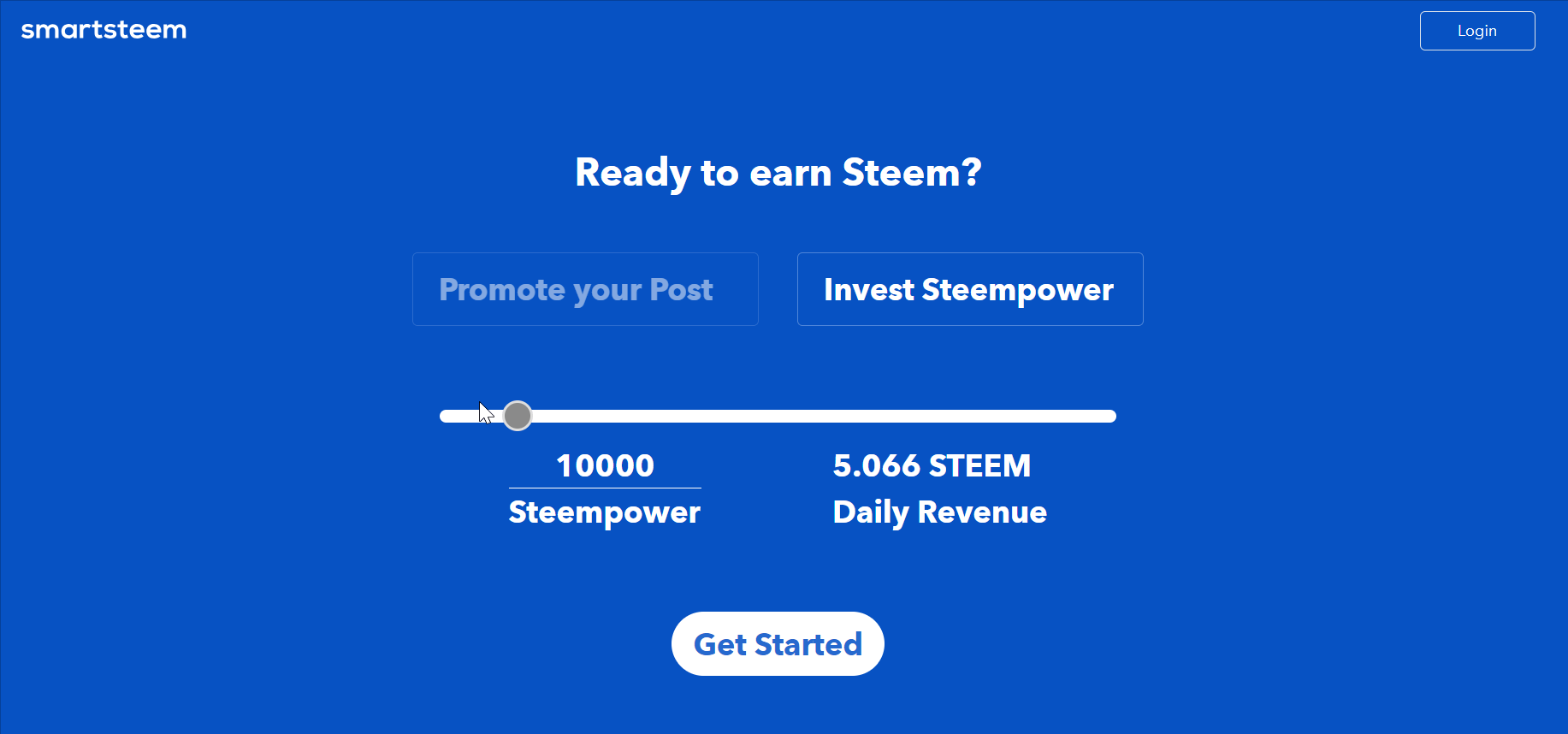 You might already know, that we do not require to have private keys on our server. All transactions pertaining to permissions are implemented using SteemConnect, a trusted tool to keep your private keys safe.
---
A brand new Dashboard
That quickly allows you to gain access to all the information a services you may need. All transactions made on the Smartsteem platform are kept on record to track your investment's progress.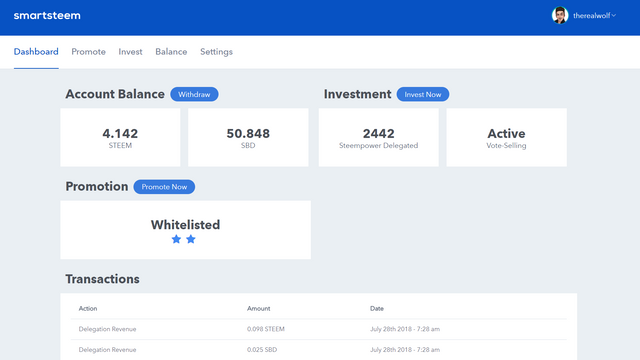 All services can be accessed from the dashboard with one single click. It just doesn't get any easier than that folks.
---
Promote your Posts
Whether you want to utilize @smartsteem or @smartmarket. Both services are now available under the promote section.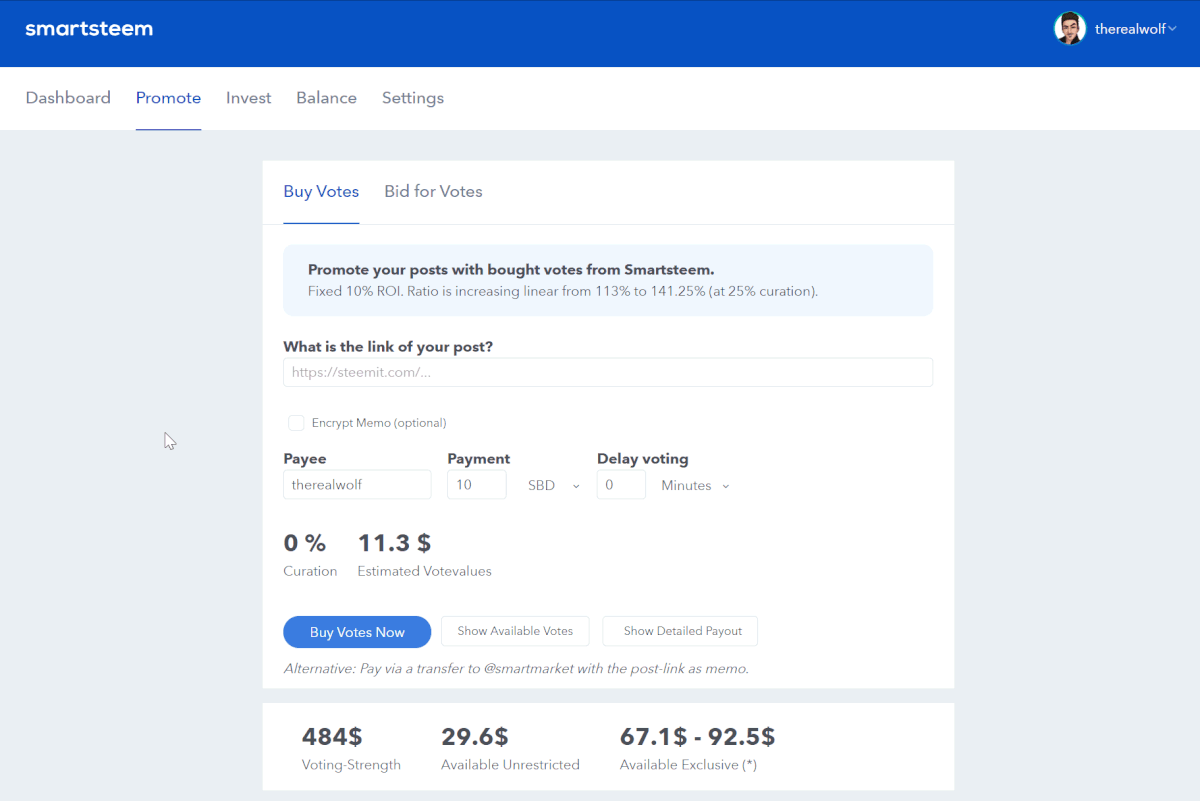 ---
Invest your Steempower
We offer two ways of investing Steempower with Smartsteem. And to know which one is right for you, a detailed invest slider has been implemented after logging into Smartsteem.com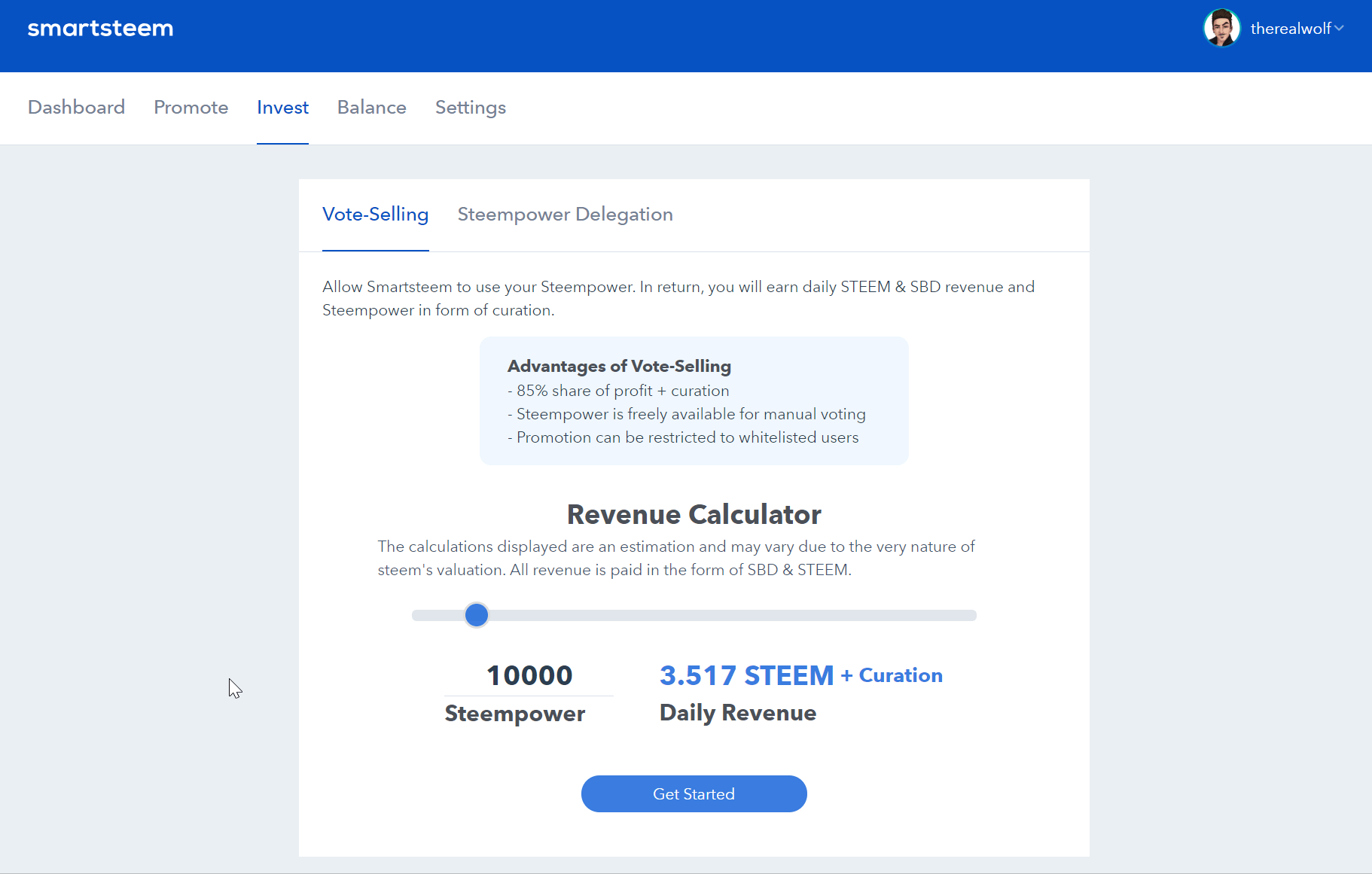 One of our main focuses is to attract outside investors, who are new to Steem, but are interested in earning a ROI comparable to Masternodes.
That's the reason we tried to design this section as simple and understandable as possible.
---
Reap your Rewards
One of the most important functions is obviously to be able to access your revenue whenever you want. This is possible inside the balance section.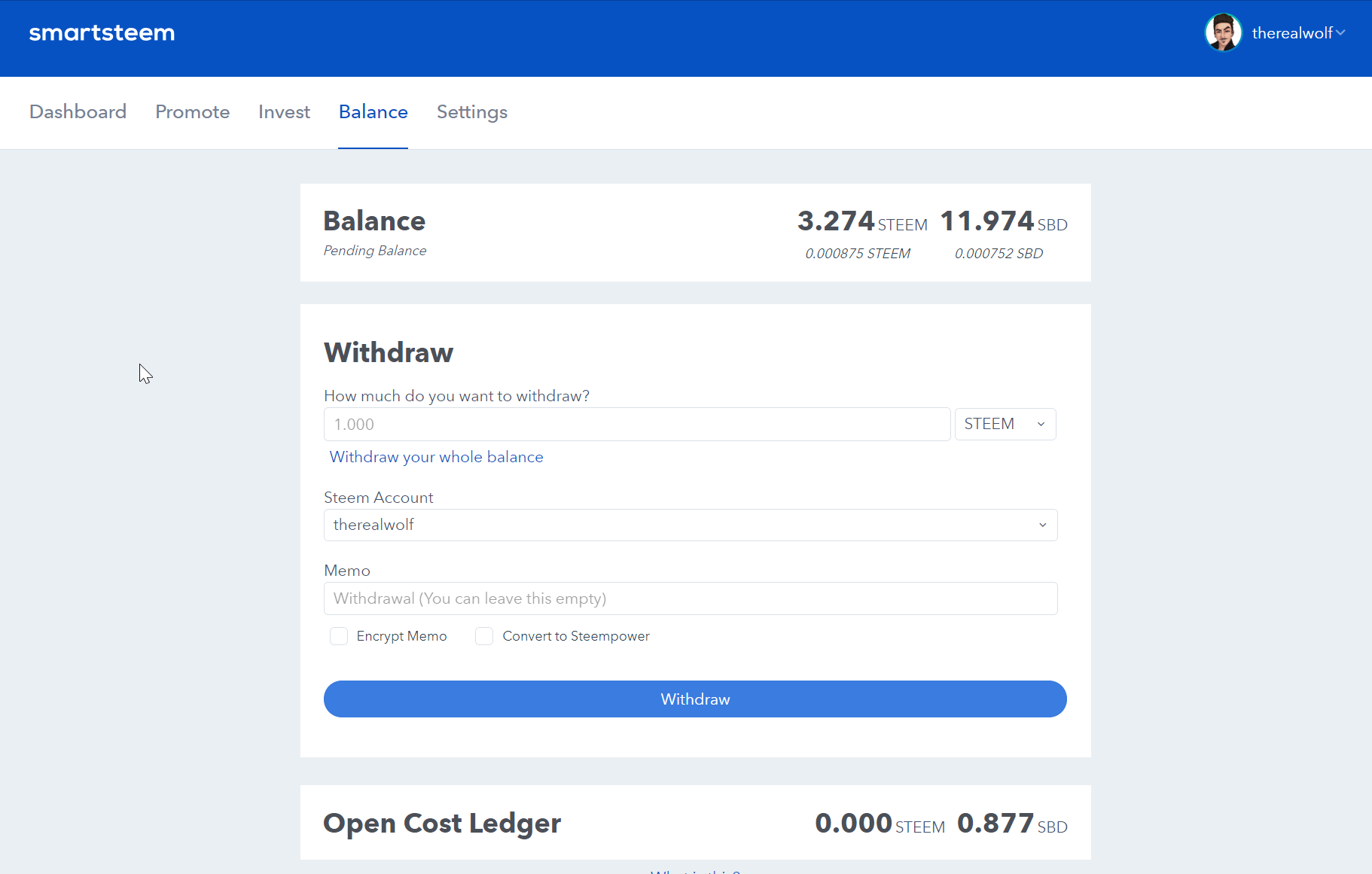 Withdrawing your rewards is as easy as clicking 3 times. You can even decide to power it up automatically!
---
New easy to browse Settings Page
This has been one of our main focuses, as we understand that not because options can be plenty, they also need to be confusing. Everything has been separated into their own tabs, and layed out for ease of use.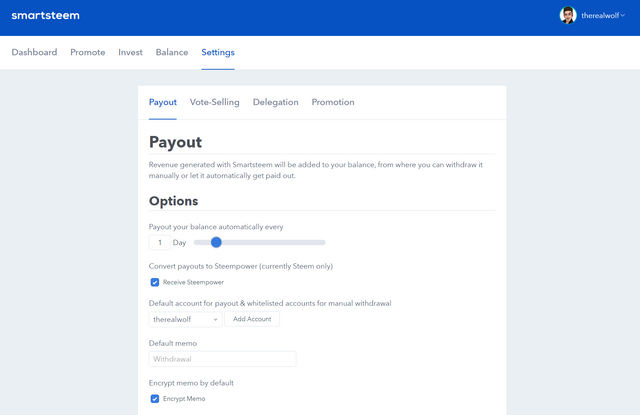 Setting the payout windows, default withdraw account with a few key strokes and two clicks of the mouse is as easy as it can possibly get without getting into the field of mind reading. Each separate tab will offer extensive choices to customize your smartsteem experience to your unique needs.

Unique Payout Features

By default all earnings are collected on your Smartsteem account's balance. However, the system can be adjusted for automatic withdrawals using a slider or entering it manually.

Withdrawals are automatically processed once threshold has been met. It's currently set at 0.1 SBD/STEEM.

You can also setup different withdraw accounts very easily. This feature could be used to move your earnings to exchanges automatically for example, or to other accounts you control as well.

Additionally, STEEM profit can also be automatically powered up to your account.
Disclaimer: We are not held responsible for mismanagement of the withdraw features. Please make sure that memos (in the case of exchanges) and account addresses are fully verified, as we cannot reverse transactions that have been made by mistake.
---

Vote selling has never been easier

Preference on voting habits, including whitelists and blacklists voting, can also be accessed in the settings page.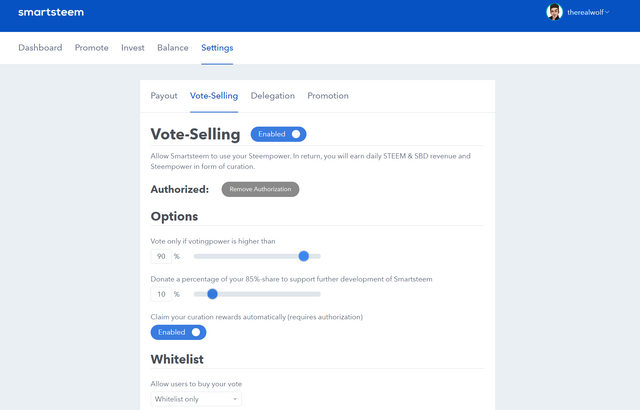 Here is precisely where you would set your triggering VP threshold, Donations and also be able to set your curation reward for automatic claiming if you so choose to. (requires authorization)
---
Whitelist Users and Tags
From the beginning a main focus of Smartsteem was to elevate the best content possible on the platform, while at the same time deterring bad content and spam. With that in mind, we were the first promotion platform to implement a whilelist of users.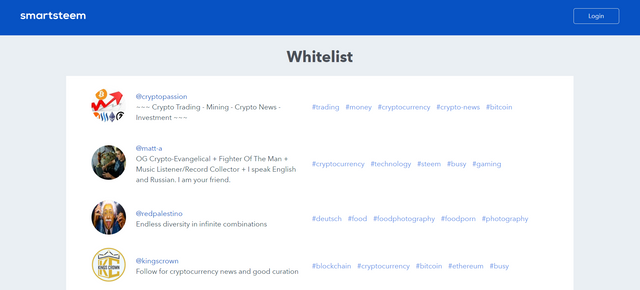 Each user on our whitelist has been carefully vetted by our team of reviewers, to make sure that users can sell their votes for quality content promotion.
And to top things off, if you're selling your votes with Smartsteem you are now also able to select custom tags and can even decide to sell your votes only to users you follow on Steemit.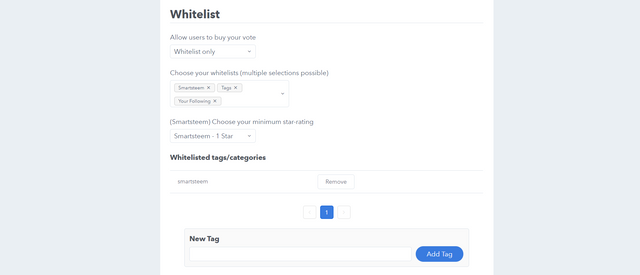 This functionality is available in your Settings on Smartsteem.com.
---
Blacklist Users and Tags
Of course this could not be missing. We are constantly assessing and examining the content being promoted with our services and keep a close eye on the would be abusers. We maintain an extensive list of blacklisted users, and we welcome Steemians to help us identify them as well.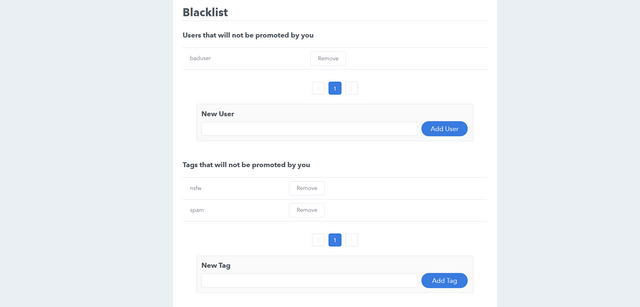 This is an endless job, but as part of our commitment to the health of the platform, a job we are happy to take on. As you may know already, we are on Discord and always have staff ready to help with reporting abuse or other issues that may arise.
We've also taken the liberty of banning the usage of certain tags from using our services. In an effort to make sure Smartsteem does not get involved in the promotion of inflammatory material, hate speech and other toxic content that may find it's way onto the blockchain.
You may also have users you don't want to sell your votes to - that's why you're now able to create your personal blacklist of users & tags.
---
In conclusion
We would like to thank everyone who has been part of our successful services. We are committed to continue to deliver the most value possible to the Steem blockchain and have complete trust that the best is yet to come. As we've endured a rough bear market, we've also chosen to not slow down in our efforts, but quite the opposite.
Our deepest gratitude goes out to the Steem Community.
Team Smartsteem
---