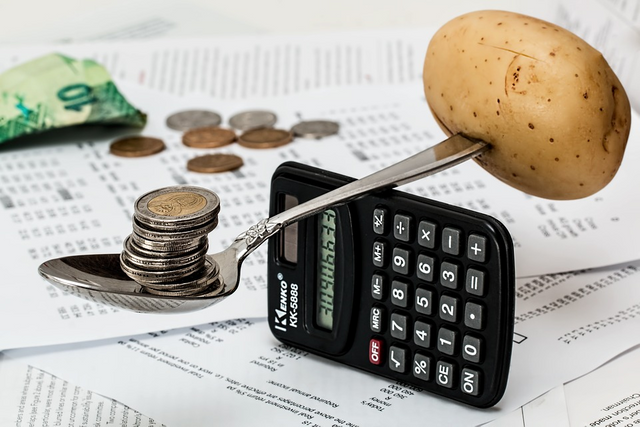 pixabay image
According to the Steem Whitepaper (page 9),
Stability is an important feature of successful global economies. Without stability, individuals across the world could not have low cognitive costs while engaging in commerce and savings. Because stability is an important feature of successful economies, Steem Dollars were designed as an attempt to bring stability to the world of cryptocurrency and to the individuals who use the Steem network.
The Steem Backed Dollar (SBD) was all part of the plan for Steem's world domination but somewhere down the line it got broken and it is no longer even closely equal to 1 USD as it was intended to. The prevailing rate is more like 69 cents.
This is an embarrassment for the Steem Network and does no favours for its reputation or adoption of SBD by merchants and freelancers.
Stabilising SBD is key to regaining overall confidence in STEEM; there is however a way to help support the peg from the lower price levels, that is by doing conversions. Conversions basically take SBD out of circulation by converting it into STEEM over a 3.5 day period, this is much like a convertible note as seen in traditional finance.
Conversions can be lucrative, netting the converting party anything up to 3% over 3.5 days. When the debt ratio of SBD is greater than 10% the blockchain imposes a 10% "haircut" so doing conversions is likely going to make you a loss.
If you look at this API provided by @cervantes, you will see that the ratio is currently around 14%, meaning total SBD supply / Total Steem Marcap in USD is 14%.
So from the above we can now see that we need to remove SBD from circulation through conversions, but it is risky for individuals to risk their funds doing this. So What is the solution?
Enter the SBD Potato!
We need to bring SBD back into the sub 10% debt ratio range so the community can jump in and help do conversions without risk of a haircut. My proposal is to use native STEEM inflation to purchase SBD on the internal market and convert it into STEEM.
The plan is this; should this first post get enough community interest, a daily post will be created that the community can vote to redirect rewards to this initiative. The account will be placed on permanent powerdown to unlock the Steem Power earned.
Once a week the liquid STEEM rewards in the @sbdpotato account will be used to purchase SBD on the internal market and converted into STEEM, the resultant converted STEEM, in addition to ongoing rewards being received from daily posts will be used in a circular fashion to continue purchasing SBD and converting it.
When SBD is safely within the 9% debt ratio range the service will be stopped and I will take guidance from the community on what to do with the accumulated STEEM, some ideas could be: send to @null to burn it, donate to @steem.dao, use it for purchasing marketing for Steem, donate to a charity on behalf of the Steem Network etc, but all of that can be decided on later.
What do you get out of it?
Well firstly by voting this post you will be helping fix SBD to get it pegged to 1 USD again as it was meant to, this could also help bring the STEEM price up with it. There is a theory that the two are circular, a strong SBD gives support to healthier STEEM prices, perhaps due to positive sentiment in the network.
In addition to doing your part to improve the economy of the Steem network, you will also earn SP curation rewards from voting the post that hopefully get decent traction.
I recommend setting the @sbdpotato account on autovote using a service like beta.steemvoter, by setting a stream to autovote the @sbdpotato account at around 4 or 5 minutes as per the screenshot below. There are also other autovoter services you can use if you prefer.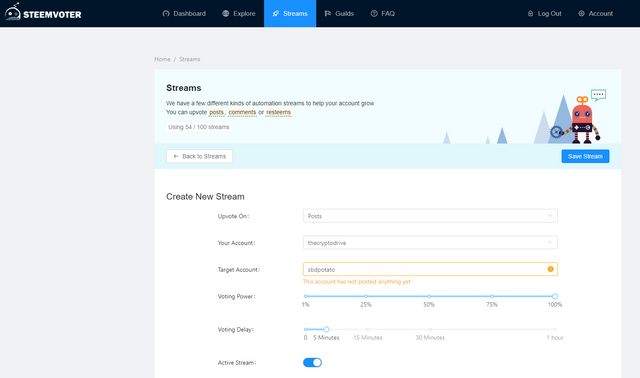 Conclusion and Disclaimer
I would like to thank @smooth for inspiring this concept, it came from a discussion about it being risky for an individual to use their capital to try help the peg, this gave rise to the idea of using community capital (inflation) instead.
This idea is also derivative of Smooth's @burnpost idea. In addition, @smooth has pledged vote support to this initiative.
As custodian of this project I, @thecryptodrive, will not derive any monetary value therefrom and undertake this under my duty as Steem consensus witness and ambassador.
I hope the Steem community will embrace this idea of supporting the SBD peg by voting the @sbdpotato posts regularly, alone we are powerless, together we can bring about change.
VOTE @SBDPOTATO TO BRING BACK BALANCE TO THE FORCE!