Hi, @jayplayco here,
Today I have a very important matter and would like to request to resteem, retweet, and comment about your thoughts on this post.
About Justswap and De-Fi
After launching the Justswap site it has already been announced that Steemit Inc. will partner with Justswap to increase the synergy between Steem and Tron environment. I am in the moment eagerly waiting for an official Steem-TRX pair, so we are able to swap Steem to Steem-TRX powered tokens and participate in the Justswap economy with a very high 24 hours volume of 137 Million USD.
YFI, YFII, YAM, SUSHI, and co. have been quite successful on the Ethereum platform as De-Fi models and been one of the main reasons that the Ethereum price is increasing and the transaction price on an ATH. The interesting part is with Justswap, that the Tron economy does have a better transaction condition to participate in different De-Fi projects based on TRX.
I have been testing around the last few days on Justswap with experimental De-Fi projects like PEARL, JFI, etc. which looks like have been forked from successful ETH De-Fi projects. Based on this trend Justin Sun also started a Meme Coin called $SUN based on a Smart Contract.
This kind of YFI like projects have following points in common,
Zero Pe investments
Zero VC investments
no pre-mining
no reverses for the team
open-sourced smart contract base
driven by the community alone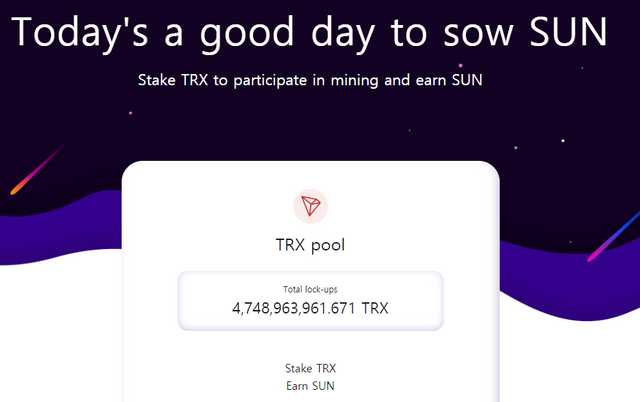 The $SUN project already gathered staked Tron worth at the moment over 175 million USD for over 2 weeks. The basic principle here is very easy. Stake a TRX based token that is offered and get $SUN tokens for that.
States for $SUN
Start for Genesis Mining: 2nd September 2020, 21:00 SGT
Total Volume : 19,900,730 $SUN
Genesis Mining Volume : 9.34$ -> 1,858,728 $SUN
Genesis Mining Time : 2 weeks until 16th of September
SUN DAY : when official mining for $SUN begins
Read for more information
Official Website
After SUN Day (16th of September)
In the moment only TRX is offered to stake for SUN mining. After the official launch at 16th of September additional Tokens are being offered with the following percentage. Mining will wrap after 16 weeks with a halving every 15 days.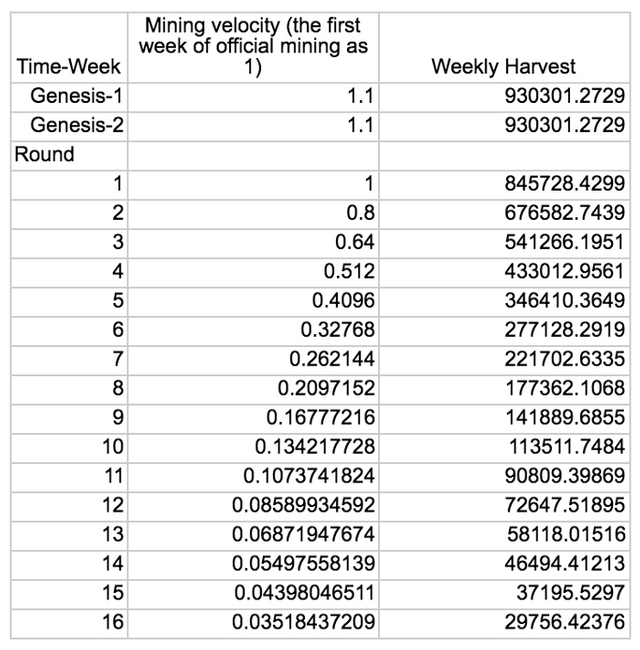 TRX - 30%
JST - 10%
USDJ - 10%
BTT - 5%
WIN -5%
In total that would be about 60% of the total pool.
Why the Steem community needs to react here!
The important part is, 40% of the pool is for community projects and liquidity mining pools. I can't personally think of a better fitting community project then Steem in the entire world for the $SUN project.
We would need the following parts including some implementations from Steemit Inc. and also the support from the $SUN project.
A TRX based STEEMJ token to be able to swap Steem to STEEMJ.
Liquidity provider for the STEEMJ token on Justswap (Steemit Inc.'s power downed liquidity could help here!!! @steemit) - example, swap Steem to SteemJ and half of it to TRX to create a SteemJ-TRX LP liquidity Pool.
Convince the $SUN project to include SteemJ as TOP QUALITY community project with at least 10-20% into the mining pool!
The important part is that our voice needs to be raised here, so the $SUN project knows that we are interested in it. Comments on this post, twittering, etc will help to get the attention from the $SUN project. The best thing is, Steemit Inc. is also part of the bigger TRON economy and would have a good chance that people at Steemit Inc. can forward our voice directly.
Why does this matter?
The De-Fi meta is getting more and more important every single day, and an important specific based on this De-Fi meta is, that every mining pairing token gets a high increase of demand, so you will be able to mine the specific token.
$SUN token has already gathered more than 175 million USD, and if our community is able to get STEEM on that pairing, we are going to go on the De-Fi Meta and also offering a direct pairing for one of the hottest De-Fi projects right now.
Please leave your voice as a comment on this article, also please spread the message with resteeming and retweeting and let's get together Steem as a mining pair for $SUN!