We have an update on our Prize pool which has just increased to a whooping 38,000 Steem power, this has increased due to 2 new sponsors jumping on board.
Hopefully our April winners are enjoying the extra Steem power in their daily lives, Go Girl power!
New Sponsors
These 2 new sponsors have increased the prize pool to 38K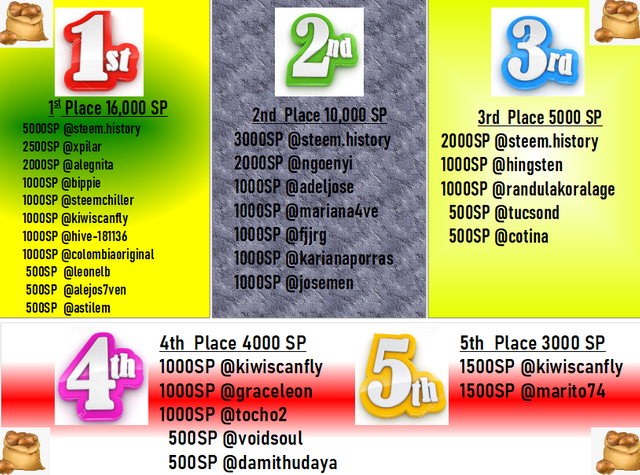 @josemen is a 2nd place winner in the 2022 March #SPUD4STEEM and has kindly offered to sponsor 1000SP, we have added this to 2nd place which means 2nd is now worth 10,000SP

🥔🥔🥔🥔🥔🥔🥔🥔🥔🥔🥔🥔🥔🥔🥔
@colombiaoriginal has also offered to sponsor 1000SP which has made 1st place rise to 16,000SP, thanks to our Colombian Friends for this.

🥔🥔🥔🥔🥔🥔🥔🥔🥔🥔🥔🥔🥔🥔🥔
Please join me in thanking these awesome sponsors
@xpilar
@steem.history
@alegnita
@hingsten
@bippe
@steemchiller
@kiwiscanfly
@voidsoul
@randulakoralage
@adeljose
@ngoenyi
@mariana4ve
@hive-181136
@tocho2
@alejos7ven
@fjjrg
@damithudaya
@marito74
@cotina
@karianaporras
@tucsond
@leonelb
@graceleon
@astilem
@colombiaoriginal
@josemen
With an increased prize pool will any Males make the top 5 for May?
https://steemit.com/spud4steem/@kiwiscanfly/girl-power-rocks-spud4steem-april