We have come to the end of the August #SPUD4STEEM which has been another Power up bonanza, 62 accounts powered up 32,844 Steem power which follows on from July's #SPUD4STEEM where 38,000 was powered up.
That's 70K Powered up in 2 months
🥔🌏🥔🌏🥔🌏🥔🌏🥔🌏🥔🌏🥔🌏🥔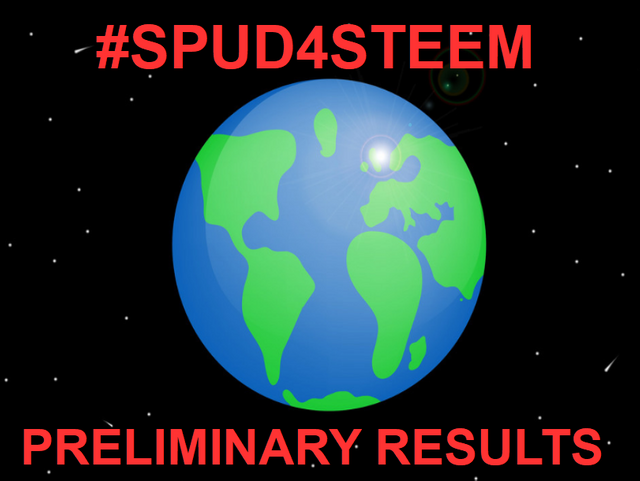 🥔🌏🥔🌏🥔🌏🥔🌏🥔🌏🥔🌏🥔🌏🥔
🐬🐬🐬🐬🐬
We had 4 new Dolphins and 1 x new Double Dolphin born in the August #SPUD4STEEM
---
We are now not accepting anymore entries for the August 2021 #spud4steem
---
Here are the August Preliminary results 🌎🥔
Please remember these can change over the next 24 hours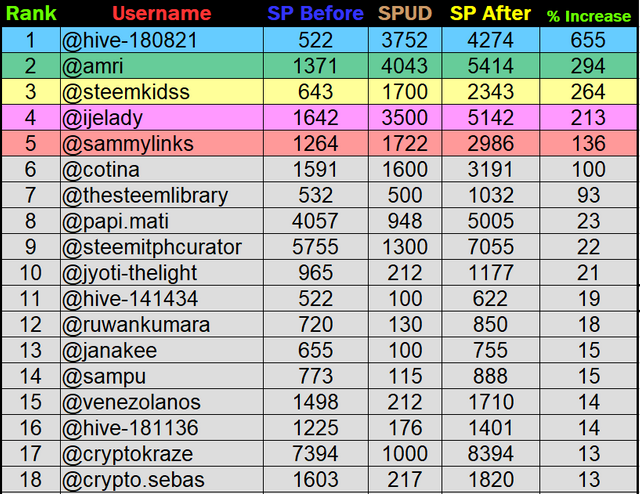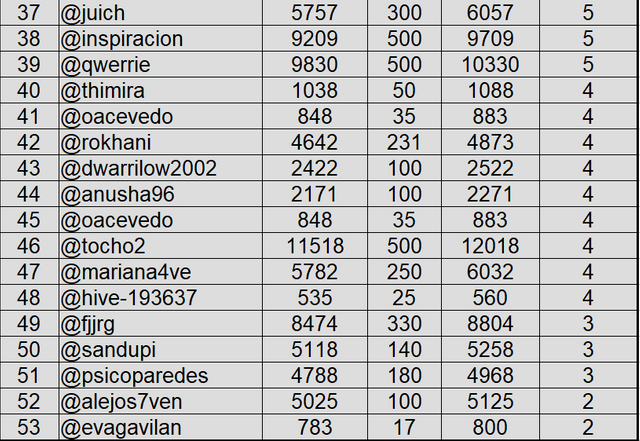 Congratulations to everyone who powered up some Steem and helped promote this
🌏🌏🌏🌏🌏🌏🌏🌏🌏🌏🌏🌏🌏🌏🌏🌏🌏🌏🌏🌏🌏🌏🌏🌏🌏
I have already had some discussions with people about their % increase's and about the minimum amount of Steem required to win a prize. A couple of Accounts failed to follow the guidelines and as such they are not eligible for the Prize pool.
I encourage anyone in the next 24 hours to contact me to discuss further - i am Human 🙋‍♂️
🌏🌏🌏🌏🌏🌏🌏🌏🌏🌏🌏🌏🌏🌏🌏🌏🌏🌏🌏🌏🌏🌏🌏🌏🌏
What now?
In 24 Hours from now i will publish the final confirmed results,
Then & only then...
The winners will be asked to write an acceptance post with a selfie similar to this - the selfie cannot have sunglasses on the person :)
https://steemit.com/hive-139293/@steemalive/hurray-steemalive-won-3rd-position-in-the-just-concluded-spudusdsteem-1-8-2020
🌏🌏🌏🌏🌏🌏🌏🌏🌏🌏🌏🌏🌏🌏🌏🌏🌏🌏🌏🌏🌏🌏🌏🌏🌏
Meet our awesome #SPUD4STEEM Sponsors - Thank you
@xpilar
@steem.history
@hingsten
@bippe
@kiwi-crypto
@steemchiller
@kiwiscanfly
@randulakoralage
@adeljose
@mariana4ve
@abuahmad
@alejos7ven
@fjjrg
@damithudaya
@boss75
@marito74
In 24 hours from now i will publish the Confirmed winners list ⏰