Happy New year to everyone on the Steem Blockchain, i hope you all had a great Christmas and New Year.
In 2021 #SPUD4STEEM participants powered up a quarter of a million Steem, lets see how much we can power up in 2022.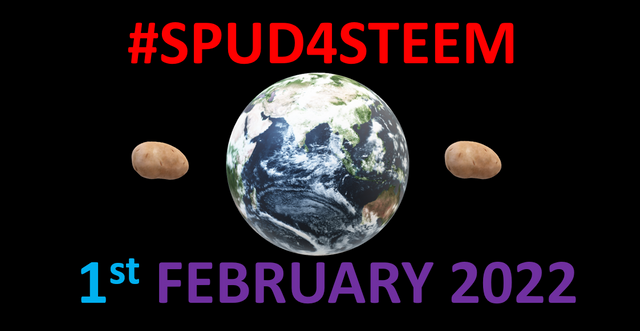 🥔🌏🐬🚀🥔🌏🐬🚀🥔🌏🐬🚀🥔🌏🐬🚀🥔🌏🐬🚀
#SPUD4STEEM is back on February 1st with an increased prize pool thanks to a couple of generous Steemians.
We have a new sponsor jumping on board with a 1000SP delegation - Thank you so much


Existing Sponsor increase's support @steem.history
@steem.history has kindly increased their sponsorship from 8,000SP to a massive 10,000SP - Thank you very much

🥔🌏🐬🚀🥔🌏🐬🚀🥔🌏🐬🚀🥔🌏🐬🚀🥔🌏🐬🚀
2022 Prize Pool
Here is our Prize pool to start 2022 with which is a massive 33,000SP!
🥔🌏🐬🚀🥔🌏🐬🚀🥔🌏🐬🚀🥔🌏🐬🚀🥔🌏🐬🚀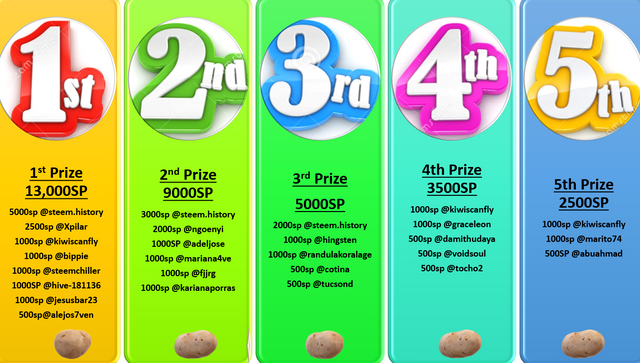 Guidelines
It's really important people read and understand these rules, i have seen a few accounts miss out on prizes for not making posts before the 1st of the month - see # 4
Sponsors
Without these generous sponsors we would have nothing in the prize pool, i really want to thank these people for their support.
@xpilar
@hingsten
@bippe
@steemchiller
@kiwiscanfly
@voidsoul
@randulakoralage
@adeljose
@ngoenyi
@mariana4ve
@abuahmad
@hive-181136
@tocho2
@alejos7ven
@fjjrg
@damithudaya
@marito74
@cotina
@karianaporras
@tucsond
@jesusbar23
@graceleon
Have a good day wherever you are reading this Worldwide.
I am @kiwiscanfly 🐔🥔