24 hours has passed since the preliminary results 📰⬅ were posted for the November edition of #SPUD4STEEM, 98 Accounts 👀powered up a whopping 43,837 Steem which shows the Power up movement is growing.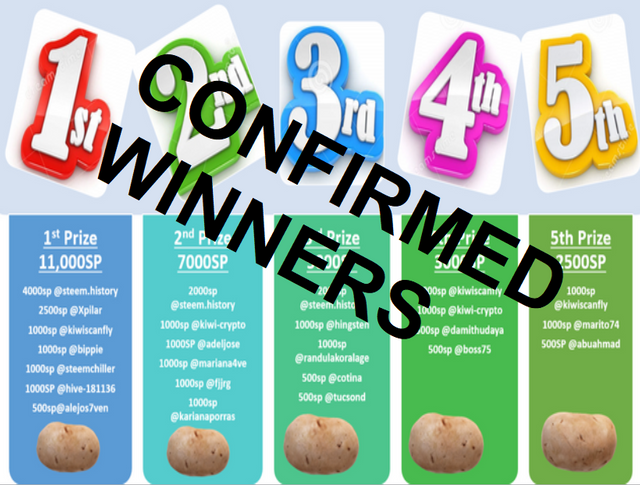 We set some records which i am pleased about
Lets meet our 5 November Winners 🥇🥈🥉🏅🏆


Power up Post🥔
2nd Place @shehan8 7000SP


Power up Post🥔


Power up Post🥔


Power up Post🥔
5th Place @yancar 2500SP


Power up Post🥔
Well done to these 5 winners and also well done to everyone who helped us make this another awesome power up event.
Winners duties
We now ask all winners to make a post about what prize they won like the example winner did below with (Selfie), This is done to protect our kind sponsors from accounts that do not act in the spirit of the #SPUD4STEEM message.
NO SUNGLASSES please 😀 If you have to wear a Mask that is fine 😷
Here's an example
https://steemit.com/spud4steem/@sajannair/spud4steem-acceptance-of-prize
Winners have 24 hours to complete this task - the ⏰is ticking....
IF YOU FAIL TO PROVIDE A POST WITHIN THE NEXT # 24 HOURS WE WILL GIVE YOUR PRIZE TO THE NEXT ACCOUNT
Once that is completed i will then ask sponsors to start the delegation prizes to applicable accounts
Our awesome #SPUD4STEEM Sponsors are Steemians who believe in Steem
@xpilar
@steem.history
@hingsten
@bippe
@kiwi-crypto
@steemchiller
@kiwiscanfly
@randulakoralage
@adeljose
@mariana4ve
@abuahmad
@hive-181136
@alejos7ven
@fjjrg
@damithudaya
@boss75
@marito74
@cotina
@karianaporras
@tucsond
Lets get these 5 posts done and then we can start the delegations to the winners