Congratulations to Real Madrid and every fan for this achievement. 3 consecutive CWC trophy along with 3 consecutive UCL. And Real Madrid is the only club in the earth to hold these records. What a proud moment. Winning trophies in a situation when you performing poorly is awesome. Showed a lot of grit across both games and hopefully this rich form now continuous on into laliga and Madrid can keep on performing at the same level there as well.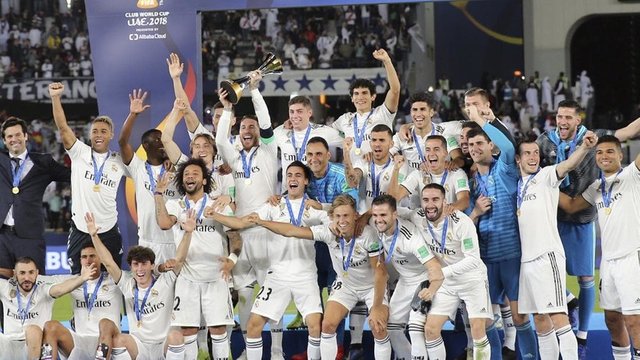 Modric puts Madrid ahead with powers strike from out of the box to the right bottom corner. It was a superb strike. And in the 60th minute, Llorente doubled the lead with an even more powerful stunning strike. Kroos's corner is cleared but Llorente meets the ball just on the edge of the box and his powerful volley strike goes to the bottom right corner and Keeper had no chance there. What a stunning goal that was. And not to forget Ramos's heading strike, another emphatic heading finish from Modric's corner. Simply it was an awesome performance and great achievement for the team. This is a truly a remarkable achievement, especially when Madrid lately struggle, so this title will be a strong push for Madrid to give more, to be better.
We are the best team made for trophies.
Hala Madrid.
FOLLOW UPVOTE RESTEEM :-)