Welcome to the start of week #11
We had a 3-way tie for week #10!!!
Last week was a crazy one. We have a 3-way tie for 2nd Place. The total amount of 2nd and 3rd place winnings will be divided between the 3 winners.
---
We are in the top 20 witness on Scorum
Those of you that aren't aware, there is a dedicated sports platform that is a fork of the Steem blockchain. The interesting thing about Scorum is that they are working on gaming licenses for sports betting and fantasy. In the meantime, it has been a great sports media platform and has just started.
They are currently giving 5 free Scorum tokens when you sign up.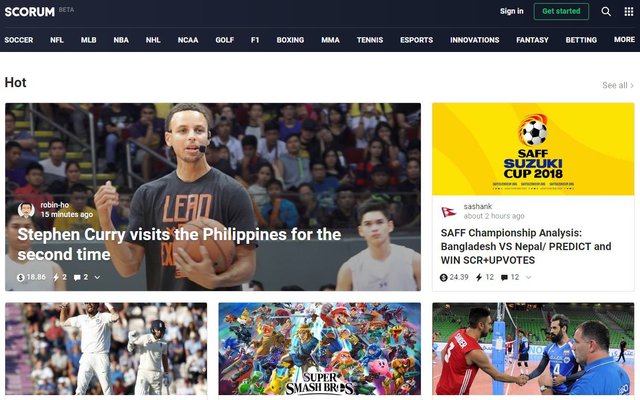 https://scorum.com/
If you would like to vote for our witness on Scorum, you can follow the guide here:
https://scorum.com/en-us/scorum/@jotmax/know-your-active-witnesses-delegate-and-how-to-vote-them
Witnesses/Delegates list:
https://explorer.scorum.com/en-us/delegates
---
Week #10 Winners!!!
Week #10 Player's Picks and stats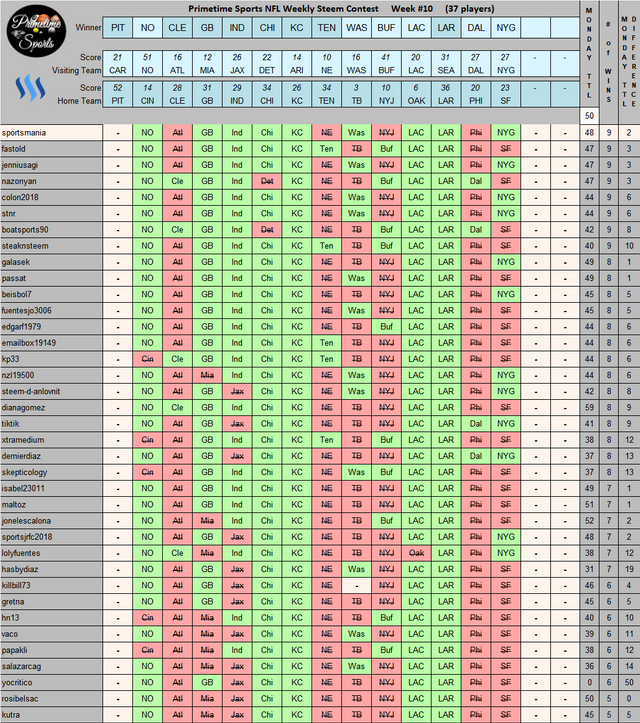 Click image to zoom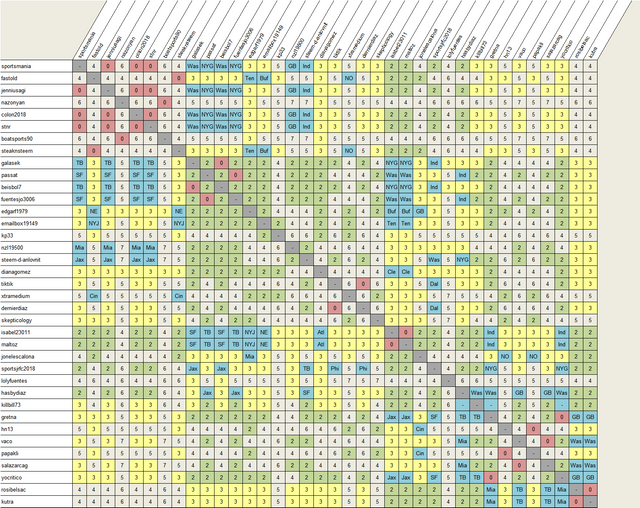 Click image to zoom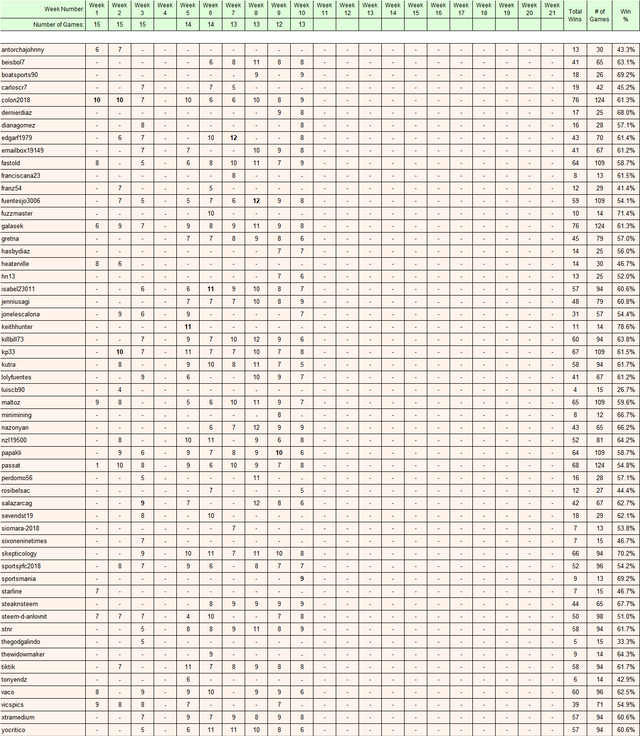 Click image to zoom
@primetimesports is a weekly contest where players get a chance to win rewards!!!
Reminder:
Remember to double check your picks to make sure you have all the games and don't forget to include your tie breaker answer.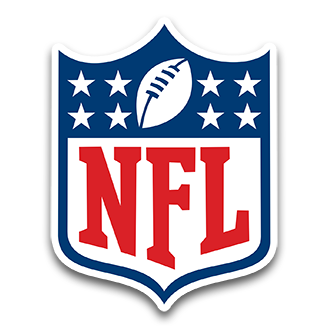 How it Works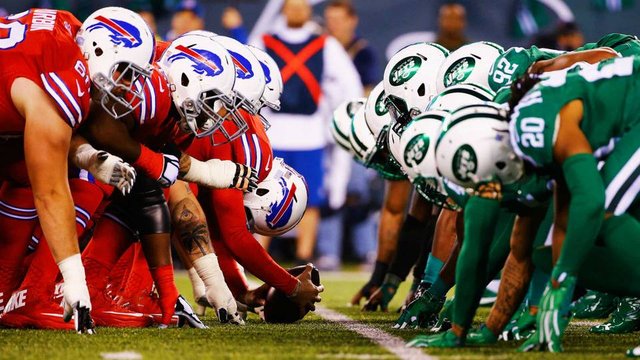 Each week will have games on Sunday, and Monday. Participants will enter their picks in a parlay style game. In case of a tie each week there will be a tie breaker question. The person with the closest answer wins!!!!!
Note: In case of a tie, those place winners will split their share.
The new Spreadsheet will be posted every Monday-Tuesday.
Entries will end Saturday at 8pm ET
We will have a post announcing the winners after the last game.
Liquid rewards from the contest post will be divided among 1st, 2nd, and 3rd place winners!!!
How to Play
Leave a comment below with your selected picks
Example:
BUF
ATL
JAC
PHI
ARZ
TEN
MIA
BAL
PIT
IND
SEA
CAR
NY Giants
Tie Breaker: 50
Upvote is not necessary for participation but would help increase rewards for players and be greatly appreciated!!!!!
NFL Matchups Spreadsheet Week #11
| Date&time | Away | Home |
| --- | --- | --- |
| 11/18 1:00 PM ET | Cin | Bal |
| 11/18 1:00 PM ET | Dal | Atl |
| 11/18 1:00 PM ET | TB | NYG |
| 11/18 8:20 PM ET | Pit | Jax |
| 11/18 1:00 PM ET | Hou | Was |
| 11/18 1:00 PM ET | Ten | Ind |
| 11/18 1:00 PM ET | Car | Det |
| 11/18 4:05 PM ET | Den | LAC |
| 11/18 4:05 PM ET | Oak | Ari |
| 11/18 4:25 PM ET | Phil | NO |
| 11/18 8:20 PM ET | Min | Chi |
| 11/19 8:15 PM ET | KC | LAR |
| # of Games | = | 12 |
Tie Breaker:
What will be the combined point total on Monday night's game?
GOOD LUCK!!

Image Sources: 1,2,3,4,5