Hi Steemians
Up until now, to benefit from upvotes from @smartvote you had to delegate a minimum of 25 SP that would give you daily upvotes using 10 times that SP, that is 25 x 10 = 250 SP which today is about 0.02 STU.
With our recent update we are bringing in two changes:
The minimum SP is now only 2 SP.
You can now register and increase your member account SP by adding shares.
Let us go through those two changes.
New minimum SP
Dropping the minimum SP to 2 allowed us to implement the SmartVote shares functionality without adding too much complexity to its usability. However, it brings up another small issue that we want to clarify.
Now that the minimum SP delegation is just 2 SP, smaller accounts can choose to join us but you need to keep in mind that delegating 4 SP will only gives you upvotes at 4 x 10 = 40 SP which, at today price of STEEM, is just $0.003 STU. You will see it shown as $0.00 on Steemit.com because they are rounding it to two decimals. However, you can verify that the upvotes you receive from @smartvote are correct by using other dApps such as steempeak.com because they show upvotes values with 3 decimals. Your SmartVote dashboard is now also displaying received upvotes values with 4 decimals.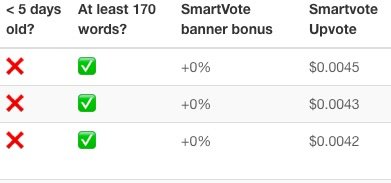 ---
Buying SmartVote Shares (SVS)
Buying shares for yourselves
Buying SmartVote Shares (referred as SVS from now on in this article) will allow you to get lifetime upvotes from @smartvote without delegation. Just transfer 1 STEEM to @smartvote and receive 2 SVS giving you 4 SP and a daily upvote of 4 x 10 = 40 SP.
Basically, for each 1 STEEM transferred to @smartvote we will upvote your content with 40 SP, that is 40x!
Here is a table of examples:
| Transfer amount | Shares | SP | Upvote SP |
| --- | --- | --- | --- |
| 1 STEEM | 2 SVS | 4 SP | 40 SP |
| 2 STEEM | 4 SVS | 8 SP | 80 SP |
| 5 STEEM | 10 SVS | 20 SP | 200 SP |
| 10 STEEM | 20 SVS | 40 SP | 400 SP |
| 50 STEEM | 100 SVS | 200 SP | 2000 SP |
How: just send a round amount of STEEM to @smartvote, no MEMO required.
Buying shares a friend
You can also purchase shares for one or multiple other Steemians giving them a lifetime upvote on posts and comments.
This functionality is also great if you are organising contests. You could offer SmartVote Shares as prize.
Split shares purchase
Very similar to buying shares for a friend, this feature allows you, in a single command, to buy shares for other Steemians and receive half of the purchased shares.
---
How to buy SmartVote shares
Buying shares for yourself
Simply go to your wallet and send a 1 STEEM to @smartvote. If you want to buy more shares, send more STEEM the price is 2 shares = 1 STEEM. You can only buy shares in multiple of 2 so only send round amount of STEEM.
Buying shares for one or more friend
To buy shares for one or more friends, the process is the same but add your friend's Steem name in the MEMO for example @friend.
For multiple friends, add a list of friends separated by a space, for example: @friend1 @friend2 @friend3, each of them will receive an equal amount of shares.
SteemConnect links for buying SVS
To make your life easier, you can use the following SteemConnect links:
We have also updated our MEMO Commands Tool to help with creating your custom SteemConnect link.
Advanced share purchase
For more complex operations, you could use a combination of the methods above to obtain the same thing but we've added some more control via MEMO commands to make your life easier:
you can add your own Steem username in the MEMO to get an equal amount of shares as your friends. For example: send 3 STEEM (6 SVS) with the MEMO @me @friend1 @friend3 and the three of you will get 2 shares each.
to buy shares for one or more friends and get yourself half of the total shares use the following MEMO: half @friend1 @friend2 @friend3. For example: if you send 6 STEEM (12 SVS) with the memo half @friend1 @friend2 @friend3 and you will personally receive 6 while giving your friends 2 shares each.
---
Combine SP Delegation and SmartVote Shares
You can choose to receive upvotes from @smartvote by:
only delegating SP to @smartvote
only purchasing shares with @smartvote
or combining both delegation and shares
---
Chinese Mandarin and Cantonese now accepted!
We have now a language moderator that will help us check the profile and content of authors writing mostly in Chinese Mandarin and Cantonese. So we are extremely happy to announce that content in these languages are now accepted for upvotes by @smartvote.
As a reminder, SmartVote is now currently accepting content written in English, French, Vietnamese, Chinese Mandarin and Chinese Cantonese.
---
Contact us
If you would like more clarifications please contact us on our Discord server: https://discord.gg/nGkEtAc. Alternatively, you could also leave a comment on our posts, but a direct chat can make life simpler.
For up-to-date information about our services, please head to our website: https://smartvoteservices.com/
Thank you for using our service!
The SmartVote team.