I guess many people active on Steemit have noticed that RobiniaSwap was launched on October 1st. This is a platform for passive income on the Binance Smart Chain (making transactions supercheap and fast), but it has a built-in bridge making it easy for Steemians and Blurt-fans to transfer their tokens through the bridge to their BSC-wallet and then either add them to the pool on RobiniaSwap (often referred to as staking), or they can start to sell their Steem tokens or add liquidity to different pools on PancakeSwap and earn extra income by adding those liquidity pool tokens to one of the farms on RobiniaSwap.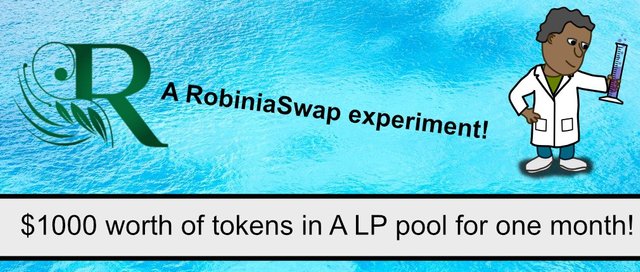 I know what you are thinking... 80% of my readers already feel like I have messed up their brains and they just don't understand this liquidity pool thing. After all, most of us active on Steem are here to blog and make some money, but we are not digging really deep into the world of Defi and what's going on around us.
To be honest, I can completely understand that, but it is easy to miss out on opportunities if you do not take the time to follow the trends, learn about the trends, and look for new opportunities.
"Given a 10% chance of a 100 times payoff, you should take that bet every time." — Jeff Bezos
This quote above is just one I read a few weeks ago and it keeps on staying on my mind. How come? There are so many opportunities in the cryptosphere currently, and even though many of them will fall apart and die out, some of them will remain, and if you manage to find some of those, you will be wealthy and consider yourself lucky in a few years from now.
And that led me to do a little investment experiment at the RobiniaSwap platform.
Before I mention my experiment - how to use RobiniaSwap
I don't want to write an article that has already been written. If you want to send Steem tokens to RobiniaSwap, or just discover more about how you can stake Steem tokens, Blurt tokens, RBS tokens (RobiniaSwap tokens), or find out how you can connect a MetaMask wallet to the platform and so on, @josevas217 has written some amazing articles (I followed his instructions as well when I used the bridge to transfer Steem tokens to the platform myself).
Check those articles, they are really gold worth and they will help you out greatly! If you have followed those, you should be ready to actually involve yourself on the platform, and now I will let you know about my little experiment!
My RobiniaSwap experiment
First of all, just for fun, I staked approximately 450 bSteem tokens on the platform (that is, the Binance Smart Chain version of our beloved Steem token). These are generating RBS tokens, and after 3 days of activity, I have earned about 15 RBS tokens (you cannot see them in the image below because I have harvested them and added them to the RBS pool).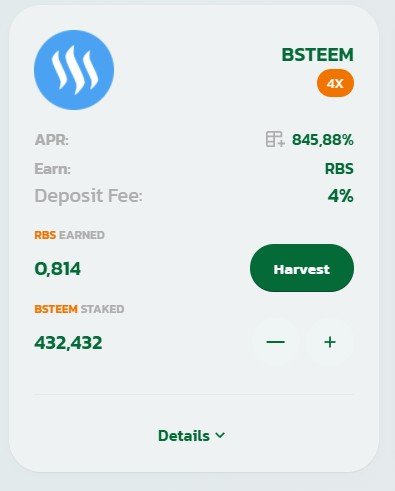 But, the real experiment is even more interesting. As I checked the farm for RBS-BNB, it showed me an APY (annual percentage yield) of more than 3800%. That is just crazy, so I decided to add $1000 worth of tokens (that is, $500 worth of BNB and $500 worth of RBS) and add them to the liquidity pool for the pair on PancakeSwap. I then add the LP tokens I received after adding the liquidity to PancakeSwap and added them to the farm for the selected pair on RobiniaSwap.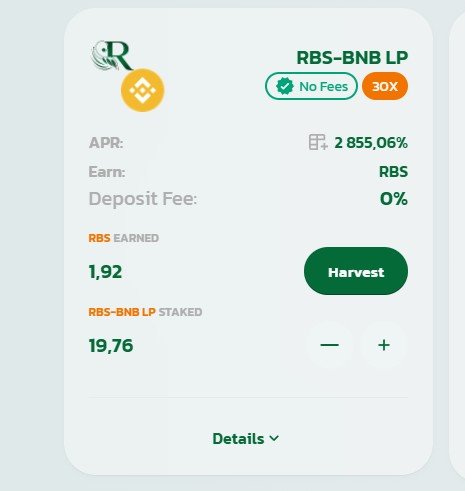 This all happened approximately 30 minutes ago, and I have already "earned" almost 2 RBS tokens which are currently worth almost $3 in total. That is just super fast, and I am curious to see for how long it will keep up with such a high APR. Since I added my tokens, the APR has dropped from 3800% to 2800%, meaning that these numbers might change quickly depending on how many people actually add LP tokens to the farm. No matter what, I will follow the project closely, and I will write some updates on my $1000 RobiniaSwap experiment in the future.
I can also recommend the following article for more information about RobiniaSwap: https://www.ipaddressguide.org/what-is-robiniaswap-is-it-worth-using/
Have you tried the platform yet? Are you happy about what you have seen and experienced so far? I look forward to reading your comments and hearing your thoughts!