One of the main reasons I like Robinia as an Investment...
Most defi projects have pools and farms which they try and attract investors with by offering high yields.
The problem is that with these high yields comes high inflation.
In order to offset this inflation projects burn tokens, usually from the fees generated from the farms and pools, however it's rarely enough by itself to stem the slide in token price.
Enter Robinia...
Robinia is using the curation generated from STEEM Power delegations in order to buy and burn tokens, which will put constant buy pressure on the token and help support the price better than most other defi projects.
This is only possible with the ability to upvote and integrate SP delegation via steemit.com.
The other neat thing that Robinia does is use IFOs to burn tokens.
They have only done one IFO to date and it burned a total of $25k worth of RBS, which can be seen below: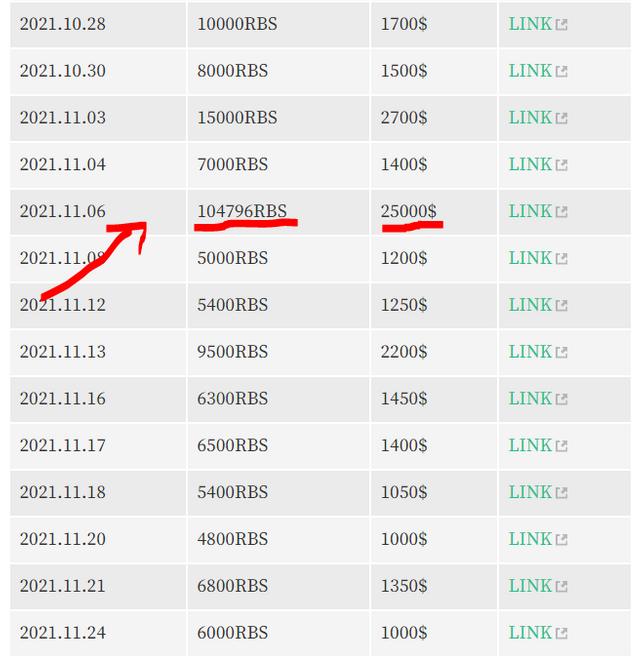 (Source: https://steemit.com/robinia/@robinia/robiniaswap-token-burn-update-2021-11-24)
Can you see when the IFO happened?!
Roughly 105k RBS tokens were burned on that day.
Awesome right?!
Well, according to the Robinia team, they have 2 more IFOs schedule for the month of December and combined they are expected to burn significantly more RBS than the first one did.
When you combine what these IFOs are going to burn with what the STEEM Power delegation farm is going to burn over the coming weeks and we have good reason to believe that the price of the RBS token is likely to rise.
Not only that but they are also working on transitioning the current farms/pools to delegation farms/pools which will also buy and burn even more RBS.
Do you see what I am getting at here?!
Basically everything is pointing at much higher RBS prices over the coming months, especially if more and more STEEM Power gets delegated.
I have delegated a large chunk to Robinia and plan on delegating more in the near future.