The fastest growing Defi Platform on STEEM keeps growing
Robinia has seen tremendous growth after only a few days of really launching their STEEM Power Delegation farm.
The current total amount of STEEM delegated has now crosses 1.5 million.
Check it out: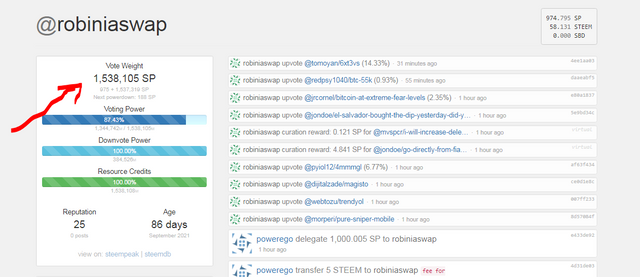 (source: https://steemd.com/@robiniaswap)
For this interested in getting the best returns possible in the STEEM network, Robinia offers roughly 15x upvote value currently and pays RBS tokens ontop which currently add roughly another 20% APY.
When you combine the upvote value with the token value, you get an APY higher than anything else available on STEEM currently.
And that includes UPVU, TIPU, Peanut/Nutbox as well as others.
When you factor in the very likely possibility that the token price of RBS goes up over the coming months then the APY gets much higher for Robinia than all other platforms.
For those that just recently delegated, give things a month to shake out to really see the returns start piling in.