Robinia continues to offer the best returns in all of STEEM Defi
Want to know how you can get the best returns on your steem power holdings?
It's simple!
Just delegate to Robinia!
https://robiniaswap.com/delegatefarm
By delegating to Robinia you get an upvote every day worth roughly 15x your upvote value, plus you earn their RBS defi token which is traded on pancakeswap and the binance smart chain.
When added together the total return on investment jumps to about 60% APR, and that APR will go up as the price of RBS increases.
Robinia has successfully become the first defi project that links STEEM to the binance smart chain ecosystem.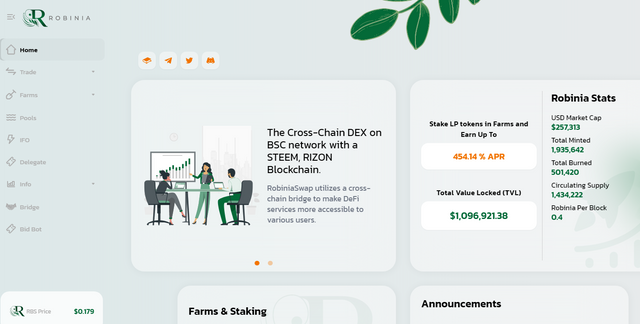 (Source: https://robiniaswap.com/)
This is a very big deal as there are billions and billions of dollars on binance.
From that picture above you can see the bridge button on the left side, that bridge allows you to seamlessly and quickly move your steem assets between binance and the steemit ecosystem.
Want to get your bnb into steem? Well now you can!
Want to get your steem into cake? Well, now you can!
Plus you can even just move your STEEM over to Robinia and use it to earn simply by staking it in their pools and farms...
Check this out: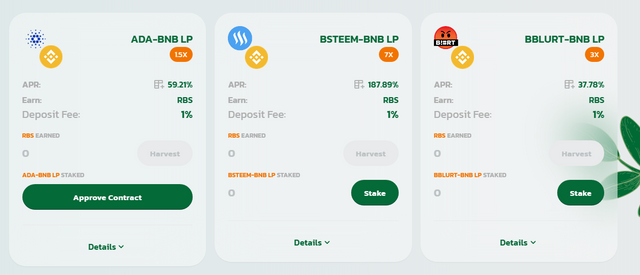 (Source: https://robiniaswap.com/farms)
You can earn almost 200% with your STEEM by pairing it with BNB and staking it in the farm!
There are so many options and possibilities here and it just getting started.
The total market cap for the RBS token is barely over $200k currently.
With all the token burns coming down the pipeline, that market cap is likely to easily go up several multiples of that price...
Let me know if you have any questions and I'd be happy to help!