Ever since the conception of Steemhunt, I've always loved following the progress the team has made. From their initial product launch, IEO and now the beta release of Review Hunt. I was keen to see what they've built an give it a try. I wanted to share my first experiences with the review hunt platform, as well as provide insight into how the site works and how to get involved.
For anyone who doesn't know what Review Hunt is, here's how they explain it:
Makers/companies spend an enormous amount of time/efforts to raise attention from early adopters because their word of mouth impact is exceptionally high. With Reviewhunt, it's never been easier for makers to attract early-adopters by offering newly launched products with large discounts or bounties in return for quality reviews that will boost up their launching buzz.
Source: Token Hunt
Any company who wishes to use Review Hunt to help generate buzz and find new users are able to create a campaign for their product or service. Each individual campaign has a series of different quests that can be completed by a hunter. The quests that make up a campaign are designed to boost engagement for the maker's platforms. This could be reviewing an app, completing your profile, or anything else the company would find valuable.
Campaigns can vary across the platform and have a range of different quests to complete. For each quest you complete, you're rewarded with various amounts of HUNT token. The HUNT token can then be exchanged via an exchange. This allows you to earn real cash for your hard work reviewing and completing quests.
When you visit the website you're greeted with active and upcoming campaigns that you can take part in. Upon launch of Review Hunt, they have a total of 3 active campaigns:
Buzzi
Mosaeek
Reviewhunt (Onboarding Quest)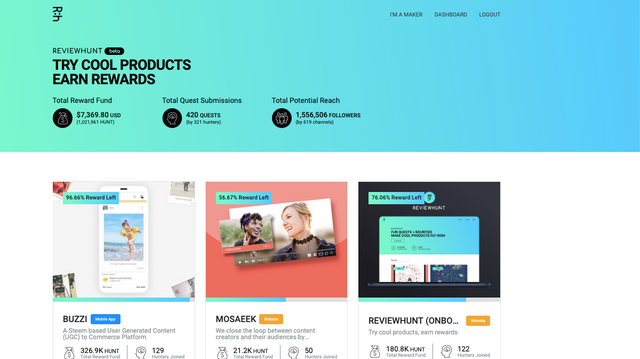 Currently, they're in beta so they'll be adding new ones soon, but there's enough to get started already.
You can click on each of these campaigns for more details and explore each of the quests that make up the campaign. It provides you a great insight into new products and allows you to get involved with new and exciting companies.
My First Campaign
The first campaign I took part in was the "Reviewhunt (Onboarding Quest)",. The Review Hunt team have made this campaign to help teach people about the platform. This campaign gives you a great impression of what's coming from the site and how it all works. Currently, this campaign can be broken down into 4 different quests. These quests are:
Register your Buzz Channels of Review Hunt
Get Approval from your post submission
Get Approvals for all quests
Introduce this product via your social/community channel.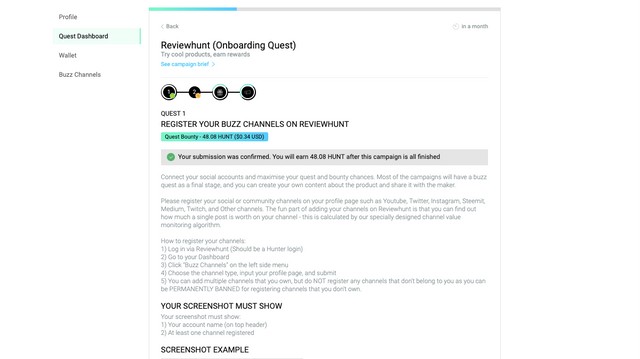 Every single quest that you are challenged to complete, comes with detailed steps about how to complete that particular task and they've made it nice and simple for any user joining the platform. The first quest to complete was within this campaign was to "Register your Buzz Channels of Review Hunt", to complete this quest you needed to complete the following steps:
Log in via Reviewhunt (Should be a Hunter login)
Go to your Dashboard
Click "Buzz Channels" on the left side menu
Choose the channel type, input your profile page, and submit
You can add multiple channels that you own, but do NOT register any channels that don't belong to you as you can be PERMANENTLY BANNED for registering channels that you don't own.
Source: Review Hunt
As you can see, these steps are easy to follow and detailed enough that you don't any prior learning about the product to get the job done.
The Review Hunt team has a fast and efficient moderation process to ensure that each quest has been completed is to a high standard. Once you've completed a quest you need to submit proof of completion. Once submitted a moderator will come and review your work, based on my experience, this happens really quickly and it was approved in less than 24 hours.
You then complete this process for all of the different quests that make up a task until the overall campaign has been completed. When the campaign ends you will then receive a reward for your work using their token, HUNT.
First Impression
Overall, my first impression of review hunt has been good and I look forward to seeing what other companies come online as I think this is a really useful platform for new businesses. Here are a few things I really like about the platform.
A clean and intuitive user interface that makes it simple to understand the concepts of review hunt, despite it being a new concept.
Even with a small amount of campaign (they're currently in beta and more are coming online regularly), there is a something for everyone, this in regards to a hunters social channels or available devices.
Quick and simple approval requests, a slow moderation process could really affect the momentum of the site, so it's great to see this is nice and quick, even at the weekend.
Fun & Innovative way to earn rewards whilst discovering new products.
From the perspective of a maker, it provides actual engagement and usage of peoples applications and site, it connects real users and allows companies to make real impressions. This helps companies gather feedback and improve their products, anyone involved in a new company will know how powerful this is.
Try it for yourself
If you want to try Review Hunt, you can get started here:
https://review.hunt.town/i/244
Questions
If you've got any questions, feel free to ask in the comments, or, you can join their discord to ask their team directly, you can find a link to that here: