Venezuela is experiencing the greatest exodus of nationals who have recorded the history of this South American country, the "country situation" as we say in the street caused the fragmentation of the Venezuelan family dispersing throughout Latin America and the Caribbean, so far the countries that most Venezuelans have received are:
Colombia, according to UNHCR data, in 2016, there were 48,714 Venezuelans in the country; in 2017, 600,000; in 2018, 1, 17 million; and, for June of this year, the figure is around 1.3 million people. They are followed by Peru, with 768,148, Chile with 288,233, Ecuador with 263,000, Brazil with 168,357, Argentina with 130,000 and Panama with 94,400.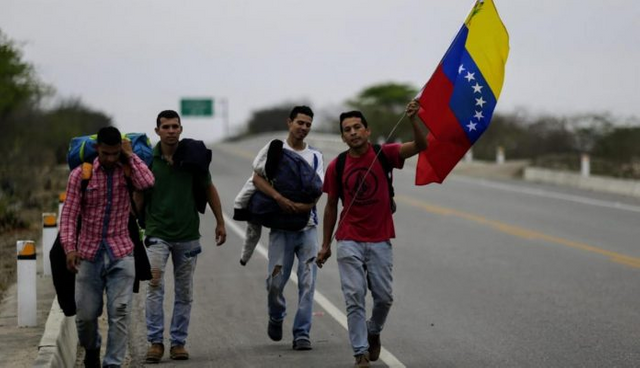 Source
The reasons are widely known by the international community, but I want to remember them today because we cannot get used to living like this, hyperinflation, shortages, unemployment, very low wages among others, today a kilo of chicken in my city costs 60,000 Bs, approximately 3 $ , while the minimum wage of one month for an average Venezuelan is in the order of 40,000 Bs, which is equivalent to approximately $ 2.
The inflation figures are so alarming and varied that it is very difficult to publish them, but the BCV affirms that the country closed 2018 with an inflation of 130,060.2%, but the Parliament, which considered that the figures were "made up", indicated that the Last year's inflation was 1,698,844.2% and according to the national assembly the index accumulated this year is 1,579.2%.
All these reasons are influencing more and more Venezuelans leaving their country, they are leaving not because they want but forced by this huge economic crisis, every Venezuelan comes out with tears hoping to find opportunities to survive and help those left behind, a sad reality That seems inevitable and multiplies with the passing of days.
---
Reality outside our borders
The reality is different for everyone, logically because as human beings we think differently and we have different abilities, some arrive with the support of those who left before, others arrive hoping to find support to start again in a place where they feel and are a completely strange, but the point I want to share today is how they see us and receive us in other countries, what is the treatment they give us and the opportunities we receive.
---
Gratitude
Most of the countries where Venezuelans are emigrating have really created opportunities for us, beautiful stories of solidarity, humanism, understanding and brotherhood among our peoples are being written, although there are isolated inhuman and worrisome cases that I want to refer to today.
---
Prejudice
A prejudice is an opinion, usually of a negative nature, that we have formed about something or someone in advance and without due knowledge. In this sense, prejudice is the action and effect of prejudging. Prejudging, as such, means judging things ahead of time. The word comes from the Latin praeiudicium.
Xenophobia
As xenophobia is called rejection, hatred or hostility towards foreigners or foreign things. The word, as such, is composed of the words xeno- and phobia, which in turn come from the Greek roots ξένος (xénos), which means 'foreigner' and φοβία (phobia), which indicates 'fear'.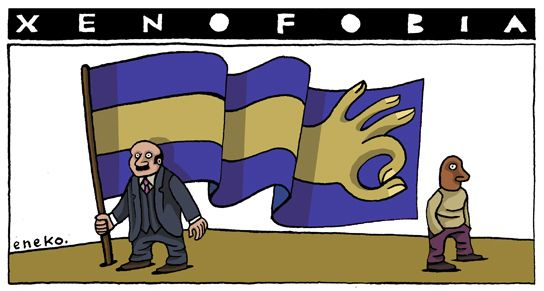 Source
Xenophobia, segregation and similar events are mostly caused by prejudices of people who make wrong decisions based on false data about an individual or by the particular attitude of someone who comes to damage the group's reputation by creating a false opinion about of the behavior of this group, this leads them to take detestable and condemnable actions such as the hello of xenophobic attacksin Ecuador in 2018, caused by the murder of a woman or the murder of a man in trinity who was shot from a vehicle when he was about to ask for asylum in an embassy.
These and other events that occurred in different countries, of which we can find reference in the news web portals around the world are cases that should call us to reflection, no Venezuelan wants to leave his country, nobody wants to sell what it cost him a life of sacrifices to start over in another country, however, the crisis overcomes us and displaces us, forcing forced separation from the family.
---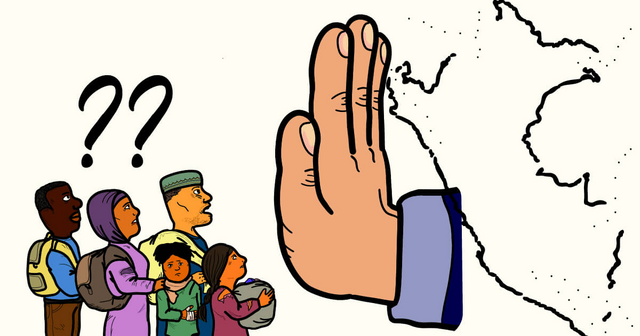 Source
A call to conscience.
We Venezuelans are passing through the world, we Venezuelans have the hope and certainty of returning to our country, do not classify us as undesirable, lazy or criminal people, we only look for opportunities to move forward, to feed and dress the family, not discriminate against us, do not mistreat us, do not reject us, create opportunities for people who know how to thank, a nation that opened its doors to receive millions of emigrants from all over the world but today claims HOSPITALITY and NOT XENOPHOBIA .
Let me know your opinion about this topic, Have you ever experienced a case of xenophobia? What is your opinion of the Venezuelan case?
---
PROJECT #HOPE An Initiative to give hope!
@crypto.piotr, @cyberspacegod, @achim03, @lanzjoseg, @fucho80, @neavvy, @juanmolina, @jadams2k18, @machnbirdsparo, @honarparvar, @guruvaj, @alokkumar121, @edgarare1, @flash07, @djennyfloro @spirajn, @gandhibaba, @reverseacid.
---