#Promo-Steem - Promoting and Supporting #Steem Digital Marketing Material - Visuals and Branding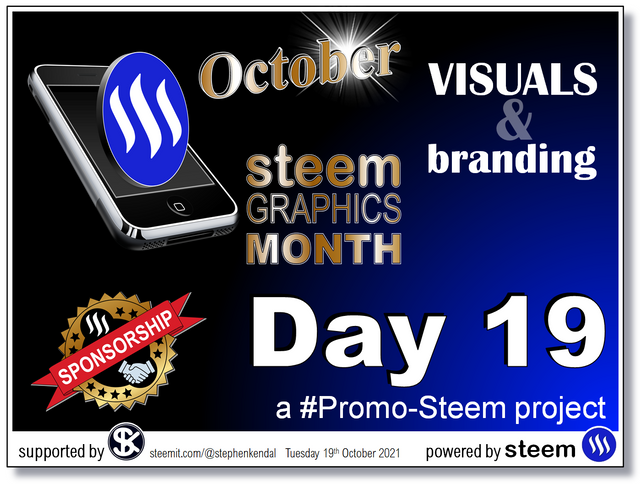 October #Steem Graphics Month - Day 19
As the October #Steem Graphics Month moves into Day 19, I would like to once again give a Massive Shout-out to all the Graphic Designers that have supported the Campaign so far and shared with us their amazing #Steem Graphics and tagging their Posts to the #Promo-Steem Project.
The Campaign has introduced me to some great Graphic Designers that I may have not otherwise known in the #Steemit Community.
October #Steem Graphics Month for those that have just joined is a Campaign I launched that would last the whole of October and give everyone interested in producing some cool and exciting #Steem Graphics a place to share with us their Creative Work.
With the Campaign fast approaching the end of the third week and the start of the last 10 days, I thought today would be a great time to talk about Visuals and Branding.
Visuals and Branding
A Global Industry worth in excess of $20 billion and showing signs of an explosive growth over the next few years, the Graphics Design Industry is oozing creative talent and I am hoping that a slice of this Industry comes to #Steemit as a platform for budding Graphic Designers to showcase their skills.
For those that have an attention to detail and exceptional creative and innovation skills, I am always on the look out to support as many Graphic Designers on #Steemit especially if they are producing some cool and dynamic #Steem Graphics that can be used for the Marketing of #Steem and #Steemit On-line.
Whether you are creating awesome Visuals and or focusing on powerful Graphics to bolster the #Steem Branding, I am always here to support you.
As an open-sourced #Promo-Steem project, the October #Steem Graphics Month is here for anyone to contribute to.
Please feel free to share with us your Promotional #Steem Graphics that are Free-to-Use and available to everyone to be: Copied / Pasted / Downloaded and Uploaded to Social Media to help out with the Marketing and Promoting of #Steem and #Steemit.
By using the #Promo-Steem tag as one of your first x5 tags in your Post will ensure I will get to see it.
I will try and support as many Posts as I can with a generous 100% Upvote and Resteem.
Daily Updates
I will continue to share with you daily updates throughout the month as the October #Steem Graphics Month Campaign continues and I look forward to seeing more awesome Graphics being shared on Social Media.
Thanks again for reading.
Stephen

#Promo-Steem - Launching the October #Steem Graphics Month to help bring #Steem alive on Social Media and On-line #Steem Promotions