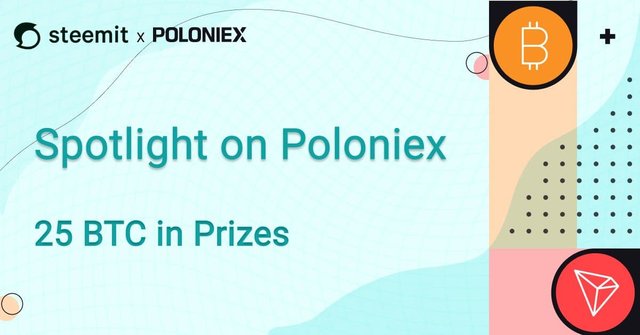 Thank you to everyone who entered the Steem Crypto Challenge Month.
This week we are back with a new Crypto Contest all about Poloniex.
Our Spotlight on Poloniex Contest ties in with a major promotion currently running on Poloniex with 25 BTC in prizes!
So learn about Poloniex, make your entries for our Spotlight contest and then check out the Bitcoin x TRON Net Deposit Campaign.
---
---
To find out more about the Bitcoin x TRON Net Deposit Campaign on Poloniex, with 25 BTC in prizes, visit...
---
---
Spotlight on Poloniex


Founded in 2014 Poloniex is one of the oldest and most experienced digital asset trading platforms in the world and was among the first exchanges to be recognized as on par with Wall Street.
In 2019 Poloniex announced partnerships with TRON founder and BitTorrent CEO Justin Sun and other investors, with the aim to bring blockchain and digital assets to new heights while providing a top tier trading experience for investors across the globe.
Poloniex has been recognized as one of the most secure cryptocurrency exchanges in the world. Since its founding in 2014 Poloniex has never been subject to any security breaches. To this day Poloniex continues to work tirelessly in maintaining their platform as a premier place for safe trading.
Poloniex's mission is to build the most advanced crypto marketplace while providing healthy and liquid markets that connect passionate investors with blockchain innovators and thus revolutionize global finance.
Poloniex is registered in the Seychelles.
---
---
To enter this Spotlight Contest we want you to write about Poloniex.
Some of the topics you might want to cover in your contest posts include...
How did you first come to know about Poloniex.

What experience have you have had of using Poloniex.

What features and functions do you like (or dislike) about Poloniex.

Are there any features you would like to see added to Poloniex.

If you don't use it already, what would encourage to swap to using Poloniex.

If you do use Poloniex already, would you recommend it to others, and why?
---
---
The Rules


You can enter the Spotlight on Poloniex Contest as many times as you like, but no more than once per day.
Posts should be a minimum of 400 words, and can be in any language.
Challenge entries should include the tag #poloniexspotlight and a tag for your country like #india or #italy in the first five tags.
All posts must be your own original work. Any evidence of plagiarism will result in a banning from our contests and challenges.
Any images used should either be your own or from a stated copyright free source.
This contest will run until 23:00 UTC on Sunday, November 15th 2020.
---
The Prizes


For this contest we will not be limiting the number of winners.
We will select all the best posts each day for upvotes from @steemcurator01 (10M SP).
So there will be more chances to win a good upvote from @steemcurator01 - it could be anything from 1% to 100% !
---
There will also be a separate contest running for the Chinese language community. That contest will have similar upvotes from @steemcurator02 (4M SP) for the best entries...
---
The prize votes will be increased by 10% for any winning posts set to Power Up 100% (assuming the account is not powering down at the same time).
---
Twitter Sharing


We will also be giving upvotes for sharing your challenge posts on Twitter - make sure you include the hashtags #steem and #poloniexspotlight.
Put a screenshot AND the direct link to the Tweet in a comment on your post to be in with a chance of winning an extra upvote.
---
Steem Crypto Challenge #5 Winners


Congratulations to @budapestguide, @drqamu, @greatness96, @jehoshua-shey, @jlufer, @kouba01, @lavanyalakshman, @neerajkr03, @sampraise, @sapwood, @shortsegments, @stream4u, @syllem, @unbiasedwriter, @unyime, @whitestallion for their winning posts in the final week of the Steem Crypto Challenge Month.
We hope you and all the previous winners will be keen to enter this new contest.
---
We were delighted that so many people enjoyed the Steem Crypto Challenge Month.
This new Spotlight on Poloniex Contest runs for two weeks and we look forward to reading your entries.
Thank you,
The Steemit Team
---
PLEASE DO NOT PUT ANY DIARY GAME LINKS IN THE COMMENTS ON THIS POST. COMMENTS THAT ARE NOT RELATED TO THIS POST MAY BE DOWNVOTED TO MOVE THEM BELOW MORE RELEVANT COMMENTS.

THANK YOU