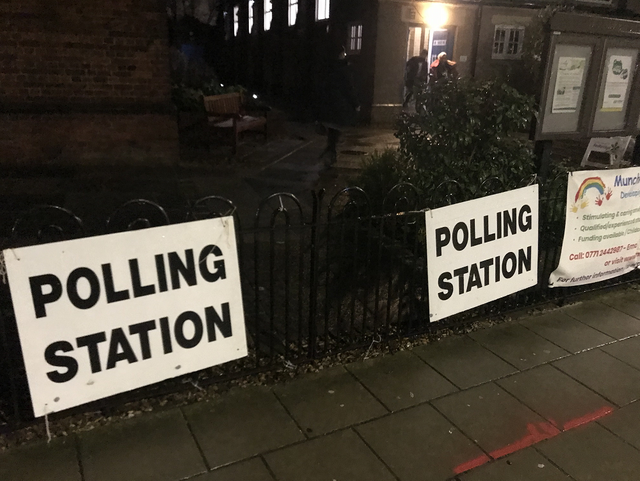 My Local Polling Station
So in the UK we are having our first December General Election since 1910. Given the weather today I think they best get back to having it at a more sensible time of the year. If that will affect the turn out or not remains to be seen.
I was unsure whether to bother to be honest, the last two votes (in General Elections) didn't seem to have counted for much (no pun intended) and the Referendum we had was totally ignored. However I did decide to brave the wet and cold and visit my local polling station earlier today.
Another reason I wasn't so keen to vote was that I live in a safe Labour seat and therefore the chances of my vote counting for much are pretty slim. However I guess some would say if you all said that, that is the problem right there.
In the UK we have pretty much just two main parties to vote for, Labour or Conservative. We have the Liberals who are a minority party but did gain power a few years back when they formed a coalition with the Conservatives, promptly throwing away some of their manifesto pledges in the process.
In my view the Liberal Democrats completely forgot part of their ethos, hint its in the name, when they came up with the brilliant idea of pledging to revoke Article 50 should they win the Election. Whatever bright spark came up with that idea remains to be seen but it pretty much sunk their chances at the polls from the get go.
Labour seem to be all over the place and I for one was not too keen on their blatant lies about Trump somehow taking over the NHS. I am not sure how "everything is on the table" when referring to trade talks, equates to Trump somehow buying up the NHS to presumably privatise it. He clearly would want access to supply the NHS with Services and Drugs from US Companies and I see no issue with that.
Now Trump is pretty crazy but he'd have to be off his head to take over the NHS, they can't even sort out their own Medical services so I am not sure why they would want to touch ours with a barge pole. Given how cash strapped the NHS is, anyone with an ounce of sense would steer well clear of taking that over.
Labour are just not credible at all and really this should be the easiest chance for a Labour victory in years but they are going to blow it by not having a clear Brexit stance. The Labour party are deeply divided and Jeremy Corbyn hasn't managed to galvanise them at all, actually preferring to sit on the fence hoping to upset no-one but also not please anyone at the same time.
The Conservatives made a pigs ear of the Brexit negotiations for three years and people have lost a lot of faith in them for that, me included. Not a great Boris fan personally but I guess you are never going to love a Politician are you.
There are a few other minor parties, all who seem to want to stop Brexit, with only Nigel Farage's aptly named Brexit Party who are firmly committed to us leaving the EU. He walked away after the Referendum thinking the job was done, fell out of love with UKIP and then started the Brexit Party.
I was very annoyed Farage took one for the team and withdrew candidates from constituencies where the Conservatives should win and only stand in those where on paper they don't have much chance. I voted for them because that to me preserves the indication of my desire for Brexit to occur, even though this Election should really be about a lot more than just Brexit. Unfortunately that is now the main focus, which is simply not right.
I do think there will be a Conservative majority, quite how big will depend on how bad the feeling is towards Labour in the North is. There are quite a few MP's who won't be getting re-elected and it will be good riddance from me if they don't.