Senators voted on Wednesday afternoon to acquit President Trump on two articles of impeachment — abuse of power and obstruction of Congress — after a historically unusual but typically contentious trial. Forty-eight senators supported a verdict of guilty on Article I; 52 voted not guilty. Forty-seven senators supported a verdict of guilty on Article II; 53 voted not guilty. The Senate would have needed 67 votes to convict Trump on either article.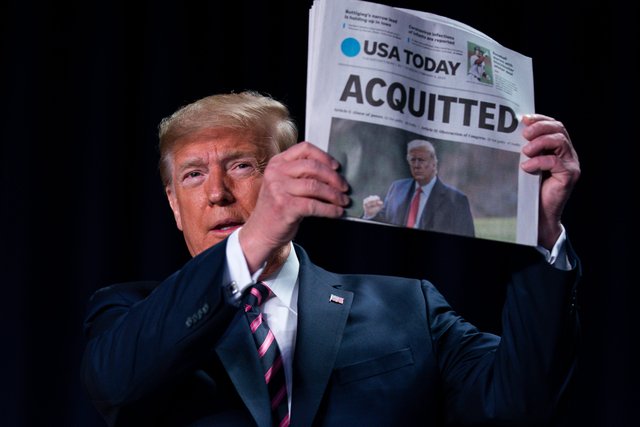 More info in the article
https://www.npr.org/2020/02/05/801429948/not-guilty-trump-acquitted-on-2-articles-of-impeachment-as-historic-trial-closes
My thoughts on this news
I am a bit late to the game on this issue (been busy), but I just wanted to post my closing thoughts on Trump's impeachment.
In my last post I stated that I was not sure how the Senate trial would proceed and if it would even move forward or be immediately dismissed. Well it looks like the Republicans realized that they needed to put on some sort of status quo show for the people, to make it at least seem like they are not completely corrupt. So they had a farce trial but did not allow any more additional witnesses, the entire trial was basically Democrats explaining how Trump broke the law and the Republicans explaining how great Trump is and this whole trial is a Democratic sham that was started because they hate Trump.
In the end the trial ended how I expected it would end, Trump got away with abuse of power and obstruction of Congress. The corrupt Republicans voted to acquit Trump and showed that they do not care about the constitution nor they rule of law, all they care about is control and power.
Another important thing this trial revealed is how weak the US Constitution Impeachment process is. It shows that when you have a group of corrupt politicians in power, removing a President from office through the Impeachment process is basically impossible. The corrupt politicians will do whatever it takes to stay in power. Hopefully this trial at least showed the American people how corrupt Trump and these politicians are.
What will happen next, the Corona Virus is getting worse just in time for US Elections, will Trump call some sort of state of emergency and try to postpone elections...?