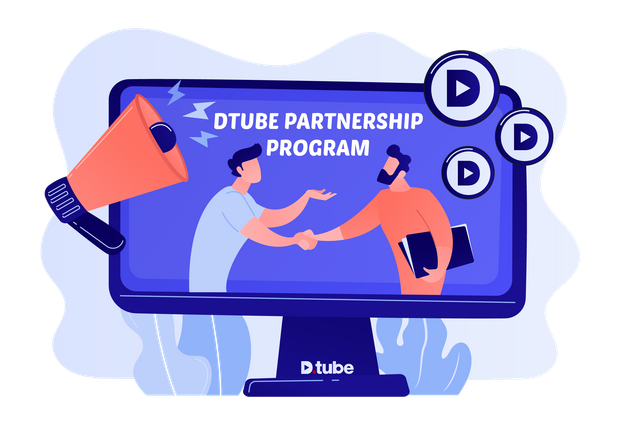 Hello Dtubers.
Today we have exciting news for content creators, project owners. We have been working on a partnership program that will greatly benefit content creators and community builders alike, and today we are pleased to announce our new partnership program and hear what you will think about it.
What is Dtube Partnership ?
Dtube Partnership is a dedicated program for content creators and project owners who already have an established followerbase in any social media. Partnered content creators must be willing to work on community building and onboarding new users.
Dtube partnership program will give qualified creators the ability to build and grow their community with delegated voting power. Partners will be able to build-up and succesfully port their fan-base onto Dtube, as both the onboarded and the content creators will earn.
Why are we creating this program ?
The reason is, @dtube account would have too much control over the rankings. Because of slow distribution of teamshare and airdrop (12 and 6 months respectively), Dtube is entrusted with a lot of voting power. We would like to use this power, for the benefit of content creators, instead of 'farming' with it.
How can I benefit from it ?
Approved applications will have a referral link going to Dtube signup (e.g. https://signup.d.tube?ref=steeminator3000). You will need to share this link to your fan-base / community.
We will transfer voting power from @dtube into your account. Using that voting power on your referrals comments or videos, will earn you Dtube coins, as well as to referrals, directly from the blockchain curation rewards. This will help your referrals to also feel more at home during their early days on Dtube, and fidelize them to your channel.
We will give incentives to users based on their total onboarded number, and onboarding success. The more people you onboard onto Dtube with your referral link, the more voting power you will receive.
We will re-evaluate this amount every week, at least for the newer partners, and will move it to a monthly re-evaluation with time.
How to apply Dtube Partnership Program ?
You can apply to the Dtube partnership program by filling out this form.
However, there are some requirements to be considered to the program.
Established followerbase on some of the social medias.
Willing to be a community member and use the delegated Voting Power fairly.
Willing to promote Dtube and onboard users.
Create value for the community.
There is no minimum number of followers required to apply, if you think you can provide value to our community. Everyone is eligible for this program. We will review applications and get back to you as soon as possible.
Questionnaire
A short summary (<200 words) about yourself and your channel
Please provide links to your largest social media accounts.
What do you want to achieve on Dtube with your channel?
How many real users do you think you can onboard from your existing fan-base onto DTube?
What is your contact adress (email,discord etc)
What's next?
After you complete your application, we will review the applications regularly so if you are eligible, we will contact you within less than a week for additional questions.
Previous Articles on Dtube Blog
Dtube main-net is now live!
Dtube mainnet launches on 01-10-2020
New testnet patch notes
Delay in mainnet Launch, testnet reset,new economy
DTC Launch Rescheduled
Dtube Airdrop is Coming
Dtube's Upload gets Upgraded
Need support?
For support from the team and the community, please comment this post or go to our:
All the best,
The DTube team
https://d.tube