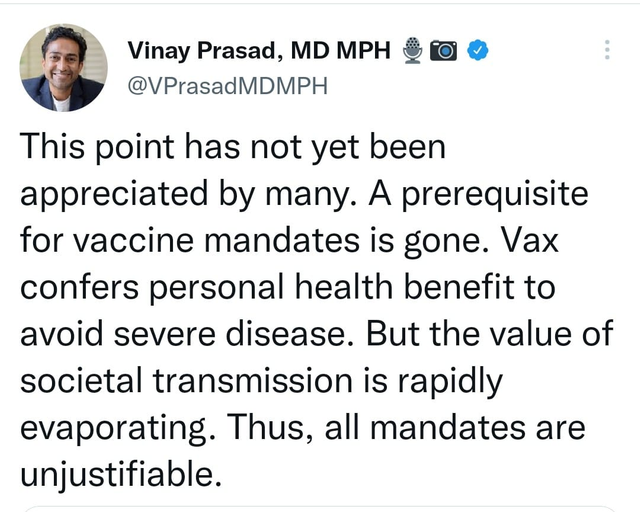 This is both inaccurate on the coronavirus vaccine effectiveness against transmission, and also ignoring other justifications for vaccine mandates.
The vaccines reduce the risk of infection even against Omicron. It is just a lower effectiveness than with previous variants. And boosters raise this effectiveness against infection. One can not transmit if not infected.
And transmission isn't the only reason to want high vaccination coverage in a setting. For example a vaccine mandate for healthcare and schools would reduce the risk of absenteeism due to illness irrespective of transmission. Or for the military, it would enhance force readiness. From a societal perspective as we saw this pandemic reducing the risk of hospitalization would reduce hospital capacity strain of an outbreak.
This tweet is built on bad premises. Individual disease can have externalities to society in the aggregate. We are delaying "elective" surgery this Omicron wave because of the capacity strain. Cancer patients are having to wait on their surgeries. Those aren't costless.