Britain is due to crash out of the EU on 31st October 2019, with a deal or without one, "do or die".
And it looks very much like it will be without a deal.
Parliament has rejected Theresa May's deal three times, and the Speaker of the House of Commons has ruled (quite sensibly) that the deal cannot be brought back again without substantial changes. But the EU is insisting that there can be no changes and are demanding that Prime Minister Boris Johnson act like a dictator and force Parliament to pass the deal. Which of course he can't do.
So the impasse means that leaving without a deal is highly likely - especially as postoning departure again would mean Nigel Farage's Brexit Party would start to surge in the polls again.
Is a No Deal Brexit really a risk to the global economy?
If Britain leaves without a deal, it will be trading on WTO terms. This means that Britain sets a blanket set of tariffs for all countries exporting to Britain (these have already been anounced - they've been set to zero for 87% of goods, with only agricultural goods and cars having tariffs). WTO rules also mean that Britain's exporters face tariffs when exporting to say the EU or USA.
Britain already trades with the USA on WTO rules, so there will be no change there. Ditto places like China. Several countries have rolled over their deal with the EU to apply to Brexit Britain after departure - Switzerland, Israel, the Palestinian authority, Eastern and Southern Africa, Central America, Carribean countries, Chile and the Pacific islands. So there will be no problems importing say bananas or sugar from Jamaica.
That just leaves the EU.
The EU is a protectionist bloc which applies severe tariffs on imports from outside the bloc. For example, they have a tariff of 40% on imported beef, to protect European farmers who would go bust if they were faced with competition. They also levy tariffs on cars, car parts, electronic goods and so on, to protect European manufacturers.
So how would this impact Britain?
As it happens, the market has decided to sink the pound which gives us an idea of how the tariffs would affect the economy.
Here is an example:
Say a car manufactured in Germany and exported to Britain cost €50,000. At an exchange rate of €1 = £0.80, this translates to £40,000. (This is roughly what a low-end Porsche costs).
If the pound weakens so that €1 = £0.91 (the current exchange rate), then that €50,000 car now translates into £45,500. A nearly 14% rise for the British consumer. The consumer then reacts by deciding not to buy and buying something else. This is exactly what we're seeing - Porsche sales in the UK are down 21% compared to last year. Home grown Jaguar car sales are up 9%. So a clear substitution effect is taking place, where the City investment banker decides to buy a Jag instead of a Porsche with his bonus.
Now if Britain puts a tariff of 10% on imported cars, it would act exactly the way a 10% drop in the pound would. The imports would get more expensive, and consumers would decide not to buy, and choose something local instead.
It would work the same way in reverse of course - Britain exporting to the EU would face tariffs which would make those exports more expensive to the European consumer, who would decide not to buy and to substitute with something else.
Now what happens when you combine tariffs with the falling pound?
We have seen that the falling pound has already made European goods more expensive, causing a fall in sales of imports. If a tariff is imposed on top, that makes the European import even more expensive.
Say a tariff of 10% is imposed, on top of the 14% drop in the pound. The European good would be 24% more expensive. In our example of low end Porsches, the price would jump to £49,600. That would make Porsche sales collapse some more.
With goods going the opposite way, from Britain to the EU, the falling pound offsets the tariffs. Say the EU puts a 10% tariff on British cars imported into the EU, but the pound falls 14%. The British car is still 4% cheaper than before the tariffs and movement of the pound.
Conclusion
The pound is Britain's biggest weapon in Brexit. The more it falls, the more it hurts European exporters to Britain, while helping British exporters to Europe. The fall should be enough to offset any tariffs the EU levies on Britain. But Britain putting equal tariffs on the Europeans should magnify the pain the weak pound is inflicting on their exporters.
The EU is weak enough that being denied access to the UK's market sends them into recession. The falling pound has already caused several German car manufacturers to issue profit warnings as they are squeezed out of the British market. They must either find consumers who spend just like Brits (difficult!), or hope that the EU comes to a deal with the UK.
The chief danger for the UK is logistics.
As I've illustrated above, WTO rules are not much of an issue when you have your own currency and can weaponse it.
What might be a problem is logistical backlogs being created at choke points such as Dover as delays are introduced by customs checks.
Yet even in this area there is hope - it looks like businesses decided to prepare for Brexit by sending goods to Britain's other container ports, rather than putting them on lorries going into the Channel Tunnel, or on roll-on-roll-off ferries going to Dover.
Eurotunnel report that truck traffic for May 2019 was down 11% compared to May 2018, truck traffic for June 2019 was down 14% compared to June 2018 and truck traffic for July 2019 was down 10% compared to July 2019.
The Danish ferry company DFDS which operates most of the Dover-Calais roll-on-roll-off ferries issued a profits warning, as the volumes of trucks using their services were down "dramatically" from April onwards.
It's clear that businesses triggered their No Deal plans in April and they are continuing with them - and this has resulted in freight being rerouted to container ports, bypassing Dover.
As long as sufficient traffic is diverted, the logistics of dealing with customs checks will no result in delays. Which means the govt might be able to pull off a No Deal Brexit. Not because of anything the govt has done, but because the forex markets have intervened, and businesses have themselves come up with solutions as regards logistics.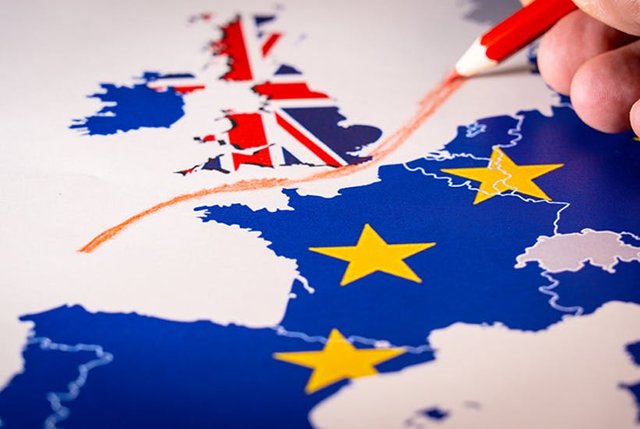 source