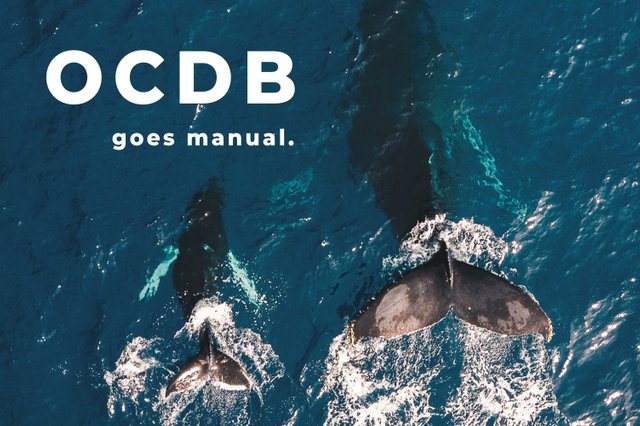 Curation of the "whitelist"
The OCDB whitelist consists of authors that have been curated by OCD in the past 2+ years. It's filled with a lot of great quality authors who were producing original content, were undervalued and missed. Many long gone hopefully to return, many still active but decided not to buy votes (huge respect to those) while others bought votes, maximised their returns whereby some were more farmy than others - we hope you use what you earned through us well and in a #newsteem fashion.
The time has come to remove the bot and place humans behind the votes again. Humans who may be judgemental, biased but in the end will be healthier for the platform than automated bots that may have pressured authors to post more often and degrading their content.
The whitelist will still exist but in the form of following the authors. The votes won't be as consistent but you will know that whoever voted on your post read your content and curated it manually. We are going to focus on quality where votes can range from 1% to 100% and frequency can range from daily to never. We are not going to attempt maximizing curation rewards in any form, the 5 minute rule is no where enough to read and judge a post of the upvote it should receive. What people call curation nowadays has shifted from its real meaning. We expect a lot of front-running accounts to appear and that's okay with us - if they become smarter and adjust their votes depending on the authors we believe provide quality content then even better as in the end the authors will make more rewards.
Authors in the whitelist will not be able to affect the curation in any other way than writing more quality content. Of course quality is subjective and some curators may be biased about certain content - but it's still better than nothing.
Curation of onboarded content creators
At least half of OCDB's voting power (once there are more content creators we have invited) will be used to curate the posts of these content creators. Additionally we will be incentivizing these content creators to invite their fanbase and curate their fans comments on their content creators. This is to incentivize interaction and show the strengths of Steem where both creators and consumers can earn rewards by being active. This will also be a good step in the direction for communities and SMT's.
Our curation here will also vary depending on the activity of the content creators and growing evolvement with Steem. We have seen some onboarded creators absolutely fascinated with the platform and wanting to learn more and spending more and more time on Steem. This will without saying be rewarded more than content creators who will only cross-post and not do anything else over time.
We will be curating crossposting of these content creators as well but not as highly as original Steem content. The voting weights will also vary on the amount of invited content creators currently active. If they are just starting out, we will be careful not to "spoil" them and disincentivize further activity later when the rewards go down which is something that has plagued Steem in the past a lot thus we don't want to make the same mistakes there. We want to highlight all the other advantages of Steem such as immutability, censorship resistence and less power to advertisers having an effect on your earnings.
The fees
The fees will go to curators doing the work by reading and spreading out the rewards over a growing "whitelist/follow-list". These posts will also be checked for plagiarism every now and then and with more eyes on these posts it will be easier to over time catch plagiarisers and readers can report these on our discord in the existing #ocdb-abusereport. Real curation takes time and we feel a 10% fee is appropriate.
The other fees (5%) will go to funding the tipping pool. After a talk with the developers of steemtipper we found out that a big reason to not tip was because many didn't want to get rid of their Steem. Which is understandable considering how similar upvoting is and Steem basically makes tipping obsolete. It is a great tool to raise the attention of Steem on other platforms and get content creators interested to at least create an account on Steem and check it out if they want to claim their tip. The tipping pool and activity will also be overviewed and only a select amount of onboarders will be able to use it.
How the tipping system will work:
Onboarder X finds a great original content post/drawing/video/song/poem on Reddit or Twitter. Onboarder X comments on the content and adds a tip command at the end of the comment with a Steem amount. Afterwards the bot contacts the content creator about how to claim the tip and we will use our claimed accounts to get the creator an account instantly so they can withdraw the Steem that was tipped to them. If they never reply and/or create a Steem account the tip will be returned to the pool. If the Steem in the tipping pool never ends up going anywhere it will be burned.
Additional notes
Onboarding will be a big focus for us as we see it helping the Steem ecosystem in many ways. Depending on the amount of "invite attempts" we have in the current onboarding system we may from time to time vote on the Onboarding Compilation posts of OCD to incentivize the onboarders. This can be seen as a one time referral reward where attempts also get rewarded instead of just the successful onboardings. We will be careful here not to hog the trending page all too often as that would be unfair to other authors and projects. It is something we are working out right now on how to do better in the future with the way we fund our activity and effort.
With the #newsteem changes we would have done well continuing the way we were operating as our whitelist is of curated users and could have been finetuned over time to mitigate any sort of abuse or farming. We know though that this is not proof of brain and with the curve it would not only be unfair to the authors but also to the delegators earning a lot more passive income than curators. OCDB was created to mitigate the abuse of bid bots and the earnings of their owners and delegators. It existed over a year and hopefully did more good than what would have been done with the stake if it had been in just another bid bot. Leaving bid bots profitable and with a lot of stake past HF will not do Steem any good long term and we feel this is the right time to turn around and start to effectively use proof of brain again.
Guidance
As I mentioned above, we will use half of OCDB's VP to reward users we onboard. We want these users to understand how the Steem Proof of Brain posting/voting behaviour works and how to create content that is worth a vote, a resteem and a follow. The good thing about new users is that they can be introduced to #newsteem directly, focusing on bringing up the positive aspects of and on the Steem Ecosystem, making them valuable users for the platform, both as content creators and as possible project members/founders of their own ideas with the upcoming communities and SMT's.
To achieve this, we have set up a discord channel on the OCD server, specifically to keep in touch with these recently onboarded users, where they can ask questions, bounce ideas, network with other new Steemians and receive advice/tips from some of the most experienced OCD members.
By doing this, we aim to coach and then graduate succesful, committed and long term thinking Steemians who will promote Steem on their mainstream social media accounts from a believer and early adopter's point of view, reccommending their favorite Dapp or frontend andpromoting the adoption of our blockchain and coin to their follower base.