PNUT Price=$0.0035
---

PNUT in Circulation=79,670,221
PNUT Market Capitalization=PNUT Price×PNUT in Circulation=$0.035×79,670,221=$2,788,457
---
The number of PNUT addresses=622
---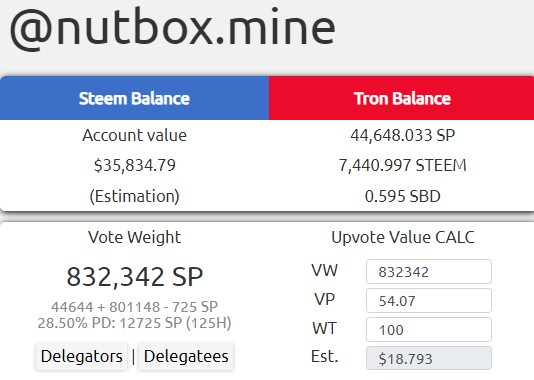 The amount of delegated STEEM POWER(SP) for PNUT=0.832m
---

The number of 24h transactions Chart
---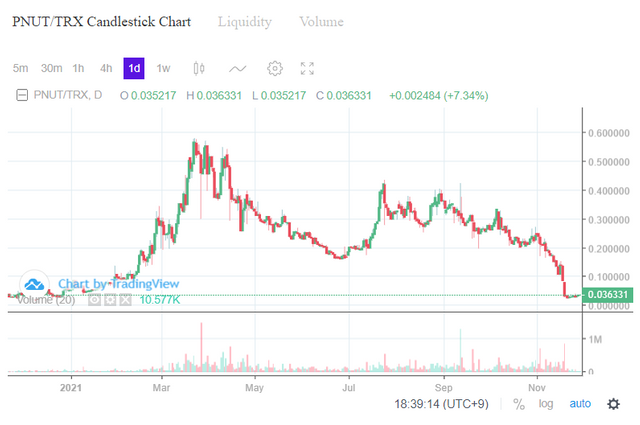 PNUT/TRX Chart
---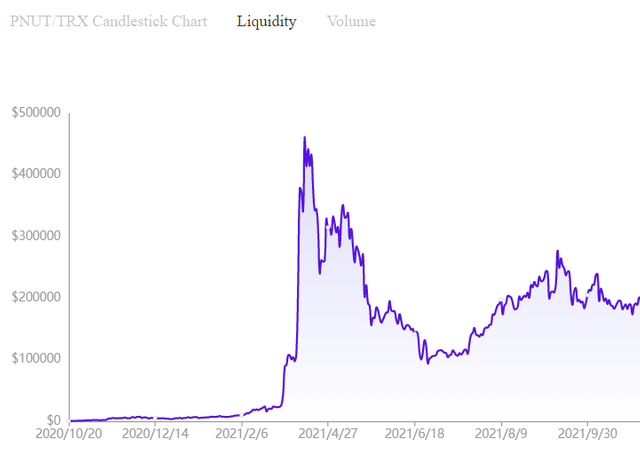 PNUT/TRX Liquidity pool Amount Chart
---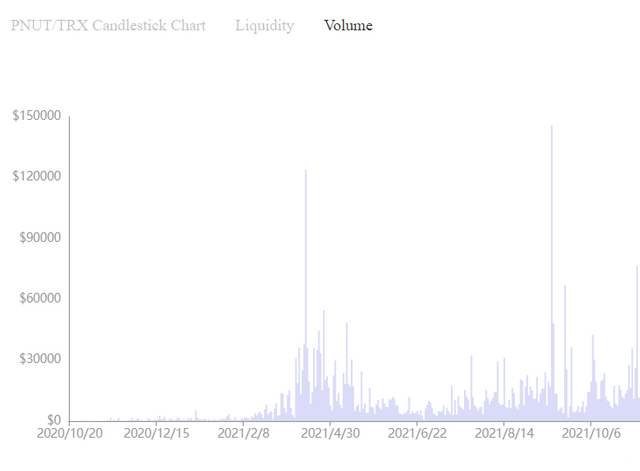 PNUT/TRX 24h volume Chart
---
Related posts
(1). How to mine PNUT using STEEM POWER(SP) delegation (APY: 111.3%)
(2). Analysis of the number of PNUT supply and circulation by period
(3). How to evaluate the proper price of TRC-20 PNUT of De-Fi token
(4). Analyzing the proper PNUT price and change the circulation by burning PNUT
(5). Burning TRC-20 PNUT by paying for upvoting posts
(6). Which utility will TSP(Tron based STEEM POWER) have on JustLend?
(7). Which utility will TRC-20 PNUT have after STEEM blockchain expanding lots of blockchain via Polkadot blockchain?
(8). Will PNUT can be listed on global leading exchanges like Huobi, Binance, Upbit and Bithumb?
(9). How to search tokens(example: PNUT) except default tokens such as TRX, WINK, etc on JustSwap.
(10). nutbox.io
(11). Nutbox white paper
---
Contacts
Kakaotalk: https://open.kakao.com/o/g0wdemYc
Wechat: cnsteem
Telegram: https://t.me/joinchat/PrBejBh_Grp6lFZEGArDpA
Discord: https://discord.gg/zPkMuGY
Steemit: https://blog.nutbox.io/@nutbox
---
Voting for STEEM blockchain witnesses
If you think that @nutbox and @smt-wherein contribute STEEM blockchain, please, vote for STEEM blockchain witnesses.
nutbox
https://steemconnect.wherein.mobi/sign/account-witness-vote?witness=nutbox&approve=1
smt-wherein
https://steemconnect.wherein.mobi/sign/account-witness-vote?witness=smt-wherein&approve=1