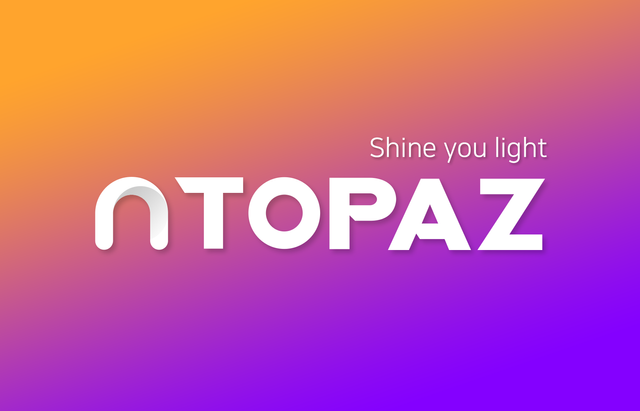 Hello, Steemians!
This is nTOPAZ, the Talented Network Service for digital artist and content creators.
It's been almost a month since the nTOPAZ platform opened.
Today, we are announcing the TOPAZ Level System, which will take effect in 2019.
We hope that the passion and influence of the talented will shine even more through this system.
1. What is TOPAZ Level System? ('19.1/1~ )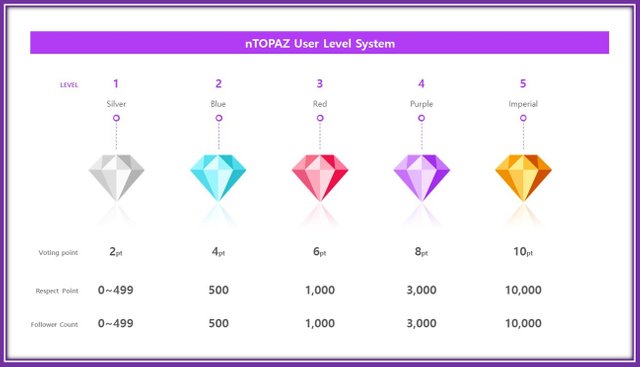 Reflecting Talent Levels and Influence of the Talented
[Cumulative Respect-Points and Follower-Counts must be met simultaneously]
Voting weight difference according to TOPAZ level
[Existing: 1 Respect is 2pt → Change: weight based on LV(2~10pt)]
Additional points for winning contests or obtaining badges
[ Contest Award x Gold(+100pt)/Silver(+60pt)/Bronze(+40pt), Badge Award x (+30pt)
Bonus for Level Promotion [ Red(1,000TPZ), Purple(3,000TPZ), Imperial(10,000TPZ)]
2. Introduction of Voting Bot ('19.1/1~ )
Ratio : Vote 1,000% of daily voting capacity(1,100%, 100% is reserved for nTOPAZ)
[600%(Daily TOP10 : CR+CU), 300%(CO), 100%(Comment)]
Criteria : Ranking by Respect Score(Voting at the equal ratio, but decrease sequentially)
Execution: Everyday 03:01(UTC base)
3. Recruitment of additional curators and activity compensation
Field : Audiovisual(Vocal/Instrument/Dancing/Entertainment/Video-artist)
Visual(Photofraphy, Design)
Personnel : Audiovisual(8 People)
Visual(Photography 2 People, Design 2 people)
Preferential: With a wide range of human networks and advanced creative skills
Major Mission

①Introducing and recommending artists
② Curation by voting
③ Encouraging Comment on outstanding works
④ Planning/hosting contest

Compensation: Weekly 5,000 TPZ Tokens, Monthly 20,000 TPZ Tokens(Monthly extra 10,000 TPZ for leader and outstanding activities by segment)
Application : "Curator-Apply" channel in Dicsord
4. [Event] 100 TPZ Tokens Airdrop with 100% profile completion
100 TPZ token is given when profile completion is 100% after sign up(Includes nTOPAZ existing members)
Application : Post the link of your completed profile page on the "Bounty Program" channel in Dicsord
5. SP Sponsor Incentive Enhancements
"Starting last week(12/17~), 200,000 TOPAZ tokens per day are to be reserved for the SP sponsors, which amounts to 1,400,000 tokens per week."
Related Post Link
SP Delegation : Delegation
Visit Website : nTOPAZ.com
Follow Blog : Steemit
Join Community : Dicsord
Thank you for your support and attention.