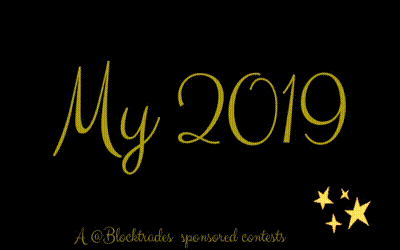 Contest season is on Steemians, we will be hosting one contest per week until we reach 2019 with several hundreds of Steem in Prizes. It seems like you haven't joined in the fun, what are you waiting for?
You have until December 18th at 23:59 PST - Around 60 hours from now - to publish your entries
Write about how was your 2019! Go deep into your Achivements and Failures, obstacles and milestones and get a chance to win one of the Prizes in liquid Steem!
There's already a lot of great entries already, so right now it's your chance to get to know other Steemians, connect with amazing people and grow your Steem Network!
Check out some of the entries here:
| Steemian | Post | Image |
| --- | --- | --- |
| @yahialababidi | 2019: You nearly broke my back, but you also gave me wings | |
| @bambuka | Of course, there were joys and sorrows. That is life | |
| @mattsanthonyit | We all have ups and downs in life , I am not shy to voice them out | |
| @enjar | It was quite a hectic year of so many downs and a couple of ups | |
| @shharafat | My success ratio is very high. But one big disaster ruined me | |
| @gniksivart | Ok, I was not able to get a blog going and was not consistent at all | |
| @rokhani | stories and reflections for all of us to tread the year 2020 | |
| @priyo022 | As the year ends, our memories of that year continue to fade | |
| @yousafharoonkhan | Dear friends every year is a successful year of life | |
| @blessed-girl | Maybe this year was not the time, I wait 2020 with optimism | |
| @steemflow | New life, new challenges and loads of hope | |
| @shaikmashud | I am Happy for everything happen in my life of this year, Success and Failures | |
| @priyanarc | 2019 was rock and roll for me, it was like a roller coaster journey | |
| @debtfreein2 | This too shall pass... And I find myself falling back to this quote very frequently | |
| @josediccus | 2019 hasn't been too bad as much as too extravagant | |
| @nainaztengra | I personally feel it has been a very soothing and peaceful year for me | |
| @secretman02 | What i have achieved and not able to achieved,I have shared in my vlog | |
| @ashikstd | I'm feeling so alone and my emotions are killing me inside out | |
| @slwzl | Thank you for the goodbyes and for the welcoming that makes the road more interesting | |
| @jeffjagoe | Reflecting upon achievements and failures is a crucial part of the learning process | |
| @antoniarhuiz | This and previous years have not been good, although there is no peace if I don't expect the situation to improve by 2020 | |
| @khaimi | Here I want to express all that, hopefully, this is a lesson for me and others | |
The funds for the prizes will come directly from the earnings of this post, so if you like this idea, give it a little vote!
GIF made by @slwzl- Go follow her!
Remember this is a @blocktrades sponsored contest, if you like what they are doing, vote for them as Witness here
I am part of @ocd-witness, if you like what I'm doing, vote for them as Witness here