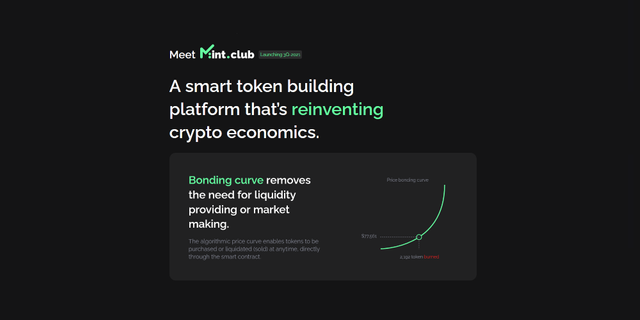 Welcome to this post about the Mint Club free token airdrop and this new project I'm pumped about!
Hi everyone!
Emotions are pretty high in the cryptoshere right now. The #XRPArmy has been really unhappy with the Flare airdrop additional options and the crypto market has seen double digit price drops across almost all coins...

Source
... however, there is a lot of good news and exciting projects if you know where to look.
One project I'm personally really excited about is the Mint Club, that for the next 7 days is offering an airdrop.

Source
Applying for the airdrop is relatively easy, but you do need a Binance Smart Chain account. I personally was able to add the network easily in MetaMask... Once I connected my BSC account via MetaMask to the Mint Club, I also add to retweet their tweet and jump into their Telegram group and I was done... and am now eligible for my allocation of 10% of the total MINT to be airdropped to the community.
The airdrop, however, is actually not the reason I'm excited about the MINT club. My hope is that with this new platform we might start to see the end of rug pulls, something we talked about in my Avoiding Crypto SCAMS post.
Often the biggest risk to any investor in a token is the actual founder or founding team themselves. TheMarkyMark has a great post about how this is the case for tokens created on the Hive blockchain, but the sentiment applies to so many recently created tokens, especially those sitting on decentralized exchanges like QuickSwap.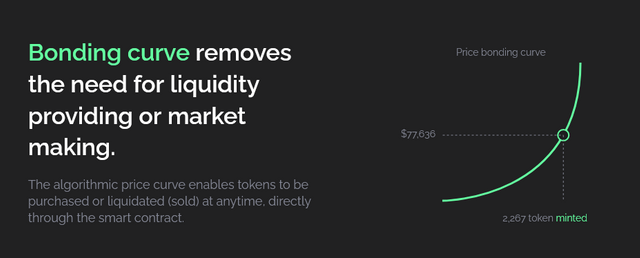 Source
A rug pull is when the founders or initial whales of a project take all their coins out really quickly... which kills the liquidity of that token. If the liquidity isn't killed completely, everyone else panic sells while they can... and everyone else has the joy of riding the price down to zero.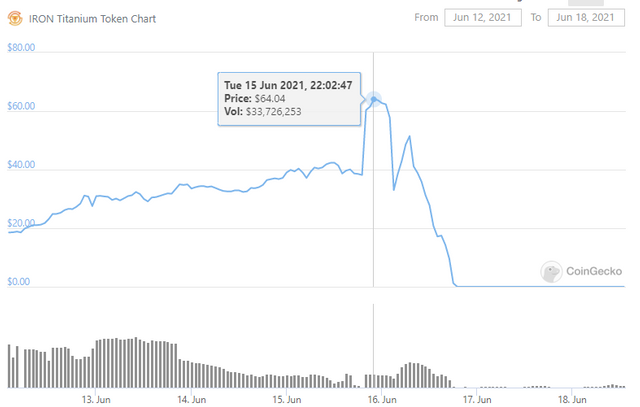 Source
MINT club will instead allow anyone to create a smart media token using a bonding curve.
The bonding curve is totally genius... each purchase actually increases the supply and each sale decreases the supply. Each token you buy pushes the price up according to the curve, and each token you sell pushes the price down.
From a liquidity point of view, it means that you each buyer doesn't have to find a corresponding seller. The price to buy is just the last price the token was sold at. If you'd prefer something more detailed on bonding curves, I loved this Medium article on the topic.
Founders can't rug pull because every token they sell is cheaper than the previous token they sold... so selling a bunch of tokens quickly dramatically drives down the price for themselves.... and all the tokens will have a MINT cost (and therefore a MINT selling price... so the community can't be left high and dry.
The Mint Club will not just protect communities and investors, but it will offer an easy way for people to create a token for themselves or their community...
... the new tokens will be created with the MINT tokens that are being airdropped around the 7th of July (you need to apply for the airdrop by the 29th of June).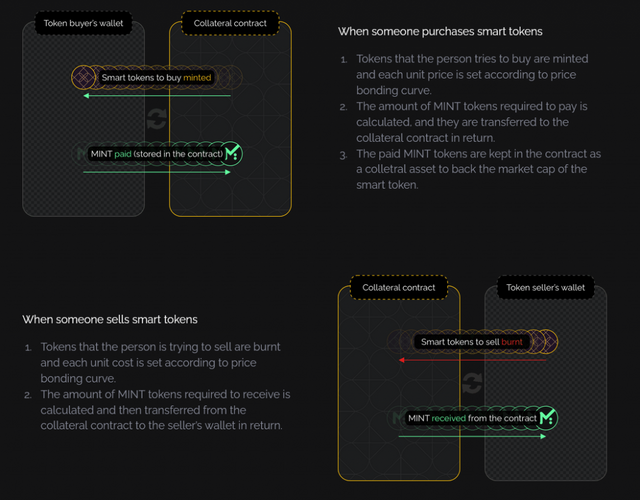 Source
All of the new tokens minted via the Mint Club can be sold for Mint tokens, so there should always been a stack of liquidity.... partly from their previous projects which I've also written about.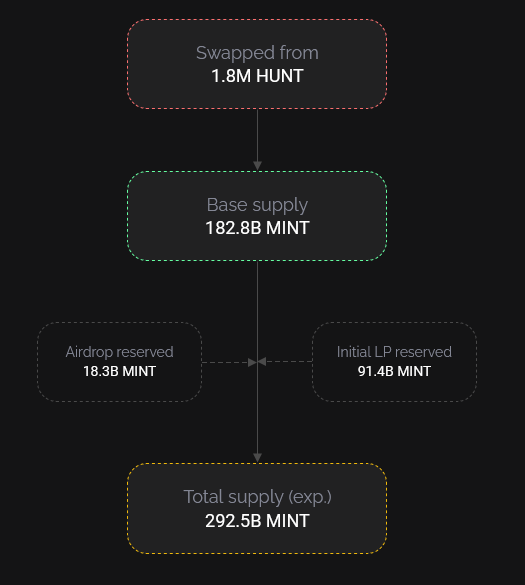 Source
The MINT tokens won't be created from nothing... they'll be swapped from HUNT tokens from the team's other projects and holders of their other tokens... the Mint Club is now the 5th DApp in their ecosystem...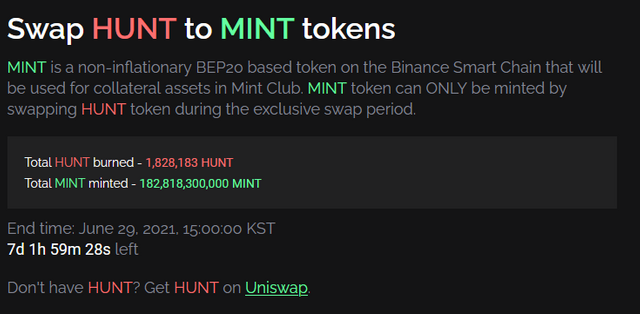 The new smart media tokens will be easily created using the Mint Club tooling...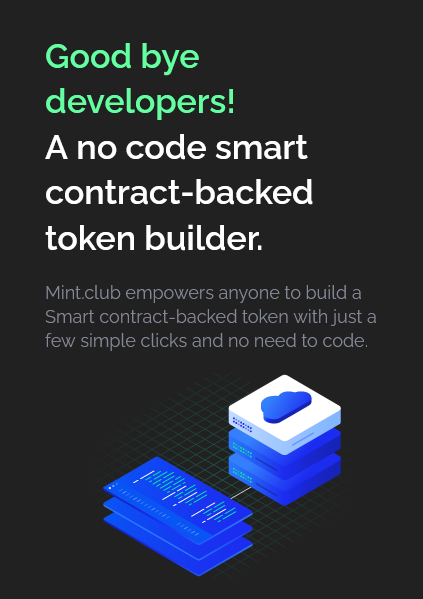 Source
If you are interested in receiving these MINT airdrop tokens to potentially create your own smart media tokens and/or provide liquidity on Pancake Swap (mostly likely a MINT-BNB pairing), I'd love it if you could use my referral code....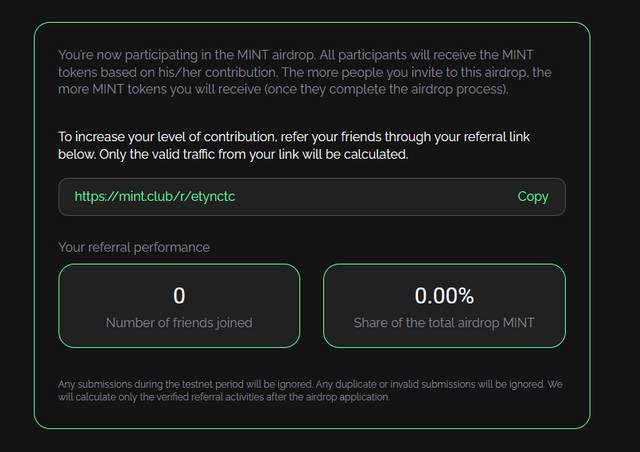 My referral code is https://mint.club/r/etynctc
My MINT Club token idea
I really love the idea of creating a Ninja token for the Ninja Warrior community. It's a huge global community that has dedicated obstacle gyms all over the world (like Ryze Seoul Park) and television shows like American Ninja Warrior, Australian Ninja Warrior and Sasuke.
Ninjas could receive tokens for sharing their knowledge... but also as prizes for placing in local, interstate and international ninja competitions.
I'm also going to be participating in the HUNT to MINT swap (only available until June 29th as well) and will be adding this liquidity into Pancake Swap too to help out.
The amazing thing about this swap is that the HUNT tokens swapped actually get burned... so no one will hold them and they won't exist anymore... reducing the current supply of HUNT tokens.
I've decided to burn 10,000 HUNT tokens to get, well, a billion MINT tokens.
I don't know about you... but I always get super nervous with these sorts of things... I'm sure everyone has at some point lost a crypto token forever... but this process is super easy...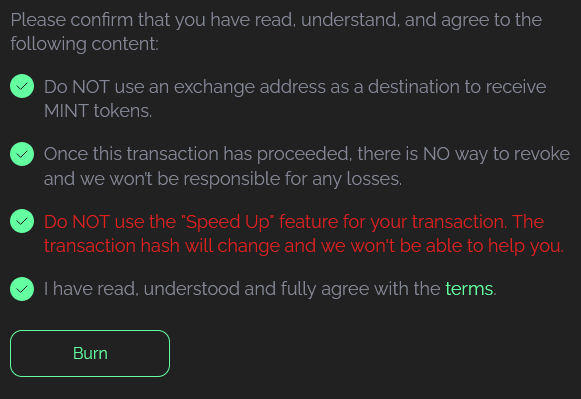 The initial burn fee was only $1.86, which is pretty amazing given how nuts ETH gas fees have been lately... this was literally all I paid in this whole transaction.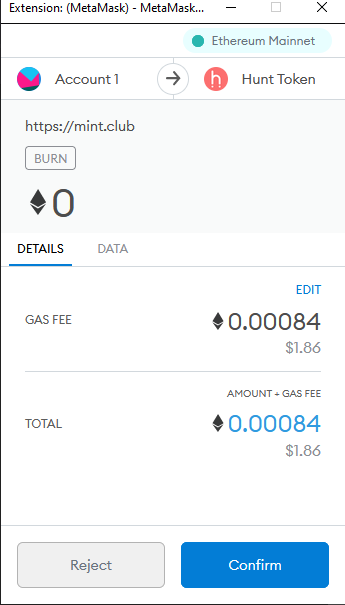 After waiting for Ethereum to do it's thing, I see these happy little messages: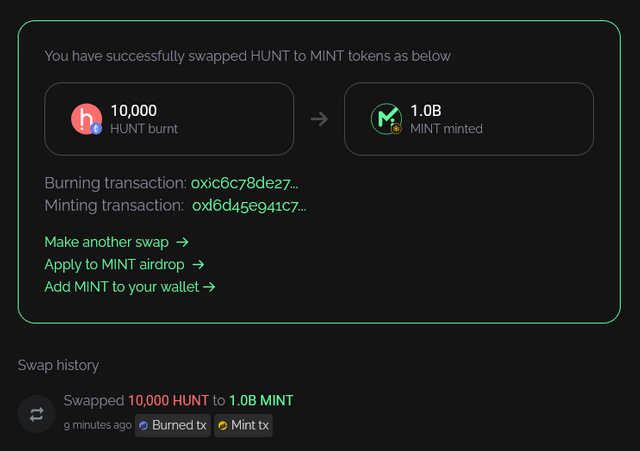 After easily adding the token to my BSC wallet, I can see my new MINT tokens in MetaMask.... so many zeros! These MINT tokens aren't worth anything yet... but once the liquidity pool is set up on PancakeSwap we'll hopefully see some value driven by people safely making their own tokens. I'll update future posts on all of this.
I have no idea how the MINT token will do in the future itself... but the utility it will provide to everyone to create their own tokens, and back those tokens is really, really exciting to me.
Thanks for following my little Mint Club free token airdrop adventure. If you have any questions, please let me know!
---
Posted from my blog with Exxp : https://lifebe.com.au/digital/mint-club-free-token-airdrop-free-tokens-for-everyone/
---