Hello, dear friends.
On this occasion, I'll be writing about a Netflix miniseries that has been a trending topic over the last months. By trending topic, I mean that it was wherever I looked at like Twitter, Facebook, Instagram, etc.
---
QUEENS GAMBIT
• Genre Period drama
• Created by Scott Frank & Allan Scott
• Based on The Queen's Gambit by Walter Tevis
• Written by Scott Frank
• Directed by Scott Frank
The story focuses on the dramatic life of a girl with an extraordinary penchant for chess. Beth Harmon is taken to an orphanage after surviving a car accident in which her mother was trying to kill both of them. There she discovers her passion for chess thanks to a worker of the institution where she was. It could be said that this meant for her an escape from the tragic beginning of her life as well as her addiction to psychotropics and other substances.
The captivating thing about the story is not only how it manages to involve you to such an extent that it is probable that after seeing it you also want to learn chess but also how under no circumstances the figure of Beth is subjected to a figure of self-pity or pity due to her past.
On the other hand, I suppose that it is already common knowledge that chess is a complicated activity for many, including myself, and the series emphasizes this even more by presenting it in such a way that it inspires you to want to learn and feel even more respect for those who lead this lifestyle.
Despite its short duration compared to the series I usually watch, I think this one is perfect, a complete concentration of exquisitely elaborated episodes down to the last detail. My predilection for vintage themes also plays an important role when describing it positively, but it also shows us what could be the first vestiges of a feminist revolution in all areas. Beth, a girl who echoed within a world composed mostly of boys.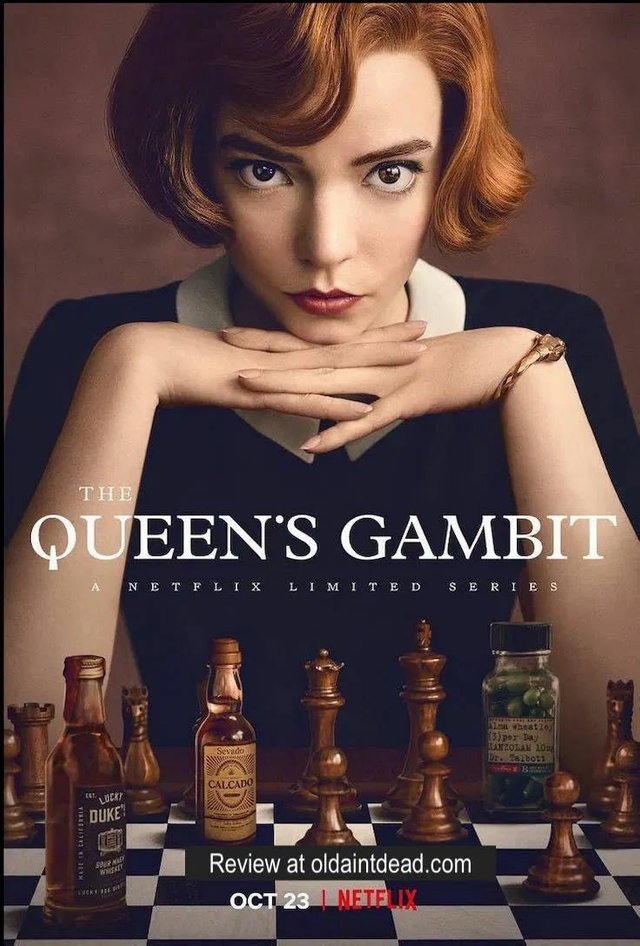 OFFICIAL TRAILER
Thank you so much for stopping by.
Best regards.
Rima❣
---
[ESP]
---
Hello, dear friends.
Bienvenidos a mi segundo post del día.
En esta ocasión, escribiré sobre una miniserie de Netflix que ha sido un tema de moda en los últimos meses. Por tema de moda, quiero decir que fue dondequiera que miré como Twitter, Facebook, Instagram, etc.
---
EL GAMBITO DE REINAS
Género Drama de época
Creado por Scott Frank y Allan Scott
Basado en el Gambito de la Reina de Walter Tevis
Escrito por Scott Frank
Dirigida por Scott Frank
La historia se centra en la dramática vida de una chica con una extraordinaria afición al ajedrez. Beth Harmon es llevada a un orfanato después de sobrevivir a un accidente de coche en el que su madre intentaba matarlas a ambas. Allí descubre su pasión por el ajedrez gracias a un trabajador de la institución en la que se encontraba. Podría decirse que esto significó para ella una escapatoria del trágico comienzo de su vida así como de su adicción a los psicotrópicos y otras sustancias.
Lo cautivador de la historia no es sólo cómo consigue involucrarte hasta tal punto que es probable que después de verla también quieras aprender ajedrez, sino también cómo en ningún caso la figura de Beth se ve sometida a una figura de autocompasión o lástima debido a su pasado.
Por otra parte, supongo que ya es de conocimiento general que el ajedrez es una actividad complicada para muchos, incluido yo misma, y la serie lo enfatiza aún más presentándolo de tal manera que inspira a querer aprender y sentir aún más respeto por quienes llevan este estilo de vida.
A pesar de su corta duración en comparación con las series que suelo ver, creo que ésta es perfecta, una concentración completa de episodios exquisitamente elaborados hasta el último detalle. Mi predilección por los temas clásicos también juega un papel importante a la hora de describirla positivamente, pero también nos muestra lo que podrían ser los primeros vestigios de una revolución feminista en todos los ámbitos. Beth, una chica que resonaba en un mundo compuesto principalmente por chicos.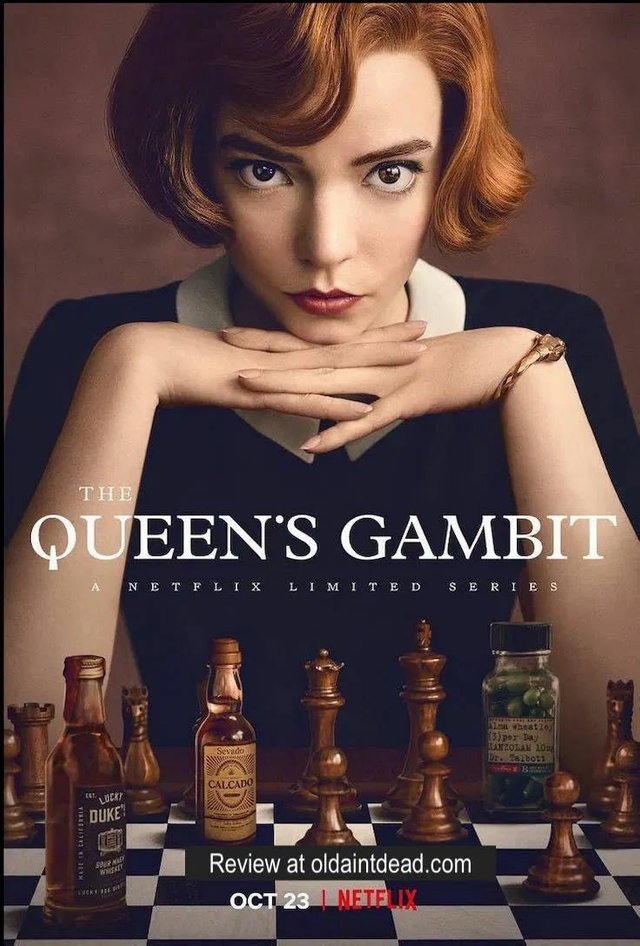 TRAILER OFICIAL
Muchas gracias por visitar.
Saludos cordiales.
Rima❣