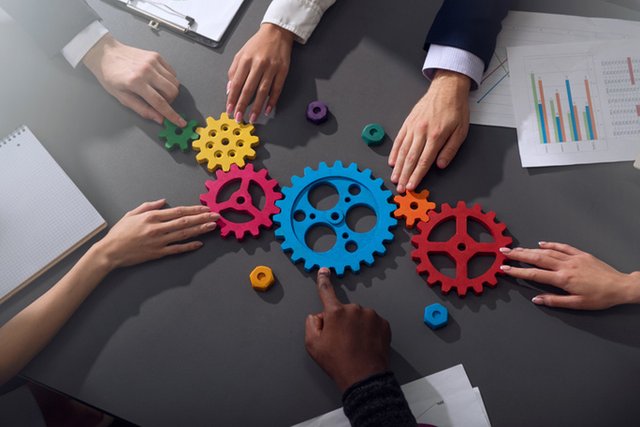 Advance: Teamwork is of vital importance for an organization to achieve success. And in order to achieve it, it is necessary that the work environment is pleasant for everyone. Putting it into practice will help us talk about common interests and commit to achieving those goals.
Approximate reading time: 4 minutes.

Many times, most of us find it difficult to carry out teamwork, or we simply do not have the knowledge of how to do it, despite the fact that we are social beings.
In this article, we will explain what teamwork consists of, what is required to achieve it and what its advantages are
What is teamwork?
Teamwork is one that is carried out by people who pursue a common goal. And this is born when a group of people want to improve the devotion of the work group where they are.
Teamwork encourages us to have a sense of righteousness and security, which in turn helps us maintain good team relationships.
What it takes to achieve teamwork
To achieve good teamwork, to stand out, you need to have certain attitudes, such as:
*Be willing to share our ideas and also give good solutions.
*Contribute good opinions, give accurate information.
*Always put yourself in the place of others, be willing to support the solutions of others.
Advantages of teamwork:
*Everyone involved in teamwork has ideas in common.
*Share daily the goals that the company or organization proposes.
*Teamwork transmits unity, which will mostly prevent the people involved from clashing and having conflicts with each other.
*The topics of conversation will always be balanced since everyone has the same interests and goals.
Final words
Teamwork is different, since the people who make it up cooperate with each other. It also motivates the members to put personal differences aside, and all for the good of the team. An important point is that teamwork requires commitment for it to be executed correctly. It strengthens the entire organization, without displacing any career ladder or any individual opportunity a person may have.
Thanks for reading,

Avance: El trabajo en equipo es de vital importancia para que una organización alcance el éxito. Y para poder alcanzarlo es necesario que el clima laboral sea de agrado para todos. Ponerlo en práctica nos ayudara a hablar sobre intereses comunes y a comprometernos a lograr dichos objetivos.
Tiempo de lectura aproximado: 4 Minutos.


Muchas veces a la mayoría de nosotros nos cuesta realizar un trabajo en equipo, o simplemente no tenemos conocimiento de cómo hacerlo, pese a que somos seres sociales.
En este articulo, te explicaremos en qué consiste el trabajo en equipo, que se requiere para lograrlo y cuáles son sus ventajas
Que es el trabajo en equipo?
El trabajo en equipo es aquel que está realizado por personas que persiguen un objetivo en común. Y este nace cuando un grupo de personas desean mejorar la devoción del grupo de trabajo donde se encuentran.
El trabajo en equipo nos estimula a tener un sentido de rectitud y seguridad, el cual a su vez nos ayuda a mantener buenas relaciones en el equipo.
Lo que se requiere para lograr el trabajo en equipo
Para lograr un buen trabajo en equipo, que se destaque, se necesita tener ciertas actitudes, como lo son:
*Estar dispuesto a compartir nuestras ideas y también dar buenas soluciones.
*Contribuir con buenas opiniones, dar información precisa.
*Ponerse siempre en el lugar de los demás, estar dispuesto a apoyar las soluciones de los demás.
Ventajas del trabajo en equipo:
*Todos los involucrados en el trabajo en equipo tienen ideas en común.
*Compartir diariamente las metas que la empresa u organización se propone.
*El trabajo en equipo transmite unión, la cual va a evitar mayormente que las personas involucradas se enfrenten y tengan conflictos unas con otras.
*Los temas de conversación estarán siempre equilibrados ya que todos tienen los mismos intereses y metas.
Palabras finales
El trabajo en equipo se diferencia, ya que las personas que lo conforman cooperan unas con otras. También motiva a los integrantes a que las diferencias personales las hagan a un lado, y todo por el bien del equipo. Un punto importante, es que el trabajo en equipo requiere compromiso para que este se ejecute correctamente. Refuerza toda la organización, sin desplazar ningún escalafón o cualquier oportunidad individual que una persona pueda tener.
Gracias por leer